'I always wanted to set up a business, but I couldn't take any risks when my kids were young'
Why an increasing number of people are starting new companies later in life.
THE STANDARD IMAGE of the startup is that of a company led by some charismatic young founder, resplendent in their office of bean bags and foosball tables.
But an increasing number of older entrepreneurs are defying the stereotype by choosing to launch their own businesses, often trading in run-of-the-mill careers for more adventurous commercial pursuits as they approach retirement.
While the majority of people opening new businesses in Ireland fall in the 25 to 45 age bracket, the latest Global Entrepreneurship Monitor shows nearly 5% of startup founders here are over 55 – up from around 3.5% in 2008.
Joe Phelan, 56, is one of that cohort, recently deciding to set up an alpaca farm after nearly four decades in the financial services sector.
"I've always wanted to set up a business, but I would have been unwilling to take chances because when my kids were smaller, I didn't want to put them at risk or their education at risk," he said.
"About four years ago, all my kids had left home. So I'm left with an empty nest and that triggered me into thinking what do I really want to do for myself."
Phelan said he considered traditional agribusinesses like dairy, livestock or tillage, but they were all too capital-intensive and margins were too tight.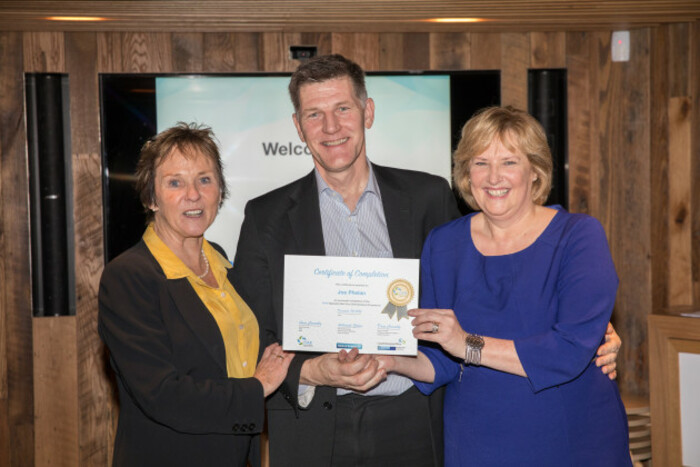 Source: Picasa
Other motivations
For Declan Walsh, 58, an electrician by trade, his motivation to set up a new tech business came from seeing his primary income plummet during the recession. His company, TextOn, has developed a solution to remotely turn immersion systems on and off via text message.
"I've always been self-employed. The phone always rang and I'd go away and do a job. I thought the phone would keep ringing, but then the recession came along and there was no jobs coming in," he said.
"All tradesmen had that problem back in 2010, and I saw that I needed something that could be a bit more secure that could be an add-on to my own business. But it has kind of taken over."
Forthcoming problem
The rise in people starting businesses in their 50s and beyond also has the potential to benefit the wider economy and help solve problems caused by the country's ageing population.
Anne Connolly, chief executive of the Ireland Smart Ageing Exchange (ISAX), said supporting more older entrepreneurs could improve the ever-rising ratio of retirees to workers, which is set to put a significant strain on the public purse.
"During the height of the Celtic Tiger, there were six people working to one in retirement, however, that is predicted to drop to two working for every one person in retirement before 2050," she said.
Connolly added that with increased life expectancy, starting a business gave older people the chance to stay active in the workforce for longer while also ensuring a sustainable income.
"For some time, this has been a reasonably untapped area. There is a pool of talent who want an alternative to retirement, and they have a lifetime of expertise in their professional or technical area but also have networks both social and work-related.
"From our research, we found people hadn't stopped to think about being an entrepreneur, but when they did, the feedback they gave us is that it is an attractive alternative to staying in the workforce right through to the mandatory retirement age."

Click here for a larger version
Anybody's game
The main deterrents to starting a business, according to a recent ISAX survey, were a lack of funding and concerns about the financial risks involved.
However the organisation has been helping people get over those concerns with a series of crash courses on how to set up a business.
Walsh said one the main lessons he has learned is the importance of having a partner in a new enterprise.
"I've learned that it helps a lot if there is somebody else on board – doing this on your own is very lonely. You might have a day where nobody is answering your emails so you need someone to bounce off."
Walsh sees a full-time future in his central heating tech solution, while Phelan hopes his alpaca business will also take off soon.
"I'm 56 and you would think I would be heading towards retirement and putting my feet up, but it is quite the opposite for me," Phelan said. "I am quite energised and dying to get it up and running.
"I might continue running for a number of years yet, but it depends. If the business accelerates a lot faster than I am planning it to, I could leave my work to be full-time in my own business."
read more on