One of Ireland's biggest builders has been cleared for a controversial north Dublin project
Sean Reilly has approval for 150 houses and a retail development in the small town of Lusk.
ONE OF IRELAND'S best-known builders has been given the go-ahead for a large but controversial housing development in a small north Dublin town.
One of Sean Reilly's companies has received permission to build more than 150 new housing units and a large retail offering in Lusk.
The residential units will be a mix of terraced, semi-detached and detached houses, as well as apartments.
The development will include over 9,000 sq m of retail space, slightly smaller than the well-known Kildare Village, as well as 3,000 sq m of non-retail space.
The retail area will include space for dozens of shops as well as a large supermarket that will anchor the development. The project will also include several other facilities, such as a crèche and a gym.
It is being led by a company called Station Construction, which is owned by a firm based in the Isle of Man. Station Construction shares an address with the company Reilly founded, McGarrell Reilly.
Reilly, one of the so-called Anglo 'Maple Ten' group, is also a director of Station Construction. The company's plans have received considerable opposition from several community groups who complain it will significantly alter the small town.
After being approved by Fingal County Council in December, the decision was appealed to An Bord Pleanála by several residents and local groups.
Objections
As well as the residents, the groups included Rush and Lusk Educate Together, the Lusk Community Council and the Lusk Community 2020 Sports Plan Committee.
The main points of appeal was that the retail development is too big, that the design is "unacceptably poor" and that the proposed building heights "are excessive and out of character with the established pattern in Lusk".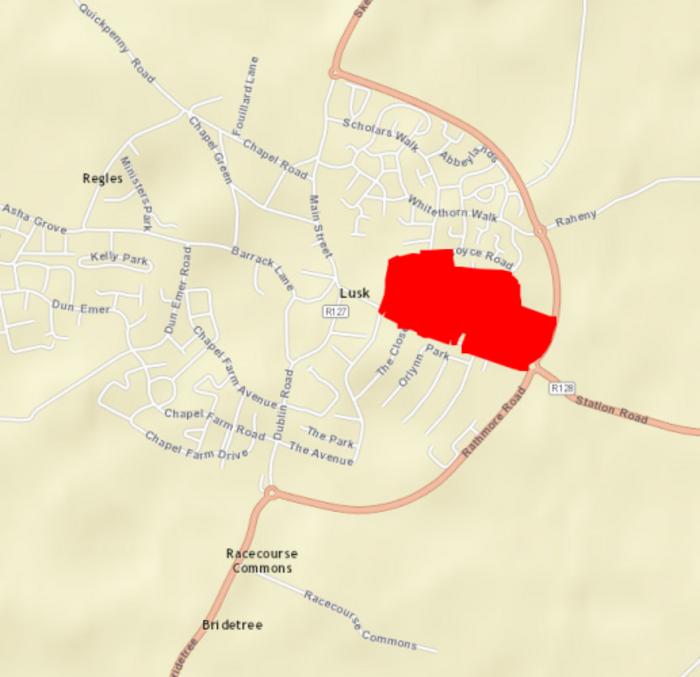 Source: Fingal County Council
It was also claimed that the proposed development would be too close to schools and would encourage unhealthy eating habits.
Several residents also said that Reilly should not be allowed to build in Lusk again until all houses with pyrite in the town are fixed. The firm he founded, McGarrell Reilly, built many houses in the town during the boom.
In a 2012 letter to the pyrite panel, McGarrell Reilly said: "The experience on our Lusk Village development would suggest that … a small group of houses are the only houses showing signs of cracking that may require significant remediation work".
It said that all of the cracks were "non-structural". In a judicial appeal in relation to one of the developments in the town said to be affected by pyrite – a mineral that can lead to property damage when used in back-fill - Justice Michael Moriarty found that McGarrell Reilly was not liable for the costs of repairs.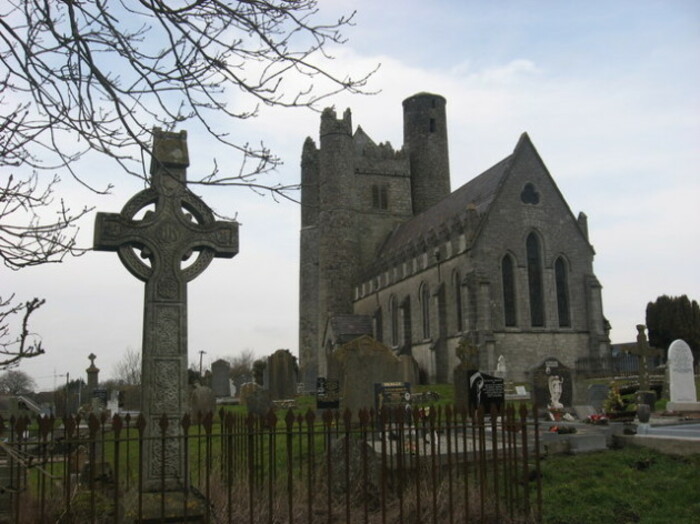 Source: Geograph.ie
Granted
An Bord Pleanála eventually ruled in favour of O'Reilly's Station Construction, although it recommended that some aspects of the development be changed.
It said that the development would not "seriously injure the residential or visual amenities of the area, would respect the existing historic character of the area and would not have an adverse effect on the viability of the town centre of Lusk."
The decision is a boost for Reilly, one of the country's best known developers from the Celtic Tiger area.
As well as being a major housebuilder, Reilly is also well-known as one of the Maple 10 group that took part in a share-buying scheme involving Anglo Irish Bank before its collapse in 2008.
Sign up to our newsletter to receive a regular digest of Fora's top articles delivered to your inbox.