Luas works have spoiled an otherwise good run for Dublin's department stores
The latest business monitor by Retail Ireland says footfall in the capital 'remains difficult'.
DEPARTMENT STORES IN Dublin city centre enjoyed a good run in recent months – but maintaining footfall has proved a challenge because of the ongoing Luas Cross City works.
According to the latest business monitor by Ibec group Retail Ireland, department stores around the country enjoyed an "overall positive" period from April to June of this year.
"However, Dublin city centre footfall remains difficult," it said, "and the ongoing Luas Cross City works will continue to prove challenging through to the end of quarter three 2017."
The building of the new Luas connection started in 2013 and the €360 million project is expected to be up and running by the end of this year.
The latest disruption occurred over the bank holiday weekend when the capital's south quays were closed to facilitate construction. However, the works on Burgh and Aston quays were completed ahead of schedule.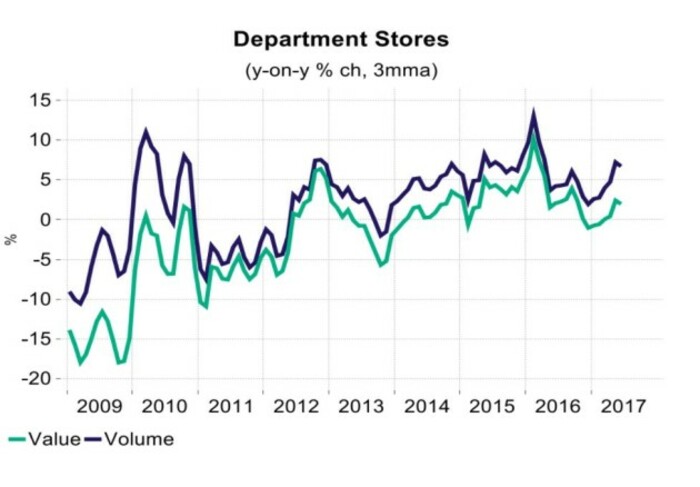 Source: Retail Ireland
Click here to view a larger version.
Labour costs
Elsewhere in Retail Ireland's report, the business group said that DIY stores reported a good performance in the second quarter of this year.
This was attributed to a strong April "driven by the timing of Easter and benign weather conditions" that pushed up gardening equipment sales.
Fashion and footwear also had a good run, which Retail Ireland attributed to a bump in the number of Chinese tourists, who typically travel in large groups and spend more money on luxury goods.
With Budget 2018 on the horizon, Retail Ireland called on the government to "keep labour costs competitive".
[embed id="embed_2"]
It claimed that the recent recommendation to increase the national minimum wage from from €9.25 per hour to €9.55 will "further increase labour costs at a time of heightened competitive pressure".
Source: Daniel Hambury/EMPICS Sport
Retailers also suggested that the government should introduce a tax-friendly scheme that would allow shop owners to offset the cost of developing a web store against their VAT returns.
Retail Ireland director Thomas Burke said that retailers "remain cautious and uncertain about what the second half of the year will bring", even though the value of April-June shop sales grew 3.7% compared to the same three-month period last year.
"With prices now below 2008 levels, retailers remain addicted to deep discounting as a means of driving footfall and additional spend," Burke said.
"At the same time, we continue to see government-controlled input costs growing and retailers' margins dwindling, threatening the very existence of certain high street brands."
Sign up to our newsletter to receive a regular digest of Fora's top articles delivered to your inbox.
read more on