The vulture fund paying very little tax on its billion-euro Irish incomes
Lone Star's Irish arm took in €1.4 billion in 2014 – but the Exchequer got less than €1 million.
THE IRISH ARM of a vulture fund that bought local business and home loans worth hundreds of millions of euro paid less than $1 million in tax on income of $1.4 billion (€1.24 billion) in 2014.
US private equity giant Lone Star specialises in buying up distressed assets and selling them at a later date once they are performing again.
The company bought a large tranche of loans connected with, among other organisations, the former Anglo Irish Bank after the lender was liquidated in 2013.
The issue of so-called vulture funds acquiring Irish loans has been brought into sharp focus in recent weeks after more than 100 families at the Cruisepark development in Tyrellstown were told they may have to leave their homes.
Meanwhile, accounts filed for Lone Star International Finance Ltd, which has its registered office in Dublin, show it had interest income of $971 million in the year to the end of 2014 – more than three times the figure for 2013.
The company also made a gain of $487 million from selling off or "resolving" its assets.
Although it is not specified in the accounts, an example of "resolving" an asset may include restructuring a non-performing loan. The 2014 total was over five times the gain Lone Star International Finance recognised from its assets the year before.
Huge incomes, slender profits
However, despite the windfall gains, the company only managed to eke out a profit of just over $10 million in 2014.
That was because Lone Star had another company, based in the tiny duchy of Luxembourg, called LSF Aggregated Lendings Sarl, which loaned large amounts of money to its Irish arm.
So, although Lone Star's Irish company made huge gains from interest income and asset sales, the loan repayments ate up most of the would-be profits.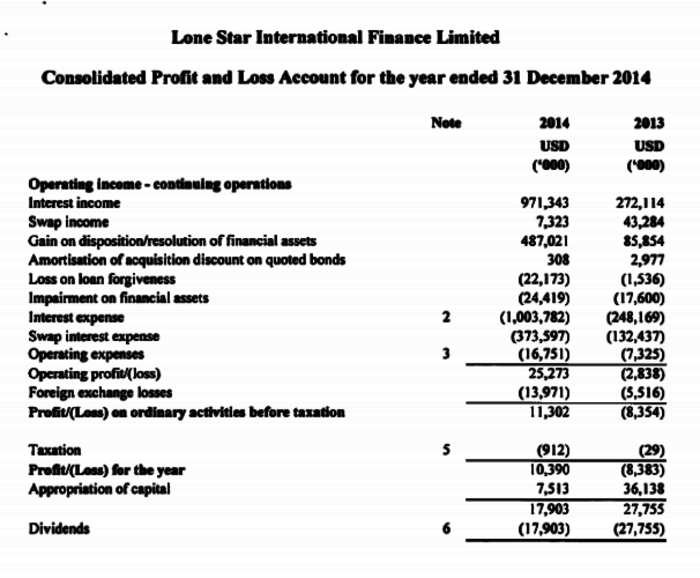 In 2014 Lone Star International Finance paid out just over $1 billion to the Luxembourg company to repay the interest on a huge loan while also handing over large sums for what are referred to as 'interest-rate swaps'.
There are agreements between two companies that are generally made in an effort to lower interest bills. In the Irish company's case, however, they resulted in a significant increase.
The firm paid out almost $374 million in interest swap expenses in 2014, a $240 million-plus rise on the 2013 total. It made a profit $11.3 million, on which it paid $912,000 tax for a full-year profit of $10.4 million.
Assets almost equal debts
The accounts reveal Lone Star's local arm had total assets of $3.84 billion as of the end of 2014, only $116 million more than it owed its Luxembourg-domiciled lender.
The Irish company's debts to the affiliate increased from $2.77 billion in 2013, when its net assets were again worth just more than the sum of its borrowings.
Lone Star International Finance also said it invested $1.18 billion between 1 January and the accounts' approval date, on 20 July. The period coincided with a series of large deals carried out by the company including its €910 buyout of the Jurys Inn hotel chain.
[embed id="embed_2"]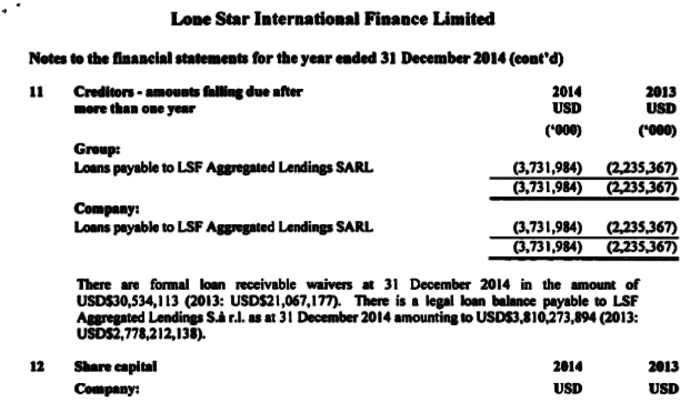 An active buyer
Lone Star was among the major private equity firms that acquired huge loan books from both the banks and Nama after the financial crisis.
Most banks, which were in very weak financial positions, needed to offload large amounts of non-performing loans as they could not hold them on their books. In many cases large overseas the so-called vulture funds were the only viable buyers left after the Irish economy tanked.
Lone Star's purchases included a swathe of loans from the first major portfolio connected to the former Anglo Irish Bank.
Called Project Evergreen, the portfolio, made up mainly of small business loans, had a face value of €2.5 billion. About half the companies whose loans were being sold bought out their own debts with Lone Star snapping up the majority of the remainder.
It also bought loans attached to large amounts of commercial and residential property across the country, such as the €1.1 billion portfolio of 4,000 non-performing Irish mortgage loans it acquired from UK lender Lloyds in 2014.
The company said it "will not be providing comment on this occasion" when contacted by Fora about its tax arrangements.
Correction: An earlier version of this article mistakenly referred to a profit and loss account as a balance sheet in a caption.