These are the top skills you need to get headhunted
Growing demand from Irish employers for cloud computing and big data skills.
BOLSTERING YOUR CV with tech skills could be the key to getting headhunted, according to a new survey.
Research from LinkedIn has shown that there was a significant demand in the last year from Irish employers for expertise in cloud computing, big data and IT security.
This is the first year Ireland has been featured as part of this fourteen-country survey. The results show that Irish employers are following a similar worldwide trend that has seen companies eager to hire people with specialities in science, technology, engineering, and maths.
Speaking about the results of their research, LinkedIn's EMEA senior HR director Wendy Murphy said given the growth of Ireland's technology sector, the results are hardly surprising.
"Technology skills are highly valued by Irish employers, which may not come as a complete surprise given the growth in the sector in Ireland last year. It is a positive sign though for science, technology, engineering, and math (STEM) graduates that there is still huge demand for professionals with these skills.
"Our analysis also highlights that big data remains a priority for corporate Ireland. Our list paints a picture of a world overwhelmed with information, with businesses scrambling to store, retrieve, and make sense of it all."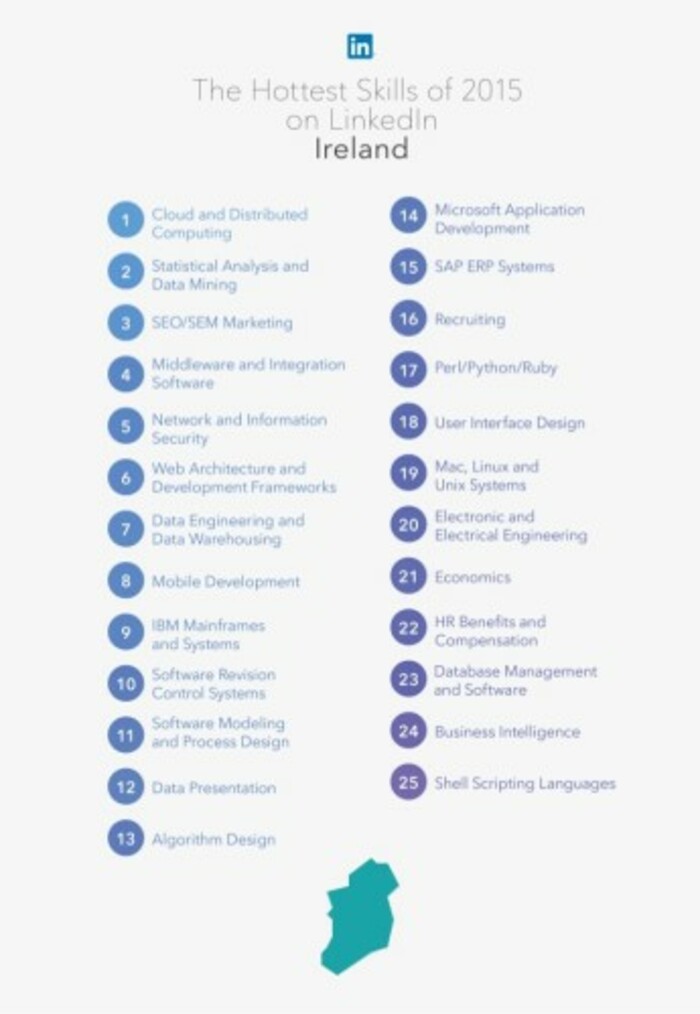 For those looking to improve their skills and make themselves a more appealing prospect to employers, Murphy said LinkedIn's research gives a good basis to start picking a new area of expertise for themselves.
"The top 25 skills gives a good sense of what employers are looking for when considering going back to further education. We would encourage people to ensure that they include their skills on their profile to make it easier for potential employers to find them," she said.