Liffey Valley gets the go-ahead to expand - but parking could be a problem
The shopping centre will now have over 60,000 sq m of retail and leisure space.
PLANNING PERMISSION HAS been granted for a major expansion at Liffey Valley Shopping Centre – but the local council has rejected proposals for additional parking at the site.
South Dublin County Council green-lighted plans for additional retail space and an ice rink, but took issue with the construction of a multi-storey car park and denied permission to build the 1,800-space facility.
The application was submitted in February by real estate investment firm Hines Ireland.
"It is clear that the local authority has supported the overall scheme," Hines senior managing director Brian Moran said in a statement.
"But we note that at this stage it still has reservations about aspects of the parking adjacent to the ice arena."
He said Hines will review the reasons for the omission and find a solution as soon as it can.
Proposal
The expansion at Liffey Valley will feature an additional 7,000 sq m of retail space, 3,774 sq m of restaurant space, a refurbished 14-screen cinema and an Olympic-sized indoor ice arena that can hold 2,500 spectators for skating competitions, ice hockey matches and other entertainment events.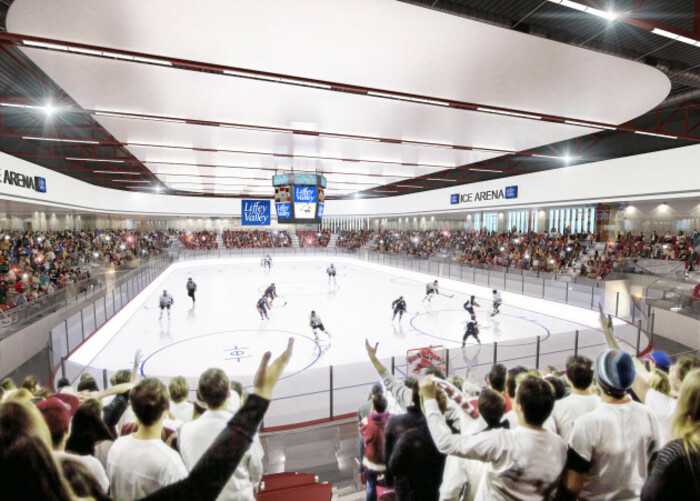 The new development, dubbed the Western End, is due to be completed by the end of this year.
Vibrant Partnerships, which manages the London 2012 Olympic Games venues, is acting as consultants on the layout of the ice rink, while US architects RTKL has been chosen to design the expanded centre.
Traffic
In March, South Dublin County Council raised concerns about the impact construction would have on traffic, especially on the already congested N4 road near the site. These concerns were echoed by the National Roads Authority (NRA) and Transport Infrastructure Ireland (TII).
At the time, TII said the impact the development would have on traffic on both the N4 and M50 "was not assessed correctly".
Both the NRA and TII said they were concerned about the proposed car park, mainly because it would be free to use and discourage drivers from using alternative means of transport.
Liffey Valley Shopping Centre is owned by a group of clients from HSBC Private Bank, Grosvenor Britain & Ireland and Hines Ireland.
It opened in 1998 on the controversial site known as Quarryvale, which was the subject of the Mahon planning tribunal.