Waterford startup Kollect is dragging bin collection into the on-demand era
As part of our weekly Startup Spotlight series, we profile the two-year-old company.
JOHN HEGARTY HAS a thing for cleaning up. His last startup, UpChore, provided on-demand cleaning services like fellow Irish-founded outfit Hassle.
However he and his co-founders struggled to get the startup off the ground, which led to a re-think of the business.
"We weren't really getting the traction we wanted. We were sitting in the office one day and (co-founder) John O'Connor had come up with this idea of on-demand bin collection," Hegarty says.
"We weren't getting the sales and said, 'Let's just give this a try.'"
The idea would become Kollect, which was eventually established from a base in Waterford with the company's third co-founder, Robbie Skuse.
With no money behind them, the founders pulled together a minimum viable product, including a basic website. They trialled around €100 of Facebook ads to push the idea to potential customers – and the initial response was promising.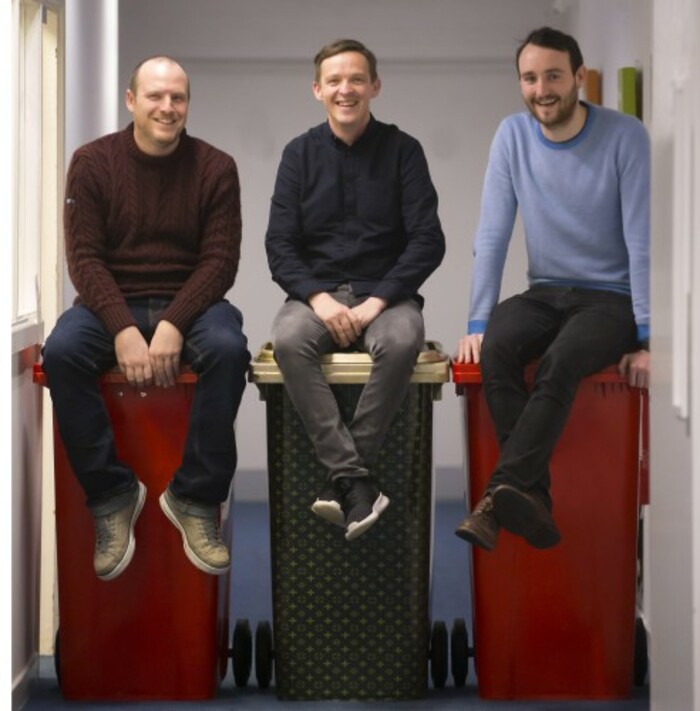 Source: Patrick Browne
"Immediately we knew that we were on to something. Our focus changed to Kollect from there," Hegarty says.
On-demand
Rather than relying on weekly or fortnightly bin collections, Kollect allows users to book waste pickups whenever they are needed.
The startup partners with waste collection businesses in Waterford and Cork, and has added junk removal and skip hires around the country to its services since launch.
With the first version of the service live, Kollect needed to move fast and refine its product as the initial offering required a lot of behind-the-scenes work to set out bin-collection routes and take orders.
"Our next step was to get a better website, get a better back-end going," Hegarty says.
"One of our key first hires was to get a developer in who could build something that could handle how fast we were scaling. We've grown out of that as well."
The startup is now putting the finishing touches on its third iteration, due to be released in the next few months.
After initially targeting Waterford, Kollect's second market was opened in Cork after talks to sign up more waste-collection firms to the platform.
This process has proven tough for the startup as the sector is yet to embrace on-demand technology like the transport or food-delivery industries.
"It's a difficult industry, particularly at the start. It's very closed, it's very traditional, so to get bin companies to work with you, a third party, is quite difficult because we weren't known.
"There's not much technology in this area as it is, so to jump into customers booking online, all that stuff is a big change."
Kollect has around 8,000 users and takes a cut of approximately 20% on each transaction. The price varies on location – although the average is around €13 for a regular bin and €7 for recycling – with more remote, rural homes generally paying more.
"It's difficult because we are reliant on third parties, so we can only service areas where our third parties go anyway," Hegarty says.
Sandbox
With little knowledge of the waste-collection industry before launching Kollect, the company's founders used their base of Waterford as a 'sandbox' for its services.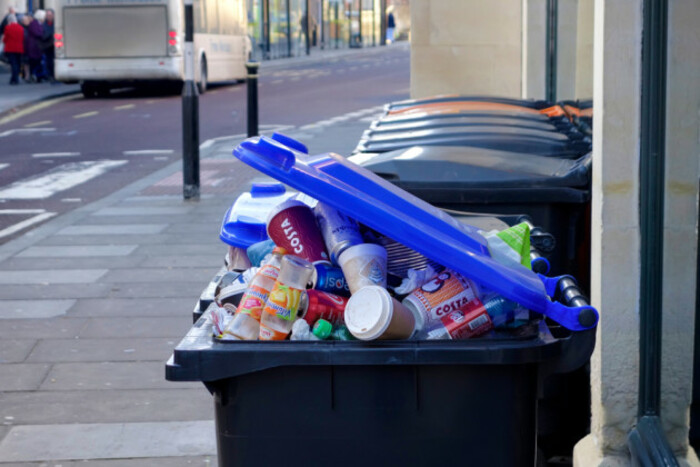 Source: Shutterstock/Andrew Harker
It has rented a waste-collection truck and bought a number of vans to trial its own bin- and junk-collection services directly in Waterford.
"There was huge learning in it. What we thought contractors actually needed and wanted, we found that by running our own bin trucks and everything, we could see that doesn't work for contractors at all," Hegarty says.
The "sandbox" is intended to inform Kollect on the needs and wants of waste collection companies and contractors. However the company doesn't want to get into operating trucks full-time as upkeep would be a major expense.
"We rent trucks purely because we don't want to deal with maintenance," Hegarty adds.
The move into running a fleet of vans and trucks could also risk irking Fleet's partners as it becomes, effectively, a competitor for the same customers. Looking to the future, Kollect's focus is on software.
"It's handy to have boots on the ground here to use this as a sandbox but scaling wise, it's very difficult to scale if you're going to be getting more trucks and more vans and more employees all over Ireland."
Next steps
Kollect has raised around €150,000 from investors including Enterprise Ireland. It now intends to close a funding round by the end of the year to finance its future growth plans.
These include extending bin collection into more locations around Ireland as well as expanding into the UK, where cutbacks in council-operated bin collections present a major opportunity, according to Hegarty.
"They're bringing it back to once every three weeks or four weeks so customers are left with full bins and they have no options to get those bins picked up," he says.
"There are a few entrepreneurial folks over there who have bought their own trucks and they're servicing certain areas so we intend on going in and plugging in with them."
Manchester is one area in the UK that is on Kollect's radar for launching its services.
He explains that these new companies have the means to carry out the collection but are struggling with the software side of things.
"What we would be offering the third-party is a technological solution for that. We would handle all the bookings, we would handle the route mapping and then obviously it's better for the customers as well."
Sign up to our newsletter to receive a regular digest of Fora's top articles delivered to your inbox.