Kildare Village says axing one unit from its €50m expansion will 'jeopardise' the entire project
The designer outlet centre was granted permission for several new stores, but it's not happy with the council.
THE OWNER OF designer outlet centre Kildare Village has said the local council's decision to cull a single unit from its planned €50 million expansion will "jeopardise" the entire project.
Last month, Value Retail Dublin Ltd was granted planning permission to add 29 new shops, two new restaurants and 460 car parking spaces to the development, which is home to brands like Armani, Ralph Lauren and Brooks Brothers.
While the company welcomed Kildare County Council's decision, it has objected to two of the 26 conditions attached to the planning permission.
Local planners agreed to the project on the condition that Value Retail culls one of its planned new units – dubbed 'number 104′ – and instead uses that space to provide better "linkages" between Kildare Village and Kildare Town centre via Academy Street on the east side of the shopping district.
In a first-party appeal prepared by property advisory firm GVA, the retailer told An Bord Pleanála that omitting unit number 104 would seriously hurt the development, which is known as 'Phase III'.
It said the unit was earmarked for an anchor tenant and culling it "negatively affects the viability and vitality" of the proposed multimillion-euro expansion, which it said will create 430 jobs.
Value Retail added that losing unit 104 "not only jeopardises the commercial vitality of the development, it will also have a direct negative impact on the level of jobs that can be created and sustained by the development".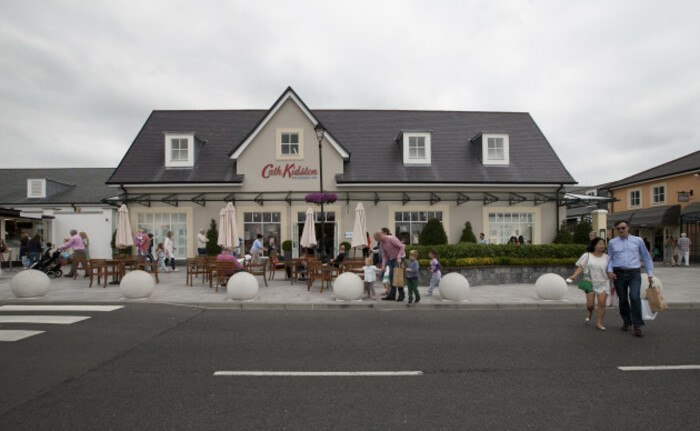 Source: Eamonn Farrell/Rollingnews.ie
In addition to hurting Kildare Village's ability to generate jobs and revenue, Value Retail complained that the absent unit would go against good design practices and "seriously detract from the appearance of the scheme".
"A straight, unfocused route is not inviting for people to walk along. Successful routes include interesting focal points, spaces and paths rather than uninspired straight lines," it said.
"The omission of unit number 104 and the creation of a straight street within Phase III will adversely affect the wind speed and climactic conditions for visitors."
'Unjustified' contribution
Value Retail also objected to Kildare County Council's condition that it must pay a 'special development contribution' of €1.45 million to help build a pedestrian walkway between Kildare Village and Academy Street.
[embed id="embed_2"]
The company said it was "wholly unjustified" and "unwarranted" to expect it to foot the entire bill and instead offered to pay a quarter of that price.
In a separate, third-party appeal, conservation charity An Taisce objected to the Kildare Village expansion on the grounds that the provision of extra car parking spaces without "adequate" public transport would be contrary to a number of transport plans.
Last year, the retail outlet experienced severe traffic problems during a two-day, pre-Christmas sales event.
In its submission to the national planning board, An Taisce said the existing development – which has free parking – is "unsustainably car-dependent" with 93% of visitors and 85% of staff travelling by car to the outlet just off the M7 motorway.
The organisation claimed that providing additional retail space will lead to an 18% increase in traffic and will "exasperate congestion on the surrounding road network".
Sign up to our newsletter to receive a regular digest of Fora's top articles delivered to your inbox.