Meet the man behind Keywords Studios, Ireland's €1 billion gaming tech giant
Since taking the reins in 2009, Andrew Day has helped the company level up in the gaming industry.
SITTING IN A meeting room inside Keywords Studios' Dublin HQ, Andrew Day ponders how an indigenous Irish tech company with a market cap of more than €1 billion can still fly under the radar. 
"I don't know, still a lot of people don't know us as an Irish business, really don't know that we exist. (It's) surprising. We don't spend a lot of time talking about ourselves either. It is quite like us. We are quite humble, quietly getting on with our work," he says. 
Quietly getting on with his work has proved a successful formula for Day, a nominee in this year's EY Entrepreneur Of The Year awards, since he took the reins back in 2009.
Over the course of his decade at the helm, aside from strong organic growth the South African has also overseen the company's flotation on London's AIM market in 2013 and more than 30 acquisition deals – the latest of which was announced earlier this week with more set to follow.  
Having started out providing translation services to tech companies such as Microsoft, the company now provides a range of services – spanning everything from testing, to audio and more recently game development services – as it strives to become the go-to provider of technical services for the great and good of video gaming. 
From a small operation of around 50 staff when he took over, Day says that Keywords now has more than 6,000 people "on the payroll" – who are spread across more than 50 operational studios, located across 20 countries and on four continents. 
The company's revenues were up by 66% to €250 million in 2018, as it reported adjusted profit before tax of €37.9 million. 
Blue chip clients
With its headquarters tucked away at the back of an industrial estate in south Dublin, Keywords might not quite be a household name, but its clients certainly are – including blue chip players such as Google, Nintendo, Microsoft and EA. 
While it has been quite the growth story, Day admits he was initially a little "reluctant" to take the job of chief executive. 
The business was originally founded in 1999 when Giorgio Guastalla moved to Dublin to work with his partner, Teresa Luppino, on a language translation and localisation business for software. 
Day, who has a background in tech, had worked with Guastalla previously at Brent International and watched closely as the business grew organically. 
"I know the business since it was started and actually spent a little bit of time helping Georgio position it in the video-game space around 2005. Georigo had been asking me to come and run it for a long time. Eventually I succumbed to Georgio's charms and did a deal in terms of sharing equity, took over the keys," Day says. 
Guastalla remains a non-executive director and now runs an Italian food import business with Luppino.
"(There was) a great opportunity for someone like me to come in, bring a bit of vision and a business plan. I didn't have 10 years invested in the business, instead of worrying about it, I was just stepping forward and being confident," Day says.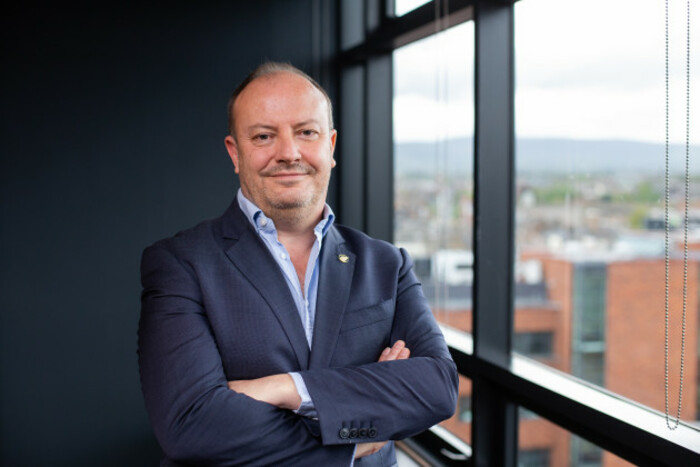 Source: Keyword Studios/Richie Stokes
Expansion trail
Following a first period of being in a "very organic, steady state", Day first oversaw a period of steady, but more ambitious growth, when he took over. 
"I thought I had a clear idea of what was going on in the video games industry. It was a bit odd that you had a company the size of Keywords as a key provider, but a very small provider, to somebody like a Microsoft," Day says.
In the early years Day set about expanding both in scale and scope – adding international offices and new service areas such as audio and functional testing. 
"We opened in places like Canada. I say we, I mean me, with my backpack moving from Starbucks to Starbucks to grab some free wifi," he says. 
Day had also spotted that a fragmented industry could prove a bountiful hunting ground for acquisitions. 
"I thought, how are these big companies going to be able to outsource more strategically if they have to deal with hundreds of businesses. It is a very fragmented landscape, so I thought there must be some opportunity for acquisition to accelerate."
"If no one else is going to do it, although it seemed cheeky as a 50-person company in Dublin, why don't we we do it?"
Earlier in Day's career, he took an opportunity to move to London and work for Britannia Security Group where he learned the ropes of the merger and acquisition market "at the hands of a master" as the company did 20 acquisitions in around 18 months in the late 1980s.
It was an experience that would prove formative as Day put in place Keywords' growth plan.
The company floated on AIM in London in 2013, and since then has embarked on an acquisition spree – with its four deals to date this year taking the running total to more than 30.
"The idea was always that we wouldn't just do this organically, the reason we floated was so we could go out and make acquisitions," he says.
"Those acquisitions were planned to give us a wider range of services to fill in some of the gaps we had and also to give us the geographic footprint we wanted. It is a bit of an accelerator for our business."
Day says that Keywords has no plans to slow down anytime soon.
"There is a very active pipeline of acquisitions. On the one hand we have strong organic growth, and then acquisitions to come on top," he says.  
The deal-flow and increasing geographic spread means that Day, who lives in London with his family, has to deal with more than his fair share of travelling. He is recently back from a trip to Asia and is in Dublin for a short stay before flying to Britain on the evening that he meets Fora. 
Not that Day, it seems, would have it any other way.
"It probably does take a bit of a toll, but it comes with the territory. To be honest, I would much rather be travelling than not," he says.
Industry shifts 
Keywords has grown through a period of flux within the gaming industry. In the past decade the company spotted the trend of the big studios moving to focus their efforts on large pillar blockbuster titles, rather than volume.
In the past six or seven years Day has also noted the increasing longevity of games, as additional downloadable content has kept gamers interested in titles for significantly longer. 
Now, Keywords and Day are in the thick of another shift as massive players such as Google, a Keywords client, and Apple are looking to get a share of the market.
"It is always interesting to see the industry and how it evolves as it is incredibly fast moving."
"What has been validated over the years is that, as a trusted provider of services to the industry, we are taken with the industry. When the industry goes to streaming they take Keywords with it. We are working with Google and others in the space to help them get their services up off the ground," Day says. 
While games remains the primary focus, Day also has designs on broadening Keywords' reach. 
"It is an area of the strategy that we articulated at the time of our IPO in 2013, when we said we will step out into neighbouring areas. You can't help (but) see the similarities in what we do for video games in film and television, where they are using a lot of the same technology," he says.  
A decade since taking over, Day's enthusiasm is as strong as ever.  
"I hope we can carry on doing what we are doing. Our plan is to get to the point where these big clients of ours would feel comfortable in offloading big chunks of what they are currently doing internally to a company like us," he says. 
"I would like to think that we are not more than a few years away, and would very much like to steer the business to that and hopefully beyond," he says. 
Get our NEW Daily Briefing with the morning's most important headlines for innovative Irish businesses.