KeepAppy is making it easier for people to manage their mental health
In our weekly Startup Scout series, Fora picks out the most promising companies emerging from Ireland.
Founders: Aimée Louise Carton and Will Ben Sims
Elevator pitch: A mental well-being management app
Funding: €250,000 from angel investors
Status: Launching an augmented reality game next month
LAST SEPTEMBER, A report from advocacy group Privacy International showed that some period-tracking apps on the market were sharing sensitive data with Facebook.
It wasn't the first time that a story like this made headlines. Just a few months prior, medical journal BMJ published a paper that found 24 health apps were sharing user data with Facebook, Google and Amazon to name a few.
The well-worn maxim of free services and the user being the product rang true once again.
As our lives have become more digital so too have the ways we manage our health, both mental and physical, and cases such as these underscore the need for greater transparency by health app makers, according to Aimée Louise Carton.
She is the co-founder and chief executive of KeepAppy, a mental health tracking app that gathers together different features to help users stay on top of their mental well-being.
"Peace of mind around your data is so integral to your well-being," she added.
KeepAppy provides several features in a one-stop-shop model but one of its chief calling cards, and selling points, is its approach to data collection and data privacy.
"We're very transparent about the fact that we are very careful with the data that we have and certain features on the app aren't even stored on the cloud, they're stored in the individual's phone," she explained.
"Some investors are disappointed to hear how little data we track but it is something that we consider very important."
Self-care
KeepAppy was born from Carton's own mental illness following a suicide attempt.
"It was actually during my recovery that I was told by my doctors to not go near meditation," she said.
"I was so shocked because so much of the wellness marketplace is dominated by meditation apps. There was nothing really there (for me)," she said.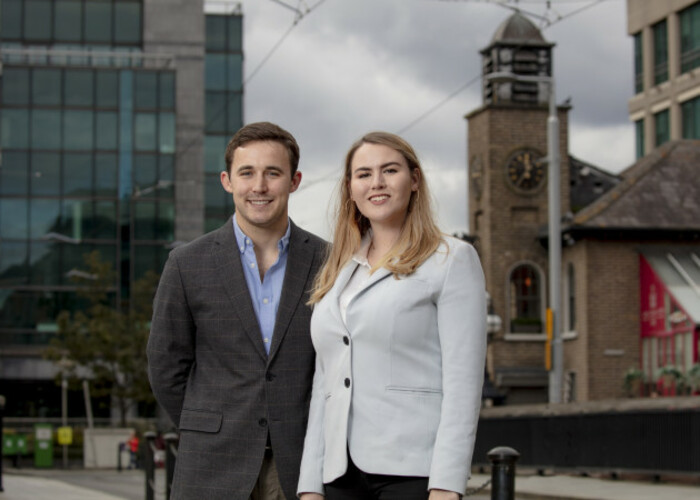 Source: Shane McCarthy
She found that many of the apps are often built with the best of intentions but they fall down on user experience. It ultimately led to the creation of KeepAppy with co-founder Will Ben Sims.
"We had to be very clear that the user had to be the centre of the product," she said.
"What I found with a lot of the competition is that they're built in a really ugly and hard-to-use (way) and they're not that intuitive but that's what makes KeepAppy different."
She likens its intuitive design to a gym where regardless of the gym a user walks in to, they can navigate where each piece of equipment is. This similar approach is applied to the design of the app and the way features are laid out.
To achieve this, KeepAppy, alongside its data privacy stance, is multi-featured and includes functions such as period tracking and medication reminders.
Another feature is a journal for users to regularly record their thoughts and feelings.
Carton told Fora that KeepAppy has borrowed from various clinical studies to inform the design and make-up of the app.
"This is something that we had to do very closely with the psychologists who advised us and helped build the app with us."
KeepAppy intends to run clinical trials later this year with universities to further back up its app.
[embed id="embed_2"]
Social enterprise
Carton describes KeepAppy as a social enterprise, even though it is a for-profit company. It charges a monthly subscription model but under a 'one-for-one' approach where for every subscription it gets, it gives one away to someone that needs it.
The startup has raised €250,000 in a pre-seed round from angel investors and recently secured a further €30,000 through a Kickstarter campaign.
Next month the startup will be launching an augmented reality game within the app that further helps users with their wellness routine.
Like a mix between Pokemon Go and Tamagotchi, the game involves a small animated character called a 'keepy' that the user has to tend to daily.
Carton got the inspiration from her recovery. She found that when she was at her lowest, she wasn't caring for her dog.
"I realised that I had to take care of myself to be able to take care of her."
As taking care of her dog complemented her self-care, the game attempts to replicate that in the app.
"People do struggle to take care of themselves when they're in (a) low mood. We needed to create something that empowered people to remember to take care of themselves, "she said. "It's called a caring circle where the onus of responsibility empowers you to take care of yourself.
"The idea is that it gives you something more. It lets you look after yourself."
Get our Daily Briefing with the morning's most important headlines for innovative Irish businesses.