'It's not possible to get the hackers to fight for the right side because they earn more money'
That's according to cyber security expert Eugene Kaspersky, whose firm just opened an R&D centre in Dublin.
THERE COULD BE a big shortage of cyber security experts around the corner and it's tough to convince the "bad guys" to fight for the right side, according to Eugene Kaspersky, the founder of security giant Kaspersky Labs.
Kaspersky was in town this week to announce the opening of his company's first European research and development centre in Dublin. The project will cost the company $5 million (€4.45 million in today's money) and could create up to 50 jobs.
After the announcement, Kaspersky took part in a round table discussion about trends in cyber security and revealed the results of a survey conducted by his company that predicted a shortage of 1.5 million security professionals by 2020.
It also highlighted that only a quarter of Irish IT graduates are interested in a career in cyber protection and nearly a third felt they lack the experience to enter the field.
Kaspersky said the lack of cyber security entry-level positions at businesses worldwide – and in Ireland – is putting even those interested in the area off pursuing a career in the sector.
The 'bad guys'
"We have to promote cyber security to students and it's easy because the area is extremely interesting," Kaspersky told a crowd at the Shelbourne Hotel.

"It is high-end tech that is relevant for every device from telephones to turbines. It's everywhere. 
"It's interesting because in many cases, we also have to find the bad guys. So it is about hunting the man. Also, there is more and more demand for cyber security experts, so they are better paid."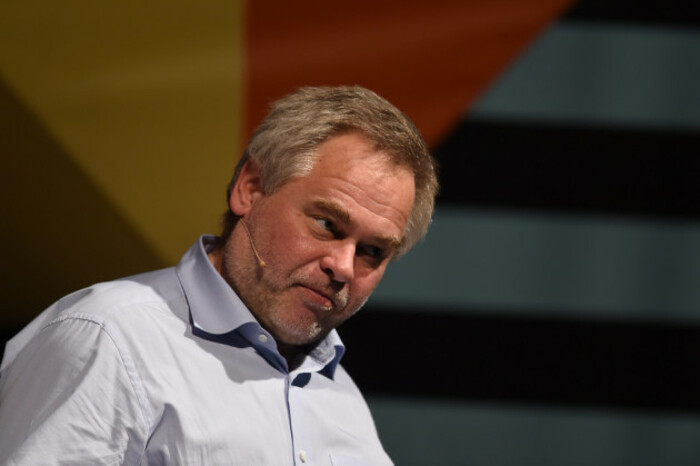 Even though jobs in cyber security might pay well, he said it is unrealistic to think about hiring the likes of hackers to work in the development of security tech.
"Unfortunately it is not possible to get the bad guys to the right side simply because they earn more money.
"The bad guys are getting more and more experienced and unfortunately they are able to hack even the very well protected organisations and businesses like banks."
Terrorism
This year alone there have been a number of high profile cyber security attacks on organisations across the world.
Bangladesh's central bank was breached and almost $1 billion was nearly lost in the process, while last year Ukraine suffered a crippling blackout after hackers gained access to the nation's power grid.
Kaspersky said it is important not to idolise hackers or organisations they might be members of.
"In TV and movies the hackers are shown as super geniuses … smart and are heroes. I think this is bad. The best example of the right portrayal of good and bad guys is in Die Hard 4.0 because in the movie they are fighting cyber terrorists," he said.
"There are more and more bad guys that are not just cyber criminals, but they are closer to the definition of cyber terrorism who, for example, attack hospitals."
Source: PA WIRE
He said there have been three notable cyber attacks on hospitals in Australia, California and Germany this year that has resulted in each having their data encrypted and held to ransom – forcing each hospital to close during the attacks.
"That's what is very close to the definition of terrorism because it is not just asking for money, but also scaring people," he said.
"I think the glamourisation of hackers is getting less and less because there is more and more bad news about these people.
"Please keep in mind that the old definition of hackers, which is they are experts in IT systems, not for profit and not doing it for fun, that's the past. They are now criminals."
read more on