Limerick edtech startup Jumpagrade is bringing grinds into the digital age
In our weekly Startup Scout series, Fora picks out promising companies that are emerging from Ireland.
Founders: Padraic Hogan, Ethan O'Brien and David Neville
Elevator pitch: online grinds and tutoring service
Status: launched in Ireland and generating revenue
PADRAIC HOGAN SAT his Leaving Cert in 2008 and like a lot of students around the country, sought additional supports through grinds.
Now more than a decade later, he and his co-founders at Limerick-based Jumpagrade are trying to bring this common practice up to digital speed and introduce some much-needed change.
"We would have went to grinds ourselves and saw ten years later that it hadn't changed a whole lot."
Students and families are still relying on grind schools, Hogan said.
"In a lot of cases in Ireland it's 25 students to one teacher and that's replicated when you go into the grinds school."
This lack of one-to-one learning and feedback can leave some students feeling left behind and struggling to keep up.
Jumpagrade's platform is trying to create more one-on-one tutoring and feedback for students.
Study support
Students sign up to Jumpagrade and receive personalised worksheets from teachers on which they provide specific feedback around areas the student needs to improve.
Students pay weekly or monthly fees to access the service depending on how long they need it for.
"We assign them their own teacher that works with the student throughout the school year," Hogan explained.
"The student writes out their answers, takes a picture on their phone and the teacher then provides them with detailed video feedback showing them how to improve. It looks at corrections, insights on what's expected by the State Examination Commission."
Jumpagrade only signs up teachers that meet these SEC standards and are registered with the Teaching Council.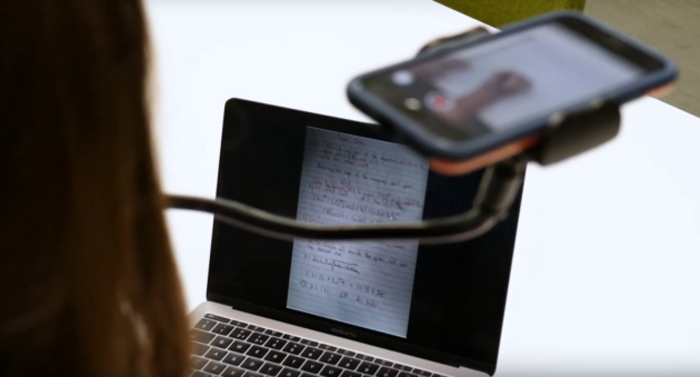 Source: Jumpagrade
The startup has collaborated with Learnovate, the edtech research centre at Trinity College Dublin, to devise frameworks for teachers to provide meaningful feedback.
"They look at things like good characteristics of providing grinds in an online environment."
Teachers apply to work on Jumpagrade and once vetted, which involves carrying out sample tasks with worksheets, can use the service to supplement their income.
They can have up to ten students a week with maths being the most in demand subject followed by the sciences and English. Most students are in the Leaving Cert cycle.
"We've had over 600 teachers apply to work with us since last September," Hogan said.
"Some of our teachers are based outside of the country that have met the criteria to work with us but might be in a gap year. We had one that is based in Vancouver providing Irish and history grinds to students across Ireland. We also have a number of teachers that are based in the UK."
Expansion
After establishing the business model, Hogan said Jumpagrade is examining ways of expanding the service's reach to students that may fall under the radar.
"(We are look at ways of reaching) students that wouldn't have the financial means at home and might come from environments where progression to third level might not be common within their families or within their communities," Hogan said.
"Through that we provide our services directly to the likes of university access programmes, to youth organisations."
Another feature that's due to be trialled in the coming months is a "motivational module" that isn't focused purely on study.
"We see the potential to have a motivational element to the platform, to be able to build students' confidence, focused on what the student might be interested in themselves."
This, Hogan said, can help plug quiet periods for Jumpagrade such as during the summer months.
"The intention will be to launch Jumpagrade into another market by September 2020," he added, with the UK a likely candidate.
Jumpagrade has for the most part eschewed outside financing, save for a €100,000 investment from a private investor.
Self-sufficiency remains a key goal for the Jumpagrade, Hogan said. "If we can get ourselves to the point where we're generating revenue that's required,we're not looking to raise."
Get our Daily Briefing with the morning's most important headlines for innovative Irish businesses.