Pharma giant Johnson & Johnson has snapped up a Galway firm in a massive deal
Neuravi was acquired by the company's neurosurgery arm, Codman Neuro.
AN IRISH MEDTECH firm that treats stroke patients has been bought by a subsidiary of pharmaceutical colossus Johnson & Johnson.
It was announced today that Galway-based Neuravi has been bought by DePuy Ireland, an affiliate of J&J's neurosurgery firm, Codman Neuro.
The price tag for the buyout has not been disclosed, although it has been reported in the Irish Times that the deal could be worth hundreds of millions of euro.
Founded in 2009, Neuravi makes a medical device that is used to retrieve clots following a stroke and restore blood flow to the brain.
The firm's EmboTrap device is used in the treatment of acute ischemic strokes, which are caused by blockages in vessels supplying blood to the brain and accounts for the vast majority of all strokes.
"Rapid restoration of flow is of utmost importance when treating stroke patients," said Shlomi Nachman, chairman of J&J's medical devices unit.
He said the EmboTrap was "designed to address this critical need" and said pooling Neuravi's research with Codman Neuro would speed up "innovation in acute ischemic stroke treatment".
FDA submission
J&J's Codman Neuro last year acquired another medtech firm, Pulsar Vascular, which makes a technology to treat complex brain aneurysms.
Neuravi's device is already commercially available in Europe and has been used to treat more than 3,000 patients throughout the continent.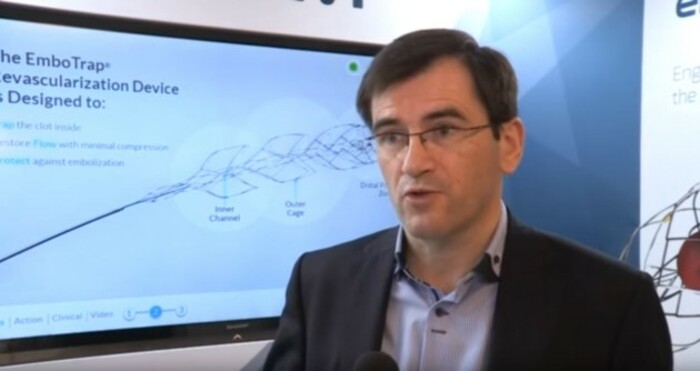 It is available in the US for investigation purposes only. The firm is planning to make a submission to the American Food and Drug Administration later this year.
Neuravi was founded by Eamon Brady, David Vale and John O'Shaughnessy and has raised more than €25 million in funding.
The trio were executives at another Galway-based medical device firm called MedNova, which was bought by Abbott Laboratories in 2005.
Neuravi Ltd reported a loss of more than €7 million in the financial year ended 31 December 2015. Accumulated losses snowballed to more than €15.5 million during the 12-month period.
According to the World Heart Foundation, 15 million people suffer a stroke every year. It is the second leading cause of death for people over the age of 60.
In the US alone, the economic burden of stroke is estimated to be $33 billion annually, including the cost of healthcare, medications and lost productivity, according to the Centres for Disease Control.
Sign up to our newsletter to receive a regular digest of Fora's top articles delivered to your inbox.
read more on