John Player says public health groups have their 'head in the sand' on vaping
The cigarette stalwart has been pushing its own e-cigarette products under the Blu brand.
CIGARETTE GIANT JOHN Player warned the Department of Health that public health groups have their "head in the sand" when it comes to vaping.
In a letter sent to Health Minister Simon Harris, John Player, whose parent Imperial Tobacco is behind the electronic vaping product Blu, said that there has been inaction on vaping.
Market manager Morgan Lee made the case for vaping being a valid tool for quitting tobacco smoking.
"The failure of the Irish state and its public health agencies to fully explore and embrace vaping as being a much safer alternative has raised a very serious question," Lee wrote.
The government is in the midst of hammering out new regulations that will affect e-cigarettes.
Potential new rules would implement legal minimum age thresholds on sales and restrict the types of advertising that products can use.
"It is no longer plausible for Irish public health to hide behind the assertion that there is not enough evidence around vaping," Lee said.
He pointed to public health organisations in the UK and New Zealand that have taken positions that are friendly toward vaping.
"How can UK anti-smoking groups ASH and Cancer Research endorse vaping as a quitting aid but their counterparts in Ireland put their head in the sand?"
John Player's Blu brand has been running a significant advertising campaign in Ireland of late as competition from the likes of Juul and Logic has intensified.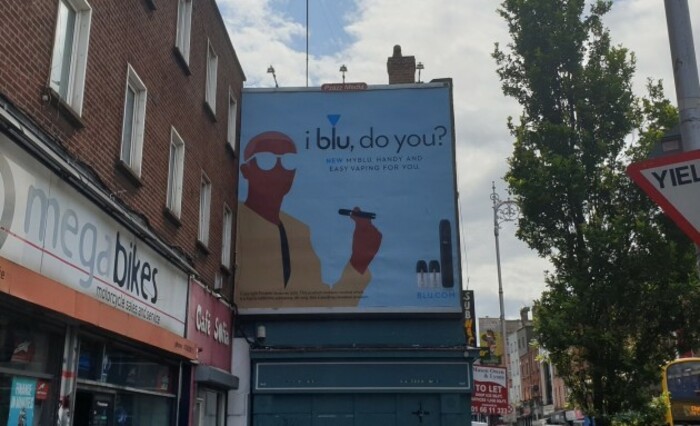 Lee went on to defend the standing of tobacco companies – many of which have invested in vaping firms – and their place in the discussion around vaping.
"Public health cannot be expected to have all the answers, but solutions from the private sector, even from the tobacco industry should not be dismissed," he said.
"The tobacco industry should never be exempt from criticism, but neither should its progressive actions go ignored by policy makers," he added.
Under fire
Vaping products, which don't have any tobacco but still have nicotine, have come under fire recently, particularly in the US, over health effects and marketing to teens.
The Centers for Disease Control and Prevention reported that there have been eight deaths linked to vaping and over 500 illnesses. This has fueled calls from public representatives for bans or restrictions.
Juul, one of the industry's biggest names, has been caught in the eye of the storm.
Earlier this year, Juul, which is backed by Marlboro maker Philip Morris and valued at $38 billion, launched in Ireland.
It has been on a charm offensive to change its image. As previously reported by Fora, it is calling for more regulation but not rules that will infringe on its advertising abilities.
Juul's Ireland boss, Gareth Smyth, also wrote to officials this summer urging age-restriction rules on sales.
Get our Daily Briefing with the morning's most important headlines for innovative Irish businesses.