'Unless you can pick yourself back up quickly, recruitment can be a brutal industry'
Tools of the Trade: John Farrelly, managing director of Propeller, talks dogs and resilience.
EVERY WEEK, FORA gets inside the heads of some of Ireland's top entrepreneurs to gain insights into what got them to the top of their trade. This week we meet John Farrelly, managing director at aviation recruitment firm Propeller. 
John Farrelly wishes he'd started his business a year earlier – even if it's only a year old. 
Though the team is just six people strong, the founder and managing director of Propeller – an aviation recruitment firm – already has outposts with on-the-ground consultants in the UAE, Australia, US and Europe. 
The company specialises in low-cost recruitment on one end and C-suit at the other – but sticks to engineering roles. Farrelly previously worked in Sigmar Recruitment and won recruitment consultant of the year from the National Recruitment Federation in 2017.  
As part of our weekly Tools of the Trade series, we spoke to Farrelly about the brutal side of the recruitment industry – and time spent with his dog. 
Here's what he had to say: 
Are you a specialist or a generalist?
A specialist. There's a huge amount of roles you can work in in aviation so we don't do anything with pilots or cabin crew. We've always been focused on the engineering side. 
How do you judge new staff?
Aviation and recruitment are people businesses. We expect an open and empathetic approach as an absolute minimum. 
Technical skills, honesty and transparency are really important. Motivation is absolutely critical.
(We look for) somebody who has the ability to learn quickly and is open to stepping a little outside their comfort zone, some of the roles can be very technical and difficult to get to grips with. 
What quality has helped you stand out?
Resilience. We have salvaged seemingly lost-causes on numerous occasions by identifying simple solutions to complex challenges. We work on a success based model – if we don't find a solution we don't get paid. 
What past business decision would you change?
I wish I'd started my own business earlier. I loved working for my previous company but nothing compares to working for yourself. It's rewarding in ways that I could never have imagined. In an ideal world I would have started 12 months earlier. 
What has shook your confidence and how did you get past it?
Recruitment is full of disappointments and near misses. The rewards are amazing but it's not an exact science; peaks and troughs are inevitable. 
There have been times when people have signed the contract, we've planned for that revenue to come in on the back of that and then you may get a phone call in a week or two – or an email sometimes – saying that they're not going to start.
That can really shake you. Unless you can pick yourself back up quickly it can be a brutal industry. You just have to get on with it. 
What tool could you not do without?
LinkedIn. It's made great strides over the last couple of years. 
How do you deal with stress?
I take my dog for a walk and get a bit of perspective. Stella is a registered Irish therapy dog. We both volunteer in the nursing home each week.
Stella's incredible at lifting any mood and reducing stress. To be honest if I didn't work in recruitment I'd work with dogs for a living. 
What's the most important part of your daily routine?
The first hour of the day which I spend playing with my 11-month-old son Jack. His wonder at things we take for granted has taught me to have a much more straightforward outlook to business and life in general. I generally start work at 7.30am with a renewed focus for the day ahead. 
[embed id="embed_3"]
How do you keep your staff onside?
Setting realistic targets and communicating openly and honestly. If people have a strong understanding of what's expected of them and it's pragmatic, it's a very strong start to a business relationship. 
How do you respond to failure?
I analyse what went wrong, the reasons behind it, what measures if any I can take to ensure it doesn't happen again. Then I implement it.
The last part sounds obvious but over the years I've been amazed at people doing the same thing over and over and expecting a different outcome. Learning from failure is absolutely essential in terms of personal and professional development.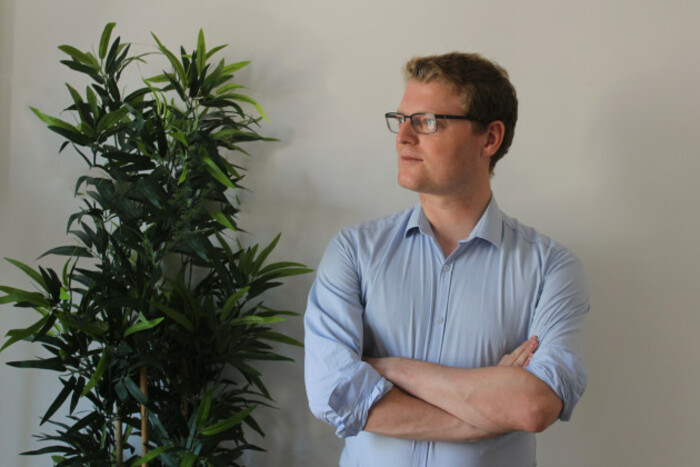 Source: Propeller.
What book would you recommended the most?
Never Split the Difference (by Chris Voss). Understanding, mastering and applying the basic rules of negotiation is critical in business and it's taught me some valuable tools that I've put into practice on a daily basis. 
Get our Daily Briefing with the morning's most important headlines for innovative Irish businesses.