The government's new PR guru insists he's not running a 'spin unit' for Leo Varadkar
John Concannon heads the controversial new €5 million 'strategic communications unit'.
THE HEAD OF the government's controversial new 'strategic communications' outlet has insisted it is "not a spin unit" for Taoiseach Leo Varadkar.
Speaking in public for the first time since his appointment, John Concannon was presenting at a 'crisis communications' conference organised by the Public Relations Institute of Ireland (PRII).
The strategic communications unit, which will cost taxpayers €5 million next year, has come under fire since it was launched during the summer, with opposition TDs dismissing it as a "spin unit" for Taoiseach Varadkar.
However Concannon told the gathering of PR professionals and students that the Taoiseach is "very well capable of his own communication".
"My role is to report to the secretary general of the (Department of Taoiseach) and work across government in a way that we haven't done before," he said.
The unit runs in tandem with the existing Government Information Service, which already handles day-to-day communications for the department.
Fianna Fáil leader Micheál Martin has said one of his first acts as taoiseach would be to dismantle the unit, while Labour's Brendan Howlin has lodged a complaint with the Standards in Public Office Commission over the setup.
Concannon, who will earn up to €140,000 each year in the new job, said the objective of the multimillion-euro unit is to streamline the way government agencies share information with the public.
"We're going to take international best practice," he said, citing an example of how the Dutch government channeled more than 200 public "identities" through a single outlet.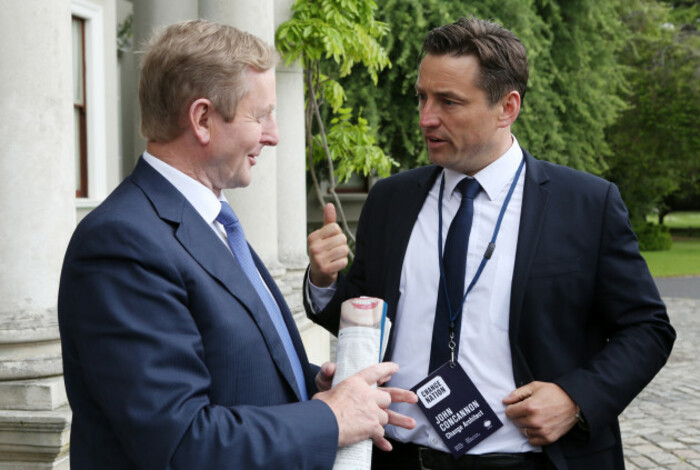 Source: Sam Boal/Photocall Ireland
'Relentless bad news'
The bulk of Concannon's speech concentrated on his previous work. He subtly drew comparisons between the controversy surrounding the strategic communications unit and other projects he worked on.
He said the state's 1916 Rising centenary celebrations, which he fronted, were initially met with "relentless bad news, relentless negativity".
Concannon said 1916 organisers decided to "not overly focus on who shot who and how", which left academics "very annoyed" while relatives of those involved in the Rising "self-organised a boycott".
He also discussed tourism marketing initiatives Wild Atlantic Way and the 2013 Gathering, a tourism plan to bring the diaspora to Ireland during the recession.
"The Wild Atlantic Way is just an elaborate signposting project," he said, before adding: "but it's a lot more than that."
He said the initiative has "given a platform to Ireland", noting how Condé Nast travel magazine heaped praise on Donegal as a place to see in Ireland.
He also recalled the "huge amount of negativity" that surrounded the Gathering when it was first rolled out, remembering how actor Gabriel Byrne dismissed it as a "scam".
"It wasn't just about government, it was about the whole society," Concannon said.
Sign up to our newsletter to receive a regular digest of Fora's top articles delivered to your inbox.
read more on