Indeed is working with Central Bank economists to analyse competitive areas of the jobs market
The top 20 jobs facing potential labour supply shortages include roles in finance, healthcare and tech.
JOB SITE INDEED is working with economists from the Central Bank to research the most competitive areas of the Irish labour market. 
Data from online job searches can reveal which jobs are most in demand, and which areas are facing potential labour shortages, according to a new research paper by Indeed economist Pawel Adrjan and Reamonn Lydon, a Central Bank economist. 
The research has developed a new measure of labour market tightness through analysing the number of clicks on a job posting. 
It found that jobs that receive fewer clicks on career websites indicate that supply of potential workers is low. Salary growth also tends to be higher in occupations where the aggregate number of clicks is low relative to the total number of jobs. 
Roles such as senior fund accountant, gastroentrologist and senior mechanical designer  are among the top 20 jobs that have a low level of clicks. 
"They are areas where demand is robust but the supply of people with that knowledge isn't keeping up with that demand," Pawel Adrjan said.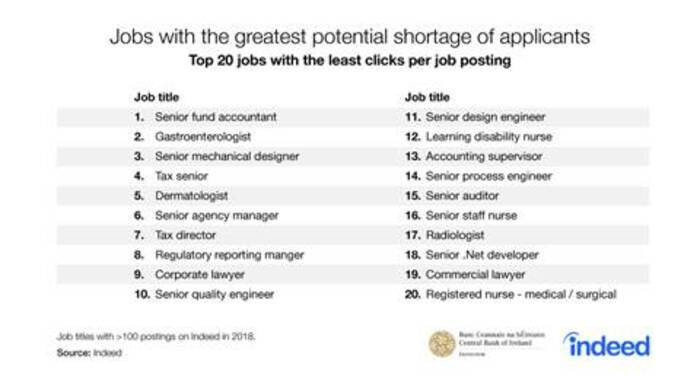 He said that when the unemployment rate is low, the availability of people for work is low and across the economy employers find it hard to hire people – which sees salaries rise for more in-demand roles. 
Employment levels in Ireland have surpassed levels seen previously pre-recession in 2007. This week the unemployment rate dropped to 4.4%. 
New data sets
The paper is the first in a collaboration that will in future look to explore other areas where online job search data can help inform economic research and forecasting.
According to Adrjan, Central Banks across the world are looking at new data sources to access the economy and looking to the private sector to find more data on retail prices, housing prices and the labour market. 
[embed id="embed_2"]
The new measure of labour market tightness based on clicks on online posting can be used alongside other traditional indicators and data surveys to get a better insight into labour market. 
"We are looking at something that is much more timely than other existing resources so in a way it doesn't replace data sources like surveys, but it compliments them really well," Adrjan said. 
The report also assessed online data and CSO results to illustrate Dublin has a higher gross share of job posting compared to net employment growth. 
One of the explanations for this is the greater concentration of workers in sectors of a higher turnover in Dublin. 
According to the report IT workers have higher rates of job turnover, with 30 months less average time spent in a role. Workers in professional, scientific, and technical activities also have a higher rate of job switching more generally in Dublin.
Get our NEW Daily Briefing with the morning's most important headlines for innovative Irish businesses.