'When I was growing up, people perceived Irish whiskey to be your grandfather's drink'
Tools of the Trade: Jack Teeling on building a global brand and why he took up running.
EVERY WEEK, FORA gets inside the heads of some of Ireland's top entrepreneurs to gain insights into what got them to the top of their trade. This week we spoke to Jack Teeling, founder of Teeling Whiskey Company. 
Jack Teeling feels like he has something to prove – which he reckons is part of what drives him at the helm of the Teeling Whiskey Company. 
That drive has helped grow the brand since it opened the first new distillery in Dublin in over 125 years in 2015. The company employs 85 people and had a turnover of €18 million last year.  
In our weekly Tools of the Trade series, we spoke to Teeling about building a global brand and taking up running for stress. 
What's your main motivator?
I always felt like I've got a point to prove, something to try and achieve. The main motivator for me is to prove that an idea you have can come to fruition.
We feel we have a key role to play in Irish whiskey and to bring an independent voice to the category, do something a little different and represent modern Ireland. That's what gets you out of bed and makes us jump on planes all over the world, trying to achieve that vision. 
What's the most important part of your daily routine?
Getting a chance to put my kids to bed every night.
From a work perspective, there's a couple of things. Getting time to talk to the different managers we have covering different parts of the business. Also, to try and carve out some time for some headspace to look at the bigger picture, not get caught up in the daily grind. 
What ambitions do you still have?
Our goal is to create a global premium brand for Irish whiskey. We're part of the way there. I'm the kind of person who, once I achieve one thing I'm always looking at the next thing. 
What's one habit you would recommend people starting in your sector take up?
We're a rock in the middle of the Atlantic. If you want to build a global brand, you have to go to where your customers are. Every time I go away, I get a boost of energy and enthusiasm for what we're doing and I always learn something new. 
A lot of the ideas that I have now, and what I put into fruition came from travelling around the world and picking up all these little seeds of information.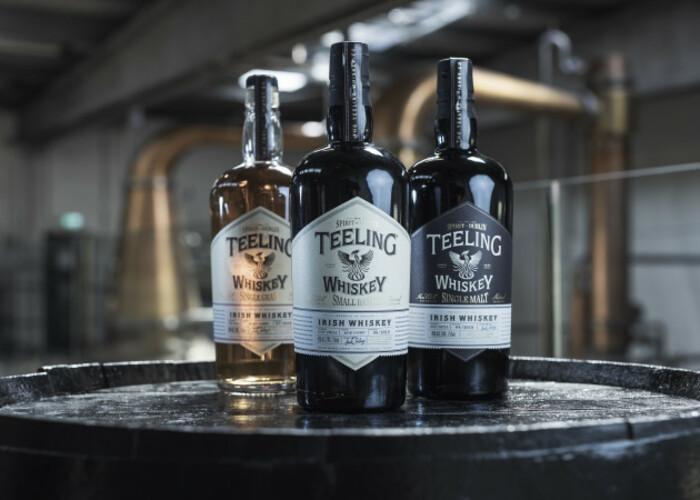 Source: Jack Teeling
What's a common misconception about your industry?
Internationally I think there are a lot of perceptions about what Ireland is and what Irish whiskey is; that it's all guys sitting on rocking chairs with their pipes and slippers and it's very old fashioned. 
The reality is we're a young, cosmopolitan, open society that has evolved quite dramatically that has evolved over the last 40 years. 
There is a big challenge, and an opportunity, in educating the world on what Ireland is in the 21st century. 
Domestically, I think there's been a generational shift. When I was growing up, people perceived Irish whiskey to be your grandfather's drink. 
Is technology a friend or a foe in your sector?
Modern media has had a big role in allowing smaller brands like ourselves to go on to a global audience.
We're a relatively small company and we can't go around the world and engage with everyone, but if they want to learn more they can find you online and connect. We have a vehicle to tell our story.
What's more important, education or experience?
Having come from a family where my parents were the first generation to go to third-level education, they beat into me the importance of education from day one. 
I always had to go to university just because they were blessed and they thought university gave you the keys to open a lot of doors. I do believe a good base third level education is beneficial and opens all your options.
Does it train you to be the best in whatever industry? Definitely not, but it does give you options no matter what you end up doing. Experience will give you the insight into business and where you want to go a lot more so.  
What was your biggest business wake-up call?
Seeing the opportunity and realising that if I didn't take it myself in a short period it would be gone. 
When I decided to leave my previous employment and set up the Teeling Whiskey Company, there were lots of opportunities to stay on in the business. But I felt that if I didn't make that move then at my age and at that time in the industry, I would probably never do it or the opportunity would disappear.
The wake-up call once I got to that stage was realising that I didn't know everything about everything. 
What's the one thing, looking back, that you wish you had done differently?
The hardest thing is managing people. Some of the mistakes I made were that I hired the wrong people but I didn't deal with it quickly enough and let the situation drag on, rather than be more proactive with it. It drains you emotionally and physically and puts a drain on the company. 
How do you deal with stress? 
I used to play a lot of team sports which I found very good at releasing stress. When stress in the earlier years was harder I probably drank and ate too much and put on a good bit of weight. Then I found that I didn't have the time with the job to play team sports and that I was getting a bit too old to socialise with the younger crowd. 
I took up running and I haven't looked back. I find it a great release. Just being able to put on a pair of runners and go running no matter where you are. There are no excuses.
What's your worst intellectual habit?
Struggling to switch off between work, lifestyle and family life. It all blurs into one, your brain doesn't stop working and you find you're waking up in the middle of the night over something to do with work. 
These are good things as well as bad things but you hope it doesn't start impeding your family life. 
The other thing is not celebrating success enough, so constantly looking for the next thing. That's just who I am. But for the rest of the company, you should be able to stand back and smell the roses and go 'we have some great things here'.
Get our Daily Briefing with the morning's most important headlines for innovative Irish businesses.