'It's not enough to just recycle coffee cups': John Beckett is helping Irish tech fight climate change
The serial entrepreneur and ChannelSight founder is branching out into forestry to get tech to go green.
GROWTH IS SOMETHING that occupies the mind of many a tech entrepreneur, but today John Beckett is pondering that concept a little differently. 
The serial entrepreneur is known in the tech scene as a savvy startup operator, having helped get Ryanair's first website off the ground at the tender age of 17 before going on to set up a number of companies including ChannelSight, an ecommerce company that raised $10 million earlier this year. 
Chatting to Fora over coffee on Wednesday morning at Tang cafe on Abbey Street, however, Beckett is as keen to talk about growing trees as tech. 
"We need to stop the bleeding," he says, referring to the climate crisis. Not one to stand idly by, Beckett is taking it upon himself to make a difference.
This week he launched Forestry Partners, a carbon off-setting social enterprise which brings together tech figures alongside climate, forestry and biodiversity experts. The idea is simple – to improve Ireland's climate change performance through the creation of large areas of new native woodlands.
It came out of the blocks in tandem with a new campaign – Irish Tech Goes Carbon Neutral 2020 – to work with Irish businesses to help them offset their carbon emissions.
The idea is to provide businesses with online tools and educational material to understand the emissions for which they are responsible and where they can cut down. With little time to waste, however, Beckett is also providing offsetting solutions through restoring and protecting native Irish woodlands.
Around 30 companies, including Teamwork and Phorest, have already signed up and Beckett isn't stopping there. "The plan is to get to 250," he says, with the goal of creating at least 25K tons of CO2 equivalent offsets and achieving 200 acres of planted or committed trees, while also helping companies to reduce their output. 
"No tech or business community has come together in this way, anywhere in the world," he adds. 
"Ireland is bottom of the table (in terms of the Paris Agreement) and we should be a leader," he says, adding that it is time for the private sector to weigh in.
He is keen to stress that there is no money in this for him, saying that the endeavor will be totally transparent and the forests will be kept in trust to ensure their long-term viability. 
Beckett points to a simple driver behind the project – he cares about the environment and he knows that a lot of others do. "This is giving people an outlet to do something material rather than just cross their fingers and hope the government will sort it out," he says.
ChannelSight had been quietly working on achieving carbon neutrality since last year and decided to do more. 
The support for the project, he says, has so far been very encouraging. Aside from making the simple case that Beckett believes its "the right thing to do", he adds that there is also real value for businesses in having solid green credentials.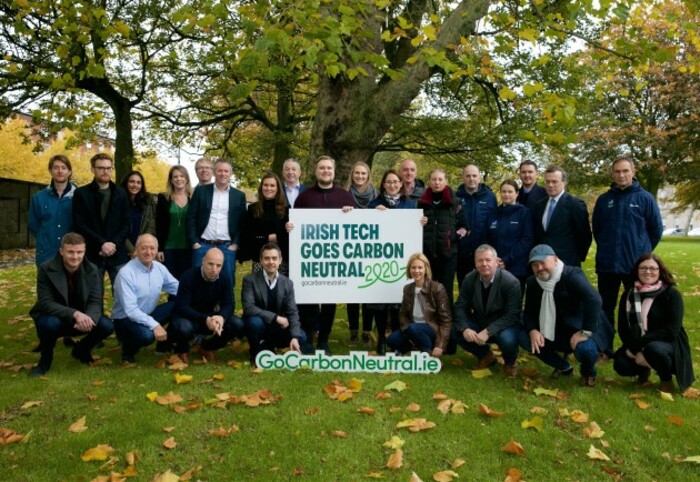 Source: LENSMEN, Lensmen
"There is plenty that can be done. It is not enough to just recycle your coffee cups anymore, when you are pitching to big clients they will also look at your ESG (environmental, social and corporate governance). There is a competitive advantage in this, it is not just paying lip service, it is actually doing something," he adds. 
An early high flyer 
Growing up in Dublin, Beckett was surrounded by computer equipment, his father was in the IT business, and made good use of it.
"I grew up taking them apart and breaking plenty of them, it was a great way to learn," he says. 
While still in school, Beckett's ambitions for his career were obvious early on as he got a job in computer company Gateway. Despite his young age, he made an impression, particularly on Eddie Wilson, who at the time was the head of HR at the company. 
If Wilson's name rings a bell, it should – he moved onto to become the chief people manager at Ryanair before taking over as CEO of the airline earlier this year as Micheal O'Leary became chief executive of the wider group as part of a restructuring. 
Two decades ago the airline was still getting its head around the internet and Beckett was invited in for a chat with Wilson, who is now a neighbor near Beckett's home in Howth. 
Except as the 17-year-old arrived he realised the meeting was not just with Wilson but the entire board. Clad in a t-shirt and jeans, at least he fitted the brand, he laughs. 
"It was really intimidating. I've never been one for the hard sell so I just told them what I could do," he adds. 
His approach worked, although Beckett adds that he learned a lesson about valuing proposals – he pitched for the job of building the website for the sum of around €20,000. The other bidders were talking in the millions. 
Still, it was quite the start as Beckett and his friend Tom Lenihan set about building the early Ryanair.com. 
"It is almost 20 years ago to the day now and I'm still dining out on it," Beckett laughs. 
While Beckett's parents made sure he sat his school exams, instead of heading for college the deal would lead to the formation of Adrenalin, a web and software development business.
That later morphed into Eirtight technology, a business that is still going strong although Beckett is no longer involved day-to-day.  
Beckett also founded and invested in a number of other ventures and by 2013 was looking for new problems to solve and products to build, hitting upon ecommerce as a space that had plenty of potential. 
That led to the development of ChannelSight, the company which Beckett now leads. The business helps brands drive online sales through its 'where to buy' technology, which helps companies to encourage consumers towards online retailers where they can make purchases.
Under the surface, the company also provides detailed analytics and information to help companies navigate an ever-changing online retail market. 
Having built companies from the ground up mainly through organic growth, building a venture-backed startup proved a new challenge. 
Beckett recalls arriving back to stay in his brother's apartment around 2015 after a grueling, and expensive, round trip to Boston to drum up investor interest, having already done the rounds in London. In the space of about an hour he had received three responses – all were passing on a deal. 
Persistence, however, paid off. In 2015 the company raised €3.3 million from investors led by Nauta Capital, with participation from Act Venture Capital and Enterprise Ireland. Earlier this year, ChannelSight followed that up with a larger round of €8.85 million, led by Amsterdam-based investor Connected Capital, with Act also investing again alongside Nauta.
The company might not be that well-known in its home country, as it doesn't currently have any clients here, but it is working with hundreds of companies across more than 65 countries and now employs around 80 people. 
ChannelSight has been busy building up quite the client list over the past few years and works with the likes of Sony, Phillips and Bosch. 
Healthy priorities 
While Beckett's packed CV illustrates a busy career, it is missing a key part of the story. 
For much of the time that he was building his early businesses, behind the scenes Beckett was dealing with a degenerative kidney issue.
In 2010, he received a transplant with his father as donor. The recovery period from such as operation can range from a few weeks to close to a year – within three weeks Beckett was back at work. That however, doesn't mean he is a workaholic.
"I'm not sure of the exact phrase but I remember it as something along the lines of: don't use all your health to chase after wealth, only to spend all your wealth later to get back your health," he says.
His priorities are very much in order, as time with his wife and two young daughters take precedence. 
With work, Beckett points to an enjoyment of the process, the day-to-day job satisfaction, as his primary motivation rather than financial gain. 
"Money gives you security and it gives you freedom," he says. "But it is a shame when you see young entrepreneurs just chasing financial success, I think when they get it they can be left feeling empty." 
For Beckett, that security and freedom also comes with a sense of responsibility. For now that is manifest in his new social enterprise. 
"If I can do something to help reduce carbon emission, to help with the climate crisis, then I should. I believe that anyone who has the ability to help with such as serious issue has a responsibility to do so," he says. 
Get our Daily Briefing with the morning's most important headlines for innovative Irish businesses.