Irish economic growth to slow as Theresa May signals 'clean break' with EU
However, Davy corporate brokers said that the country will still have the strongest growth in Europe this year.
IRISH GROWTH IS likely to slow amid talks of a 'hard' Brexit, however the country's economy could still expand at the fastest rate in Europe, it has been claimed.
The value of sterling fell below $1.20 this morning for the first time since October's flash crash after the Sunday Times reported that UK Prime Minister Theresa May is planning a 'clean and hard Brexit'.
According to the paper, May will say in a speech this week that the UK will pull out of the EU single market and customs union in order to gain control of immigration and end the jurisdiction of the EU Court of Justice.
Following the report, the value of sterling against the dollar fell to a 31-year low when the crash in October is excluded.
In its market commentary this morning, corporate stockbrokers Davy downgraded its prediction for Ireland's 2017 growth and cited a 'hard' Brexit as a key economic risk.
"We expect Irish GDP to grow by 3.7% in 2017, revised down from 4% previously but still likely the strongest growth in Europe," it said.
"For now, the impact of Brexit on the Irish economy remains muted. However, it remains to be seen how markets will react to the UK invoking Article 50."
"This morning, sterling fell to 88.5p against the euro, with investors fearing that Prime Minister Theresa May's speech on Tuesday will signal that the UK is prepared to leave the EU single market."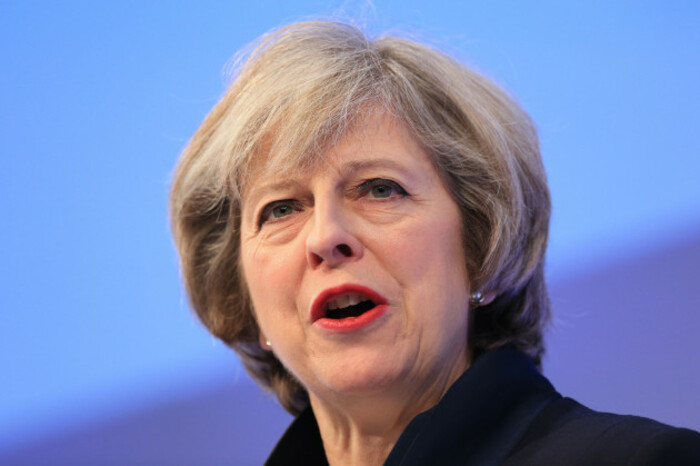 Source: JONATHAN BRADY/PA Images
Risk
It added: "A key risk is that a 'hard Brexit' will emerge with the UK potentially facing a disorderly exit from single market in early 2019.
"Such a scenario could lead to severe disruption for Ireland's export sector, potentially leading to tariffs being imposed, together with regulatory and legal uncertainties on trade with the UK."
"Since the UK's referendum on Brexit, export and manufacturing data have been softer."
The Sunday Times also reported that in an effort to reassure voters that backed the 'remain' side, May will say that she is prepared to strike a deal to ensure that UK businesses avoid a "cliff-edge" departure from the EU.
This morning also saw the the Times of London publish an interview with US president-elect Donald Trump. Speaking to former Tory leadership contender Michael Gove, Trump promised to draw up a trade deal with the UK "quickly" after Brexit.
Asked by Gove if he would press ahead with a trade deal between the UK and the US after Brexit, Trump said: "Absolutely, very quickly. I'm a big fan of the UK. We're gonna work very hard to get it done quickly and done properly. Good for both sides."
read more on