Irish Cement's Limerick plant has been singled out over 'significant' environmental issues
The facility has been the source of controversy, with locals worried about emissions.
IRISH CEMENT'S LIMERICK site has been added to an official list of facilities that are considered to have "significant" environmental issues.
The Environmental Protection Agency (EPA) today launched a new enforcement initiative that identifies industrial sites as 'national priority sites'.

Points are allocated to each site based on several factors including data complaints, incidents and non-compliance over the previous six months.
Those locations which exceed a certain threshold become a 'national priority site' and are targeted by the EPA for further enforcement action.
Irish Cement's plant in Mungret was one of five facilities that were marked with the designation.
Others included on the list include one owned by agribusiness giant Arrow Group in Kildare and one owned by Rosderra Irish Meats Group in Offaly.
The five facilities represent less than 1% of EPA-licensed sites but accounted for 8% of the agency's site inspections so far this year.
The EPA said that three of the five sites account for more than half of all of the complaints that the watchdog has received in 2017.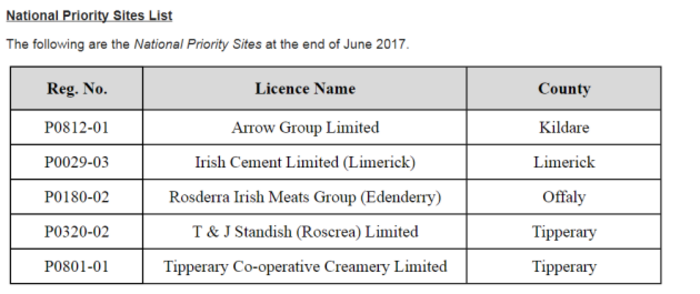 Source: Environmental Protection Agency
Irish Cement controversy
The Irish Cement facility in Limerick has been the source of considerable controversy in recent months.
There have been several dust emissions from the Mungret plant in recent years, including one in early April when many residents of a nearby estate found dust on their cars.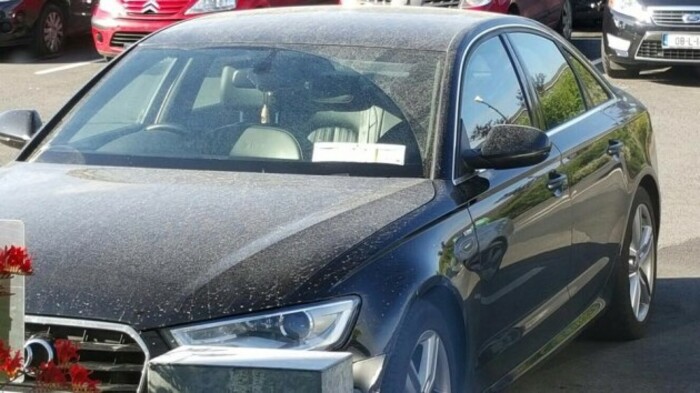 While authorities have said that the releases are not harmful, locals are worried about the health impacts of emissions.
They are now opposing a plan by the company to burn alternative waste such as used tyres and solvents at the plant.
While Irish Cement has repeatedly said the combustion will be safe, many locals do not trust the firm. Over 1,000 people, including many prominent local politicians, joined a recent march opposing the new development.
Commenting on the publication of the list, the director of the EPA's office of environmental enforcement, Gerard O'Leary, said: "A small number of sites have significant compliance issues.
"The EPA will escalate enforcement action against companies, and their directors, if necessary, if compliance does not improve."
The EPA will update the 'national priority sites' list on a quarterly basis.
Sign up to our newsletter to receive a regular digest of Fora's top articles delivered to your inbox.