Here's how much the CEOs of Ireland's biggest companies earn
The head of building company CRH took home nearly €10m.
THE LEADERS OF some of Ireland's biggest companies earn an average of more than €2 million a year.
That's according to a new study from the Irish Congress of Trade Unions (ICTU), which found that many chief executives earn more in bonuses and salary top ups than they do in basic pay.
The research from the ICTU examined the earnings of the CEOs of the 20 biggest firms listed on the Irish Stock Exchange (ISEQ), 12 semi-state organisations and seven large Irish companies listed in London.
The average basic chief executive pay of the ISEQ companies was €786,000 in 2016 compared to €701,000 in 2015. This was well above the basic pay of the London-listed bosses, which was €568,000.
When bonuses are taken into account, the average total pay in 2016 for the CEOs of the 27 listed companies was €2.1 million compared to €2.08 million the year before, a slight increase of 1%.
CRH boss Albert Manifold took home the most – while his basic salary was €1.4 million, his total earnings were just over €10 million in 2016. This was almost double what he earned in 2015.
This was by far the largest pay packet of any executive assessed: former DCC boss Tommy Ryan, who has since left the company, was the second best-paid in 2016 with total earnings of €4.5 million.
The heads of Tullow Oil, Kerry Group and Greencore rounded out the top five with total earnings of €3.8 million, €3.6 million and €3.3 million respectively.
London-listed oil and gas explorer Aminex had the lowest CEO pay of any company polled – boss JC Bhattacherjee had a total pay packet of €335,000 in 2016.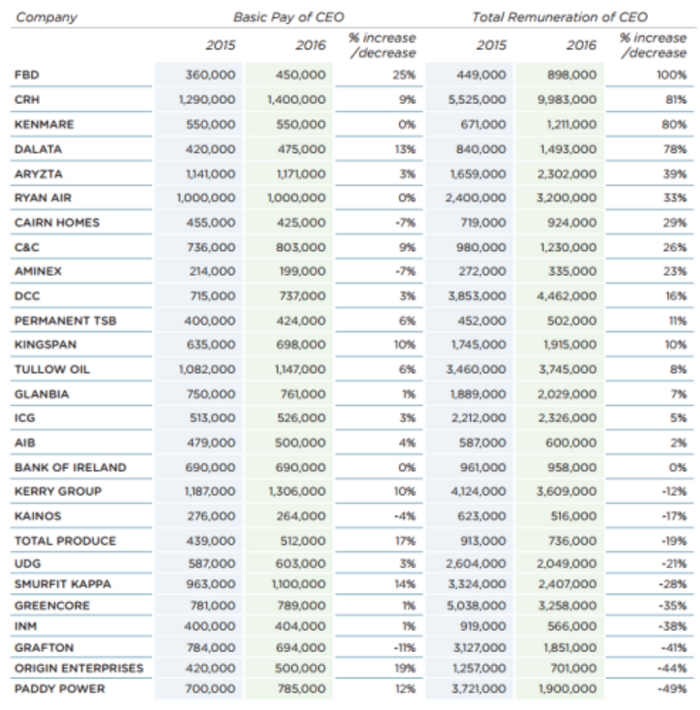 Out of the semi-state companies, the CEO of state broadcaster RTÉ received the largest earnings increase between 2015 and 2016, rising by nearly 10% to €368,000.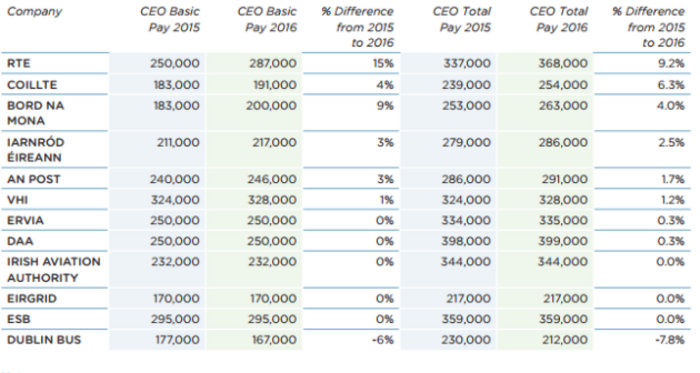 Source: ICTU
Pay gap
The ICTU found that it would take someone on €36,900 – the average wage for an Irish worker in 2016, according to the CSO – 270 years to earn what Albert Manifold earned in 12 months.
This was up from 151 years based on Manifold's 2015 earnings. It would take 121 years to earn Breen's 2016 remuneration, the second highest.
It would take just nine years to earn the equivalent to Bhattacherjee's 2016 pay.
The ICTU said that the figures showed that there is an "extraordinary" gap between top CEO pay and average earnings in Irish companies.
Dr Peter Rigney, one of the authors of the report, said that the study "has significant implications for wider Irish society, given the enormous disparity it reveals between senior executive pay and average earnings".
"In our view, if this trend is left unchecked it will inevitably lead to greater levels of inequality across society," he said.
"To that end we need to see greater transparency and accountability around senior executive pay and remuneration packages."
This article has been updated to clarify that the CEOs of RTÉ and Coillte received the largest earnings increases, not the largest total earnings.
Sign up to our newsletter to receive a regular digest of Fora's top articles delivered to your inbox.