Fewer visitors toured Ireland by bus last year - and not everyone's blaming it on Brexit
Industry figures say poor parking facilities are also hindering the sector.
THE NUMBER OF overseas visitors touring Ireland by bus has dropped across all of the country's key tourism markets, fresh figures show.
According to Fáilte Ireland data provided to Fora, there was an overall dip in the number of coach tourists here in 2017.
The national tourism development agency's survey of overseas travellers recorded just over 293,600 coach tourists last year, 3,000 fewer than 2016′s tally.
There was a decline across three core markets; Great Britain, North America and mainland Europe.
The only segment to register an increase was 'other areas', which includes territories like the Middle East, Australia and Asia.
Although coach tourism accounted for a small portion of the 9 million visitors that came to these shores during the year, industry figures estimate that bus tours are worth €480 million to the economy and are important for spreading tourism to less-frequented regions.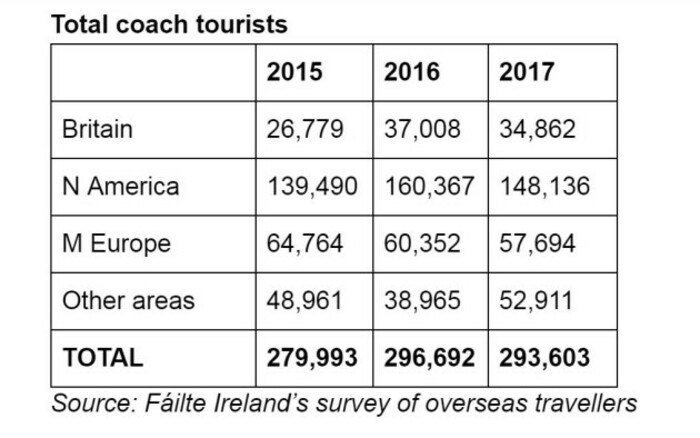 Source: Fáilte Ireland
Click here to view a larger version
Parking
Commenting on the data, Kevin Traynor, director of the Irish Coach Tourism and Transport Council (CTTC), said infrastructure – particularly in Dublin city centre – is a "major problem".
"A lot of new (hotel) builds haven't coach parking facilities," he said, adding that many rest stops provided by the council are located in areas prone to "anti-social behaviour".
The National Transport Authority provides a coach parking facility for up to 50 vehicles in the Docklands area, but Traynor said it "isn't really fit for purpose" because it doesn't allow for overnight stays and is open from 7am to 7pm, Monday to Friday, which doesn't suit many drivers' schedules.
He added that EU rules governing working hours and rest periods put coach companies in the Republic at a disadvantage.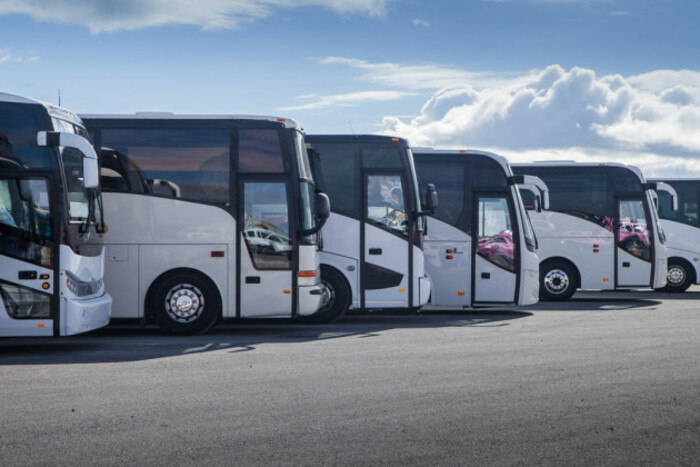 Source: Shutterstock/CK Foto
The maximum time a driver can be behind the wheel each day is nine hours, although this can be extended to 10 hours twice during a working week. They can drive for a maximum of 56 hours each week but not more than 90 hours in two consecutive weeks.
However, separate regulations apply for international driving known as the '12-day rule'.
"Basically, if you were in the Republic and we do a tour, we can only do six days continuous (driving)," Traynor said.
"If a driver is coming from the North, they're crossing the border so they can do 12 continuous days."
As a result, some tour operators have subcontracted driving to Northern Irish coach companies, according to Traynor.
British market
The decrease in British bus tourists to Ireland in particular was highlighted in a recent report on the consequences of a no-deal Brexit prepared for the European Parliament's transport committee.
The British market is our biggest overseas market, accounting for nearly 40% of all visits, but has fluctuated in the two years following the UK's decision to leave the EU.
Fáilte Ireland attributed the 5% decline in Britons exploring the country by bus on the economic uncertainties borne out of the referendum vote.
"The uncertainty created by the Brexit result and the weakening value of sterling contributed to visitor numbers from Britain declining by 5% to 3.4 million tourists in 2017, reflecting a decrease of just under 200,000 tourists on 2016 – which can also be seen in the slight drop in British coach tourist numbers," head of research Caeman Wall said.
Eoghan O'Mara Walsh, chief executive of the Irish Tourism Industry Confederation, said coach tourists tend to be more price-conscious than other market segments.
He noted that the amount of money spent by the average Briton in Ireland is also in decline, which is concerning for businesses in regional areas that depend more heavily on the market than hot-spot destinations.
[embed id="embed_3"]
"You might have the same volume of visitors, but they're spending less. They might be staying in three star hotels rather than four stars," O'Mara Walsh said.
However, not every stakeholder agrees that the decrease in British coach tourists can be blamed entirely on Brexit.
A spokeswoman for ferry company Stena Line – which operates 28 daily sailings between Ireland and the UK – said there are numerous factors that may have attributed to the decline.
"Changing demographics within coach travel, currency fluctuations and the sharp increases in hotel rates that we have seen in Ireland over recent years can all be considered as equally contributory factors to any fall in the number of UK coach operators coming to Ireland," she said.
Get our NEW daily digest of the morning's most important headlines for innovative Irish businesses.