'There is no free lunch, there is no reward where there is no risk'
Tools of the Trade: Mazars' Mark Kennedy talks the piano, publishing and learning to manage risk.
EVERY WEEK, FORA gets inside the heads of some of Ireland's top entrepreneurs to gain insights into what got them to the top of their trade. This week we speak to Mark Kennedy, managing partner at Mazars Ireland. 
If Mark Kennedy weren't at the helm of professional services firm Mazars in Ireland, you might find him running a publishing house instead. 
An accountant by training, Kennedy sees his job as collecting knowledge and converting it into something usable – so it makes sense that he's also a big reader. 
Mazars Ireland is part of the global Mazars Group and specialises in accountancy, tax, legal and consultancy. It's most recent turnover figure in Ireland was €40 million and the company has offices in Dublin, Galway and Limerick. It has about 450 employees here. 
As part of our weekly Tools of the Trade series, we spoke to Kennedy about re-learning the piano and learning to take a chance on younger recruits.  
Why are you running the company and what drives you to keep going?
We collect knowledge and we try to convert that knowledge into something usable for clients and society, in something that's a public interest activity like auditing. I think that's quite an important function. 
All businesses are very much built on people and relationships. I enjoy working with our clients and with both the team here in Ireland and the team internationally. I wake up every morning enthusiastic about work and it's for those reasons.
Who is the person who has most influenced the way you think?
Professionally, Peter Drucker is probably the management guru I've read and thought about over the years. 
His writing is very much about what's the purpose of a firm, what's the purpose of a business in society? How do you align goals? How do you get the best out of people? How do you make businesses that are good, not just as money-making machines, but also as a way of achieving societal goals?
I've learned a huge amount from partners I've worked with over the years. Also, my parents have been a big influence on my career all of my life. They're both from a business background and very hard working. They instilled in me and my brothers and sisters the importance of working, quality, doing things right, doing things honestly.
How do you judge risk? What is your appetite for it?
I am by training an accountant. I tend to look at risk in a structured way. 
I'm a firm believer that there's no free lunch. There's no reward where there's no risk. Any business transaction I go over very carefully from that point of view. 
I'm also very focused on the impact of perception on a business – the risk of being seen to act inappropriately, the risk of not being independent in our game. I have a mental checklist that looks at financial risks but also looks at the qualitative factors around those. 
In terms of appetite, I'm not untypical in my profession in that I tend to be a bit on the cautious side. But over the years I've learned to be a bit more of a risk taker, based on analysis.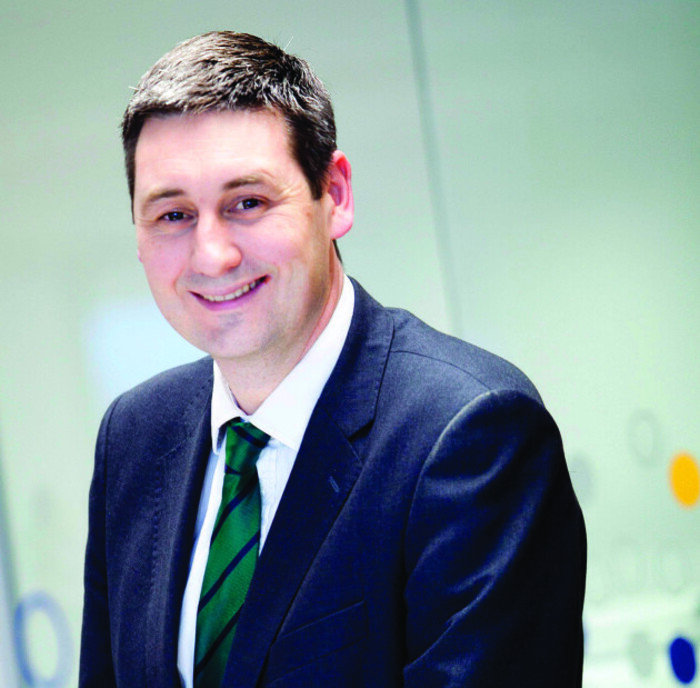 Source: Chris Bellew/Fennell Photography
What differentiates your company from the competition?
We're a single integrated international partnership. For our clients, that brings the ability to bring the best in particular fields from wherever in the world to solve their business issue. I'm not aware of another firm that can do that practically in the same way we can. 
Also, we are very focused on service quality. Technical quality is a given, but we also work very hard at instilling in all of our team members a belief in serving the client to the best of their ability – and that's really about building good relationships. 
You're putting yourself in their shoes and not just answering their technical questions but thinking about their business and understanding their context. 
What past business decision would you change?
There have been one or two times in my life where we had a younger member of the team, who probably could have taken on something more – and we could have done more if we had taken a chance on somebody younger and maybe their talent wasn't as proven. 
Now, I would probably take that risk. I'd maybe take the chance on some of the younger talents earlier than our profession traditionally does.
What work relationship matters the most to you?
The relationship with my partners. In Ireland, we have 29 at the moment. Partner is an unusual creature in the corporate world in that you're both a manager, an operational person, a technical expert – but you're also a shareholder. 
That group is the most important relationship. If that works well the rest of our business tends to work well. 
Family is also an enormous part of it. I wouldn't be able to do my job if my wife and my kids and my extended family weren't very supportive. 
How do you deal with stress?
I learned along the way to plan well and avoid stress, so I try and think about something we're doing quite a long way in advance. That means that I feel, though not more in control of uncertainties, better equipped to deal with the challenges. 
I'm very lucky that I have a family who likes to do lots of things. I'm interested in music, I play a bit of sport still – and I try and make a bit of time every week to do things that have nothing to do with work at all. That keeps me very balanced. 
What helps you switch off?
Music. I'm trying to relearn the piano at the moment. I find it's technically so challenging that my brain can't think of anything else when I'm playing the piano. I'm not very good but as a way of switching off, I haven't found anything quite as good as that.
Do you think ambition or talent matters more for success?
I think on balance ambition carries people further. Hard work will always beat talent underused.
What was a big turning point in your life?
Having children. I was very focused on work – and I still am – but when my kids were born I realised I had to balance life a bit better. It changed the way I work for the better. 
Aside from your own, what industry do you find most interesting and why?
I'm interested in the publishing industry – I'm a bit of a reader. I'm also fascinated by the way that, despite digitisation, publishing is undergoing a bit of a recovery.
It's using some new technology but also some old technologies and ways of doing things to create a slightly different interaction with readers. I think if I had the spare time I'd love to run a publishing company just to see how it worked.
What book would you recommend the most?
There's a book called In the Skin of a Lion by Michael Ondaatje, which I would recommend to anybody as a good read. 
Also, there's a Scottish poet called Norman MacCaig – so The Poems of Norman MacCaig if you want to get away from the world altogether. 
Get our Daily Briefing with the morning's most important headlines for innovative Irish businesses.