You may think your workplace is progressive - your employees may disagree
'If we aren't inclusive in how we recruit and promote people, we're not tapping into the full talent pool'
IN THE EARLY hours of Thursday morning, the glass expanse of Dublin's Convention Centre was filled with lines of speakers, workers, guests and secondary school students, all there for Accenture's 16th International Women's Day conference.
Similar events across the country were taking place this month as corporates try to raise awareness around workplace diversity – gender but also culture and social background – while also drawing attention to how they've tried to tackle it. 
Issues like access to childcare, parental leave and gender balance in the C-suite have been a prominent part of the conversation about workplace equality over the years.
This year's event also delved into the dissonance between how employees and employers assess the progressiveness of their work environment and the importance of culture change. 
"We are at an inflection point," Michelle Cullen, managing director and inclusion and diversity head at Accenture, told the crowd. 
"Employees care increasingly about workplace culture and more companies recognise the importance of equality. Despite growing awareness, progress just isn't fast enough," she added. 
"Creating a culture of equality must be at the top of the business agenda. It starts with the belief that diversity is not only the right thing to do, but a business imperative that is treated the same as any other strategic priority. When a strong, equal workplace culture is prioritised, everyone benefits," Cullen said. 
Mismatch
PwC's Women in Work 2020 Index, released on Thursday, found that Ireland had fallen by four places in the index because of our gender pay gap is widening. 
Not just focused on the pay gap, the index takes into account other factors like female labour force participation, the gap between male and female labour force participation, female unemployment and female full-time employment rate.
The PwC report also argued that increasing the female employment rate in Ireland from 53% to 69% – matching Sweden's second placing – could boost GDP in Ireland by 13%.
"Ireland has one of the highest childcare costs in the OECD. Is it any surprise that research earlier this week from Network Ireland how half of working mothers have considered giving up work due to the cost of childcare?" Cullen said, back at the Accenture event. 
"Parents of all genders want to balance work and personal lives, so this is not a women's issue," she added. 
But according Accenture's report, there's a pretty big gap between how employees view their workplace and how the management does. 
In a survey of 30,000 people across 28 countries and of more than 1,700 senior executives, two-thirds of leaders said they build empowering workplace environments, while just 36% of employees would agree. 
On top of that, more than three quarters of leaders say their employees have good access to flexible working – while just under 30% of employees would say the same.  
"Over the last three years, we've asked employees the same nine culture-related questions to help us understand their perception of leaders' actions around building a more inclusive culture," Cullen said.
"Interestingly, over the two years, perceptions have remained essentially the same with scores falling between 55 and 53 out of 100. This should be a worry for everybody because employee expectations are only set to increase," she added. 
"As a society, we have not made the political and financial commitment necessary to drive real gender equality. A culture of equality enables us to attract, develop, retain and inspire the top talent," Cullen said.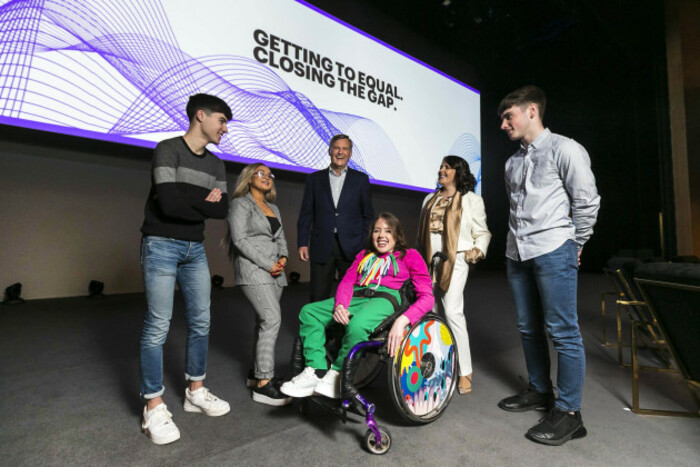 Tapping into the talent pool
Diversity and inclusion is "absolutely not just 'a-nice-to-have'," Danuta Gray, chair of London listed property company, St Modwen Plc, as part of a panel on inclusive leadership.
"All businesses should be responsible in how they do their business. I think it's essential from a business point of view because talent is short. We all complain all the time about finding the right talent, the right people with the right skills. If we aren't inclusive in how we view, recruit and promote people, we're not tapping into the full talent pool," she added. 
"Even if you look at it in the hardest business sense, to me it's an absolutely essential part of business and has been for quite some years."
She added that this needs to go beyond a statement of intent to hard targets and measures to monitor what happens day-to-day when leaders aren't around. 
"If you don't have the conversation about how it feels to be in someone else's shoes, how can you appreciate how you need to change?"
For business, this can be an inorganic process of change, Gray said, adding that it must be a conscious conversation in the organisation. 
"I get invited to all sorts of posh dinners in London with the chairmen of very big companies – and I say 'chairman'. I've actually had them say to me over the table, that they think that this gender balance thing has gone too far," she added. 
"We can't get away with not continuing to improve. I think I think we are on the cusp of a shift." 
Get our Daily Briefing with the morning's most important headlines for innovative Irish businesses.