Skin in the game: How Irish company Integumen is blending AI, cloning and skincare
The company announced a funding round last week – but it's just getting started.
LAST WEEK IRISH skincare company Integumen announced that it's raising €1.66 million from a share-placing – but that's just the tip of the iceberg when it comes to the business' long-term plans.
"It's not to keep the lights on," chief executive Gerard Brandon told Fora. It's quite the opposite, as the company is looking to expand while also keep up with the amount of new business it has taken on over the past few months. 
Integumen, which is listed on London's AIM market, works with many of the top ten cosmeceutical companies globally, as the company's subsidiaries make skincare, algal omega-3 oil, wound care and oral hygiene products. 
The top dog, however, is subsidiary Labskin, which makes cloned human skin for topical product testing – potentially eliminating the need for animal testing in many areas. It also uses AI and data to streamline the process. 
In November this year, the company grew its lab in York in the UK from 900 square feet to 3,000 and it's now looking to double that again to 6,000 square feet and is hiring six more scientists.  
The company also has a facility in Cork, opened in June, where it employs eight people – which it's also going to at least double in the next 12 months. 
That will satisfy the company's needs for up to two years, according to Brandon, but after that Integumen will be set to open up new laboratories on the east and west coast of the US and in the Far East, looking at China, Taiwan or Singapore.  
'A unique piece of technology'
Lab-grown skin – for testing, not grafting – has been around for about 15 years for testing in universities and corporations, but those examples are sterile and collagen-based, Brandon explained. 
This means testing collagen-stimulating ingredients, popular in anti-ageing products, is redundant. 
Labskin's version is fibrin-based, meaning targeted collagen growth can be tested. It's also non-sterile and able to host the cloned microbiome of actual human skin – the same balance of bacteria which live on the skin of a particular person.
This means treatments such as those for psoriasis, acne, eczema and a host of others can be streamlined, refined and more targeted. 
"We have already had military and research institutes with large publications in this, they've tested everything from HPV to Ebola. It's a unique piece of technology."
Integumen started as a skincare and skincare research company, effectively to establish what "you could possibly do on the skin and how you could scientifically verify specific capabilities on the skin".
Thus, Labskin is a vital part of the company's plans.
Brandon took over the newly-enlarged Integumen in 2018 as the company completed what was essentially a reverse takeover deal with Galway-based firm Cellulac, of which he was chief executive. 
When he first got involved in the company, there were "plenty of nice skincare products available", but the reality was "they didn't have sufficient funding in place to build a global brand," he said. 
It's not Brandon's first rodeo either. His entrepreneurial background is in pharmaceuticals – notably as founder and chief executive of listed biotech company Alltracel Pharmaceuticals, which was sold to Hemcon for around €31 million in 2008. 
Skin-as-a-service
The company's plans are accelerating, as it looks to grow revenues from a projected £1 million this year to £4 million in 2020 and £10 million the following year. 
Integumen's acquisition of AI and data management company Rinocloud last year has "completely transformed the company," Brandon said. Originally, it was supposed to assist with automating the lab. 
"With artificial intelligence, we were able to document 38,000 pieces of data from the skins that have been produced by the company over the years. That has allowed us to create a virtual skin," he said. 
"Rather than companies now testing on physical skin, they can actually test their products online in a virtual world," he added, which means the company can narrow down a list of formulations to be tested on real skin. 
The original process of elimination can now be accelerated from up to 18 months to about 10 minutes. 
"That is a phenomenal transformation by combining artificial intelligence with the knowledge accumulated from all of our lab skin." 
The company's head of AI built the Australian Medical Association's infrastructure before he came to work for Integumen, Brandon notes. 
A test kit with lab skin technology used to sell for about £1,500. The average sale for 2020 is expected to reach six figures. 
"A client will be coming to us and spending anywhere between £100,000 and £500,000, … for them to actually do what they want to do," Brandon said. 
"Because we were able to make the transition with AI and Labskin, it has completely transformed into a service-based industry. We've become almost like a clinical trial company, specifically targeting skincare companies."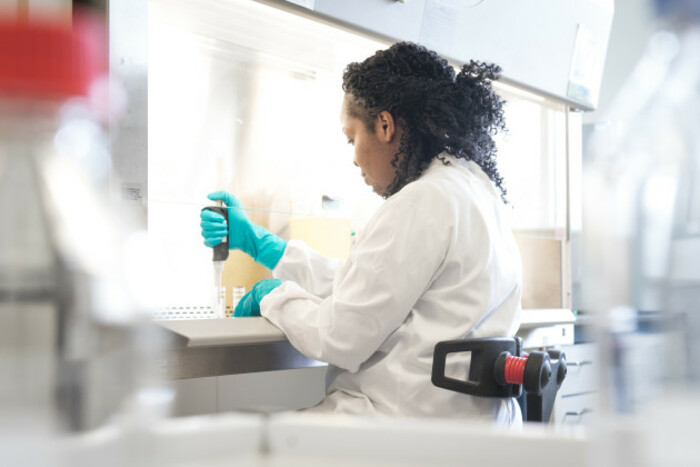 Lab-grown skin that's closer to the real deal can also be used to test injuries and infections where it wouldn't be possible – for obvious reasons – to cut or infect a human test subject.  
But Brandon is clear – this is for topical testing, not for things such as heart disease. However, the product is in malaria trials with US non-profits and the company is looking at using its model for testing mastitis in dairy cows. 
"It sounds completely off the wall but it's a very straightforward thing because it's actually the same data set we use."
Get our Daily Briefing with the morning's most important headlines for innovative Irish businesses.