Take a guided tour of... Squarespace's flash new Dublin office
The US web design firm recently pulled back the curtains on its European base.
IF YOU LISTEN to any podcast, you have probably heard the now-ubiquitous ads for US web design firm Squarespace - a company that had humble beginnings in a college dorm room.
Some 14 years on from its foundation, the company has taken big strides – among others, opening its first international office in Dublin.
Recently, Squarespace's head of EMEA operations, Rapha Fontes, gave Fora a tour of the company's plush new digs at Le Pole House in the city centre.
Squarespace moved into the four-floor building in November 2014, but staff had been desk-hopping until late last year as ongoing works slowly brought the building up to tech-chic spec.
Fontes wouldn't reveal the final bill for the project, which was overseen by New York architects A+I – the same firm that handled the kit-out for Squarespace's Big Apple HQ.
However, he said the company stuck to a very "minimalistic aesthetic" for the Irish outpost - with only plants bringing a dash of color to the space. That said, "minimalistic" doesn't necessarily mean boring.
The architects also fitted out the office with a video games room and ping-pong table area, while each floor also got its own theme. The fourth floor – which consisted of five, closed offices when Squarespace moved in - was overhauled completely.
Fontes said all the walls were torn down to make way for a lunch area with a catered kitchen, open seating area and beer on tap.
Opening up the top floor also gave the whole workforce access to the balcony area, which has been set up with hammocks - so people can doze in the sun after lunch, if the Irish weather permits, according to Fontes.
[embed id="embed_3"]
Irish presence
Squarespace, which saw its revenue hit $200 million last year, has been in the Irish capital since 2013 and moved between several different offices before it settled in the location just off Georges Street.
There are 115 people working at the Irish operation now, handling more than a third of the company's international customer support.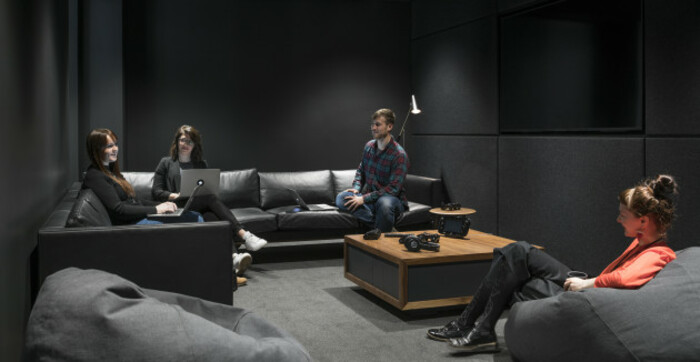 Source: Donal Murphy
Fontes told Fora that staff numbers at the company's Dublin office are set to swell over the next few years and could hit the 300 mark soon.
Sign up to our newsletter to receive a regular digest of Fora's top articles delivered to your inbox.