Dublin is getting Ireland's first crowdfunded housing development
Linham Construction has secured a €1.5 million loan to build 10 apartments.
A PROMINENT DEVELOPER is building 10 apartments in Dublin in what is believed to be Ireland's biggest-ever crowdfunded project.
Linham Construction has secured a €1.5 million loan from a syndicate of private investors through the Initiative Ireland online lending platform.
It is expected to start work almost immediately building 10 one-bedroom apartments at the corner of North Strand Road in Dublin's north inner city.
The deal is significant as it is believed to be the first crowdfunded property development, and also the largest crowdfunding project in Ireland by value.
Some €1.5 million has been approved for the North Strand development, of which €400,000 has been released.
The company is now aiming to receive the additional €1.1 million in pledges through the Initiative Ireland platform. The North Strand project has been underwritten by a third-party, who has not been named by Initiative Ireland.
Any potential shortfall in subsequent funding rounds will be made up by the third party.
Initiative Ireland said that Linham is in negotiations to sell the completed development to an unnamed housing agency for €2.5 million once it is finished.
Source: Initiative Ireland
If this does not materialise, it will likely sell the apartments on the open market at about €280,000 each.
Crowdfunding house building
If it gains popularity, the crowdfunding model would represent a significant shift in how building is funded in Ireland.
Historically, most of the country's biggest developments have been funded by the banks, wealthy private backers or, more recently, big private equity companies and foreign funds.
They have traditionally funded larger, high-value developments with several dozen housing units or more, meaning that many smaller builders struggle to get finance.
Linham has previously worked on several high-profile projects. In 2013 it won the tender to kick-start construction of the new headquarters for the Central Bank by redeveloping the former Anglo-Irish Bank building in Dublin's docks.
It has also completed relatively small-scale projects for the likes of Trinity College and UCD, as well as building several housing projects in the Dublin area.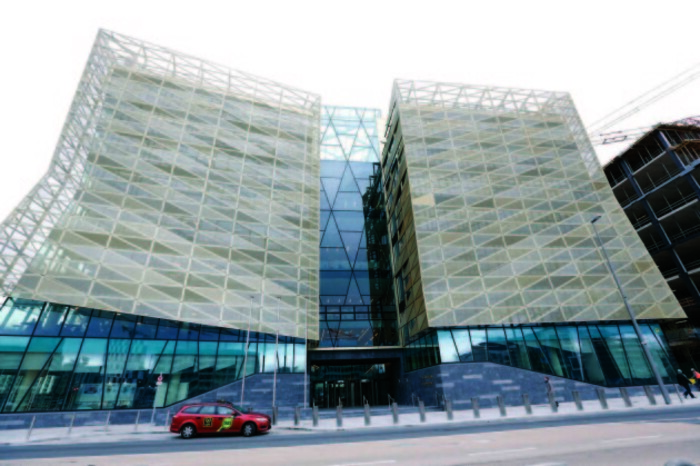 Source: RollingNews.ie
Initiative Ireland said that it expects loans worth about €60 million will be approved through the platform by the end of next year.
Filling a gap
Rory McEntee, the company's legal and property partner, told Fora that the firm is looking to target a development space that is largely ignored by most of Ireland's banks and larger private lenders.
"Many of the private finance houses in Dublin are charging between 12% and 16% (to borrow money). We aim to come in below 10%," he says.
"We're in between the banks and the alternative finance lenders in terms of our rates. We're filling a gap."
He adds: "In the UK, banks are very slow to go below €5 million (when lending for housing developments), and we're seeing the same thing here. The bank's preference is for larger deals with chunkier margins.
"Our sweet spot is for projects of between €2 million and €5 million. We see ourselves filling a gap, we're in a space that the banks aren't in."
Sign up to our newsletter to receive a regular digest of Fora's top articles delivered to your inbox.