The IDA is eyeing up new markets as America's 'long positive cycle' comes to an end
The agency's new figures show that foreign direct investment added over 22,000 jobs last year.
THE GOVERNMENT AGENCY tasked with attracting foreign investment is boosting its activities in growth and emerging markets so that it doesn't need to rely too much on the US.
IDA Ireland CEO Martin Shanahan said the body deployed new resources in Turkey and Israel in late 2018 in order to attract companies to Ireland and plans to do the same in South Africa and the United Arab Emirates.
These efforts join the IDA's presence in countries like China, Japan, South Korea, Brazil and Russia. It also opened a Toronto office a year ago.
"We run the rule across all countries at all times, both to see if we should continue with resources in them and if we should put new resources into them," Shanahan said.
"Israel, Turkey, UAE and South Africa were identified because there is already a pipeline of investments developing so while we didn't have people in those markets; we have been working with them and we can see they have potential."
Shanahan added that firms in these countries are being urged to internationalise and look at new markets:
"Many of them want to enter a European market. It's the same methodology that we've used in attracting numerous investments here. We want them to come here to service the European market."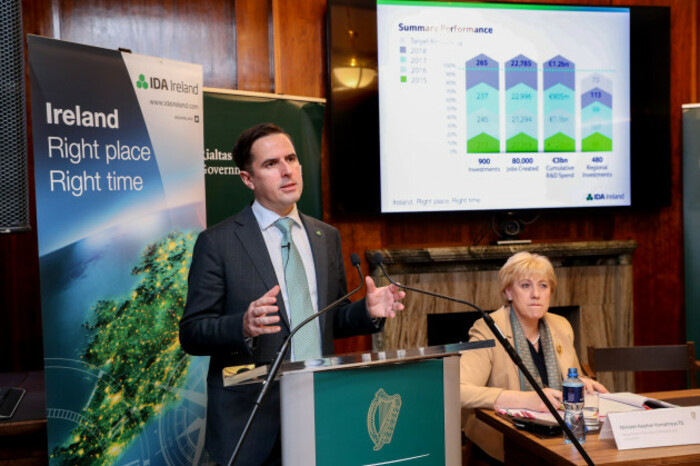 Source: Tony Maxwell
The US remains a major source of investment, Shanahan said, but deals from Europe and elsewhere have increased at a faster rate.
"That is part of our strategy, which we set out in 2015 in order to try and rebalance the portfolio and the heavy reliance on the US."
He explained that in 2016, the US accounted for 72% of investment while in 2018, it was 65%.
Shanahan was speaking at an event this afternoon to reveal the IDA's foreign direct investment (FDI) figures for 2018.
The report showed that client companies hired 22,785 people here last year. The total now stands just shy of 230,000 employed by multinationals.
'Risks'
Shanahan said that there are still "significant downside risks", such as Brexit, the state of the US economy and general competition for clients.
"It's now true to say that Brexit has been a factor in all investment decisions," he said.
While there hasn't been a slowdown in interest Stateside, the current political and economic situation is a cause for concern.
"If one looks at the US economy and looks at a multitude of indicators, I think one would have to be concerned that it is at the end potentially of a very long positive cycle," Shanahan said.
The IDA boss added that since America is a key source market for FDI in Ireland, the agency has to be "continually vigilant" of any changes across the Atlantic.
"We know that global FDI flows have been depressed and that's as a result of geopolitical turmoil. It's the result of a lack of confidence from investors. We see the potential for trade wars. Any of those things are not good for an open economy like Ireland," he said.
This new year will throw further challenges at the IDA as 2019 marks the end of its current five-year strategy.
The agency will need to devise a new plan – and get approval from the government. Furthermore, it will be moving into its new offices in Dublin in the second half of the year.
Get our NEW Daily Briefing with the morning's most important headlines for innovative Irish businesses.