This Dublin startup is heading stateside to rub shoulders with finance's heavy-hitters
As part of our weekly Startup Spotlight series we profile ID-Pal.
THE CEO OF young, Dublin-based startup ID-Pal has a busy week ahead of him.
James O'Toole will be crossing the Atlantic this weekend to take part in a 10-week accelerator programme in Ohio backed by financial heavy-hitters like JPMorgan Chase and Visa.
ID-Pal is one of three European startups that have been invited to participate in the programme, Fintech71, and has received $100,000 in backing as part of the project.
"I'm really pumped," O'Toole tells Fora. "The access to capital, the scale of the market, the opportunity that's there for us. With anybody in a startup, you've got to throw absolutely everything you've got into making it a success.
"We're very excited because we feel that we've been going up through the gears consistently, certainly over the past 12 months. We can really feel momentum building."
A former management consultant at Accenture, O'Toole co-founded ID-Pal with stockbroker Colum Lyons and tax advisor Paddy McCafferty about two years ago.
The company's service helps financial firms complete the so-called 'know-your-customer' process that's legally required by financial outfits when they're taking on new customers.
'Tedious'
As part of a European anti-money laundering directive, certain firms – such as banks, accountants and financial planners – must validate the identity of customers before they engage in any commercial activities.
"The problem with that is that it's tedious," O'Toole says. "It's the very first point of engagement between a business and a customer, and it tends to be one that's a source of frustration for both parties."
For that reason, a large number of customers bow out before completing the 'onboarding' process, O'Toole says. Citing a report prepared by Retail Bank International magazine, he says some financial firms have reported drop-off rates as high as 80%.
To help reduce the administrative burden, ID-Pal has built an app that customers can use to capture and send documentation to a business – such as utility bills and copies of their passport – instead of having to manually deliver them.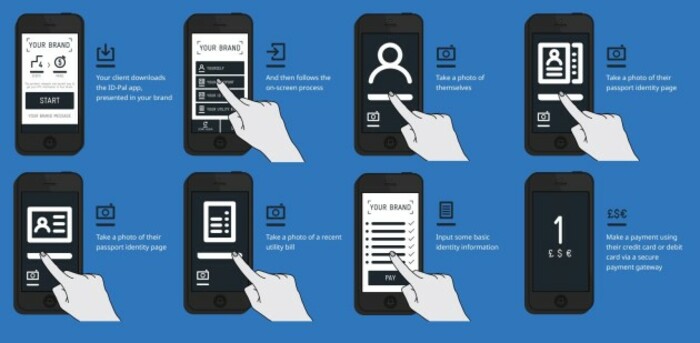 Source: ID-Pal
Businesses then use an online system to access the customer's data and validate it, and to generate a due diligence report that's required for auditing purposes. ID-Pal currently charges a transaction fee for each customer 'onboarded' using its system.
O'Toole promises that ID-Pal's system reduces the time it takes to complete the 'know-your-customer' process from a matter of hours, days or possibly weeks to just five minutes.
SME focus
The technology that ID-Pal uses is generally only accessible to top-tier banks and financial institutions because the costs associated with acquiring it are so high, O'Toole says.
"It generally would require a fairly significant digital transformation project in-house with a huge amount of resources going into developing their own customer channel," he says.
"We're looking to create an entirely new market for small- and medium-sized firms. They get the benefits of all this best-degree technology without the need to develop their own bespoke solution."
O'Toole says the company is looking to work with outfits such as legal practices, financial planners, wealth managers and other such firms that may be required to comply with anti-money laundering regulation.
As well as receiving a $100,000 stipend as part of the Fintech71 project, Enterprise Ireland has put €50,000 into ID-Pal.
That money was used to build a prototype, which led to the firm being selected to take part in professional services firm Accenture's fintech innovation lab, a three-month programme that ended earlier this year.
Source: ID-Pal
The company – which has five people on the books – is housed in Bank of Ireland's innovation hub at Stephen's Green, Dublin, which O'Toole says is a "fantastic resource for an early-stage startup".
Six weeks ago, ID-Pal started piloting its service with a number of companies, namely major Kerry-headquartered financial services firm Fexco.
"It's going very well and our intent will be to roll out across all of their business units, subject to the successful completion of our early-adopter pilot," O'Toole says.
He puts the company's progress so far down to "the support structures here in Dublin" from the likes of the major financial and consultancy firms.
"Accenture's fintech lab helped us to go from a concept and prototype to a validated solution," he says.
"It put us in a strong position where we had a number of clients and it progressed us to the point where we were one of the top picks for this Fintech71 programme in the US.
"There's a nice template there for other startups following in our footsteps."
ID-Pal has only recently started generating revenue and will shortly kick off a "significant" seed investment round to help fund the company for the next 18 months. Enterprise Ireland has committed to providing match funding.
That money will be used to help the firm scale in Ireland, the US and the UK, with a particular focus on the London market.
This article is part of a weekly series featuring Ireland's most promising startups. If you would like to see your company featured email news@fora.ie.