A Dublin energy startup is taking its 'Google Nest killer' thermostat stateside
Hub Controls is trialing its smart heating unit with major landlords in New York City.
ENERGY STARTUP HUB Controls is trialing its 'smart thermostat' with the City University of New York.
The Dublin-based firm is about to sign off an agreement with the university to trial 1,000 Hub Controller units in four apartment buildings.
The Hub Controller, which allows users to tweak their heating through a touchscreen unit and smartphone app, launched in Ireland last month, and in the UK at the start of the month as part of a promotional campaign with Amazon.
"In New York, when you rent an apartment, your utility bills are part of your rent," chief executive Ollie Hynes told Fora.
"The landlord or maintenance company has to pay those bills.
"What happens is, a bit like the hotels industry, people leave their air conditioning on and their heating on all the time because they're not paying for it."
Hynes said the units will give occupants control over heating and cooling their apartment while allowing the landlord to manage energy costs.
The firm is also in talks with another big landowner in the city, the New York City Housing Authority, which provides public housing to 400,000 people.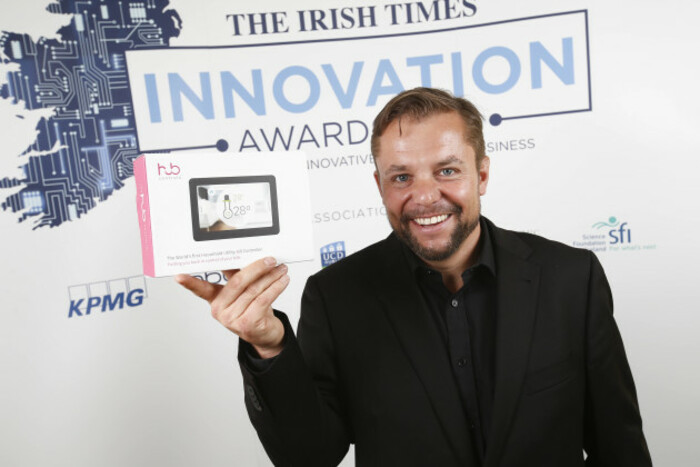 Source: Conor McCabe/Hub Controls
Pay as you go
Closer to home, Hynes said Hub Controls has also approached the Irish energy regulator about releasing a pay-as-you-go service that will rival the likes of Pinergy.
"At the moment you can pay as you go electricity and pay as you go gas," Hynes said. "This unit can do both without being tied to an energy provider."
Hynes said the service, which he hopes to launch by the end of 2017, will allow customers to switch energy providers without having to pay to install different units.
"If you go for Pinergy, you have to buy from them at their prices. If you want to switch to PrePayPower, you've got to get a new unit installed and it's a big changing cost because (the thermostat) is very large.
"Hub Control will allow you to take Electric Ireland as your provider and then switch and still pay it as you go through a back-end payment system from your mobile phone."
Hynes said the current version of the thermostat is capable of providing such a service but added "there is no reason at the moment for the utility (providers) to sign up for it".
Source: Hub Controls
He said there is "a lot more traction" for the concept in the UK, which has a more mature smart-energy market.
Hub Controls is looking to raise €2.5 million to fund its expansion in Ireland and Britain and hopes to close that investment round by the end of this year. The firm has raised €650,000 from Enterprise Ireland and private investors since it was founded in 2014.
According to Hynes, the company has already generated €766,000 in its first month of sales since commercially launching the Hub Controller.
'Nest killer'
Hynes added that he expects to "beat Nest within three years".
He said the Google-owned device has the marketing clout, but his background in the heating industry – he started his career at Bosch and has worked with Barlo heaters, the Quinn group and Italian firm IRSAP – makes the Hub Controller a "trade-friendly thermostat" that will reach customers through handymen.
"We see this device in two or three years time sitting on your wall and telling you exactly what your house is spending on a daily basis."
The device can collect enough data in three months to offer real-time information on energy usage and can be programmed to keep within a user's budget. Hynes said people on lower incomes benefit the most from that technology.
Last week, the firm's head of design, Kim Mackenzie-Doyle, also snapped up two accolades at the Irish Design Institute's annual awards for her work on the Hub Controller, including in the people's choice category.
"The only brief that I gave Kim was that it had to fit onto a certain electrical back box and that I wanted to adopt the Apple principle that when a consumer has it on their wall they can only touch natural materials – aluminium, rubber or glass.
"She took a startup with no money at all and we gave her standard off-the-shelf components … and she managed to make a beautiful product out of ordinary, horrible pieces of electronics."
Fora was media partner for this year's IDI Design Awards and sponsored the public choice award.