Only 8,800 extra houses were added to Ireland's stocks in the past half a decade
A new report also revealed the towns and cities with the highest vacancy rates.
IRELAND INCREASED ITS housing stock by only 8,800 units between 2011 and 2016, compared to over 201,000 during roughly the same period a decade earlier.
A census 2016 special profile on housing from the CSO found that the country increased its total housing supply by just 0.4% in the five-year period to the end of last year.
The small rise came in stark contrast to the change in Ireland's housing stock between 2002 and 2006, when the number of units grew by 21.2%.
Meanwhile, Ireland's population was recorded at 4.76 million in the last census – up around 3.8% on the 4.59 million recorded in 2011.
Source: CSO
The census report looks at the different aspects of housing in Ireland as enumerated on census night in April of last year.
The report found that there was a total of 183,312 vacant houses and apartments across the country, as well as 62,148 vacant holiday homes. A total of 95,596 empty homes were in urban areas.
The number of unoccupied properties represented more than 9% of the total housing stock in the country.
Commenting on the figures, Francis Doherty, from homelessness charity the Peter McVerry Trust, said: "We need politicians and policy makers at all levels to recognise that empty homes can play an immediate role in alleviating the housing and homeless crisis."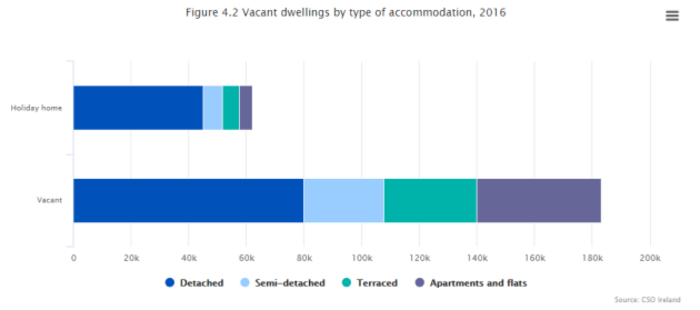 Source: CSO
The town with the largest share of vacant dwellings in the country was Blacklion, in County Cavan, where more than 46% of properties were recorded as vacant.
Of the towns and cities with populations above 10,000, Letterkenny had the highest vacancy rate, at 14.9%, followed by Longford, 14.6%, and Ballina, 14.3%.

Source: CSO/Census 2016
Home ownership and rent
The report also showed a decline in the rate of home ownership in the country. Despite the marginal increase in housing stock, the number of owner-occupied households fell slightly.
The rate of home ownership dropped to 67.6% in the period, a level last seen in 1971. The fall was evident in both rural and urban areas. The age above which the majority of people owned their own homes is also increasing.
The report also found that the average weekly rent paid to private landlords was landlords in April 2016 was €199.92, up from €171.19 in 2011 – a rise of more than 16%.
Dublin city saw the biggest increase, with rents going up by 30%. Other areas of Dublin also saw significant increases in rent.
You can view the full housing report on the CSO website. Written by Cormac Fitzgerald and posted on TheJournal.ie
Sign up to our newsletter to receive a regular digest of Fora's top articles delivered to your inbox.