A Dublin hotel marketed as a 120-room luxury stay is really a small house in Booterstown
The fake hotel website has apparently been set up to scam foreign workers.
CONCERNS HAVE BEEN raised over a fake 120-room hotel that a website claims is situated in south Dublin – when its address is actually a small house overlooking Dublin Bay.
The 'Hotel View Villa' is listed as being situated on Booterstown Avenue in south Dublin yet somehow "overlooks the Grand Canal", according to the official website.
Young men living in India have claimed that a recruitment agency told them they had secured work at the hotel, but that they needed to money for up-front admin fees to take up the positions.
The owners of the house that shares the address of the 'hotel' have nothing whatsoever to do with the website.
According to the Hotel View Villa website, visitors can: "Stay at the Hotel View Villa and be right in the centre of it all. Our modern hotel overlooks the historic Grand Canal and is just a short walk from the famous St. Stephen's Green area and Grafton Street, lined with trendy bars and restaurants.
"The Convention Centre Dublin, RDS, Aviva Stadium and the Guinness Storehouse are also nearby, making this hotel ideally located for business and leisure travellers."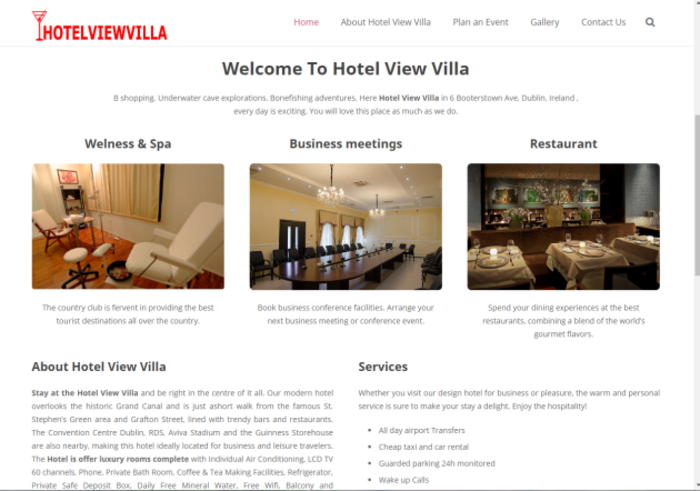 Source: https://hotelviewvilla.com/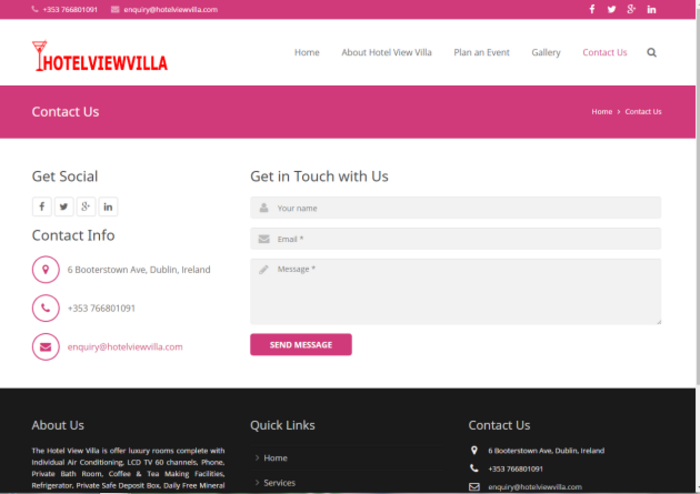 Source: https://hotelviewvilla.com/
When the phone number listed on the website was called, a man answered the phone and asked what we wanted. The line went dead when we told him we were a news organisation.
The website, which is hosted by an Indian server, also contains a number of bogus testimonials.
They included one from a woman named Alice Boyd. She said: "Had one night cruising with Hotel View Villa, it was one of the best moment (sic) me and friends had in Komodo. Huge wooden Phinisi boat, with attention to the details, the sun deck for sunbathing and stargazing at night."
Two men had contacted a local Facebook page in anticipation of their planned travel to Ireland to check if the hotel was legitimate.
They had checked the hotel's address on Google Maps only to discover it was a house, although they considered the property may have been developed since the photos were taken.
The men, who we are not naming, said they live in Mumbai and had paid a recruitment firm the equivalent of €250 to cover their work permits and administration costs. Locals told them they had been scammed.
Local councillor Deirdre Kingston said she hoped gardaí would deal with the fake hotel.
"It just shows the lengths some people will go to. But they could have done their research. Overlooking the Grand Canal on Booterstown Avenue? I don't think so.
"But in all seriousness, I'd like to express my concern that this is happening,that people are being potentially exploited by this scam. The gardaí should be notified."
Local gardaí said they had not heard about the fake hotel.
Written by Garreth MacNamee and posted on TheJournal.ie
read more on