Why e-learning startup Homeschool wants to be the 'Ryanair of grinds'
As part of our weekly Startup Spotlight series, we profile the edtech company.
PAUL KELLY, A secondary school teacher, was in and out of hospital visiting his mother who had just a lung transplant when he noticed an opportunity. 
"In the Mater Hospital, you had a lot of young people with cystic fibrosis spending months on end in hospital," he tells Fora.
At the time he was doing a masters in e-learning in DCU, so his attention was very much tuned into tech-first ideas for education.
This was the spark for providing an online solution to kids in hospitals to receive regular lessons, rather than missing out on huge chunks of their education.
He teamed up with Wicklow-based web development firm Showoff to put the ideas into practice and build a platform for delivering junior and leaving cert lessons online that would become Homeschool.
Kelly, who was teaching in Dublin but is originally from Castleblayney Co. Monaghan, found some early backing at home through Monaghan's Local Enterprise Office.
"They came in and we gave them a percentage of the business, and they sort of look after the background in terms of the running of the website itself," he says.
Grinds
Homeschool, which was incorporated in 2016, is a simple platform for providing video-based lessons to students that need extra help with their schoolwork, however it has since grown out of its original idea.
"Our service has expanded initially from just looking at students with cystic fibrosis to looking at the whole grinds market," Kelly explains.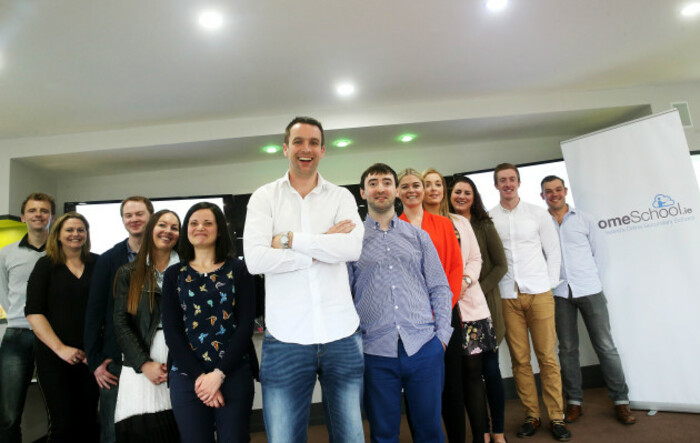 Source: Homeschool
He claims that the online tool is a cheaper, more accessible solution for grinds.
Teachers come to a studio in Finglas to record their video lessons, which are then streamed on Homeschool. Students can then send follow-up questions direct to the teacher.
"Typically (teachers) come in once a week. There's 24 weeks of lessons, so we cover the entire leaving certificate course," he says.
It now has 30 teachers using the platform with over 900 students. It charges €99 to students for access to a subject per year.
Teachers are paid a one-off fee to produce the video lessons and an additional, subscription charge for providing online support to students.
"Our lessons have to be visual, because it can't be purely text-heavy in terms of the actual presentation itself," Kelly says.
He adds that by next school year, it will have around 30 subjects while it's also launching lessons for primary schools. He's also seen a lot of interest from Irish families living abroad.
"They have the young children in schools in the Middle East and Australia, and they want to maintain touch with the Irish curriculum. Obviously those schools aren't offering Irish. We saw a lot of demand from across the different countries for that service."
Competition
The market for grinds and extra-curricular lessons can be very competitive in Ireland.
According to 2016 statistics from the ESRI, nearly half of leaving cert students were taking grinds. Taking grinds is more common among higher-income families.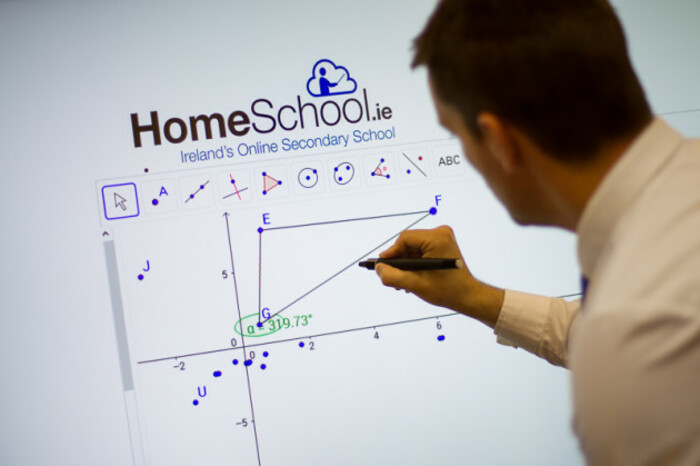 Source: Homeschool
While active and retired teachers may offer hour-long grind lessons in the evenings, there are whole grind schools that offer supplementary support to teenagers.
"For grinds schools, you could be looking at €1,300 for 34 lessons," Kelly says.
For one-on-one lessons, parents might pay around €50-60 an hour, Kelly adds, but they have "no real way of seeing what happens in that hour".
"If you do enroll in our courses, you can actually watch and monitor your son or daughter's progress. That's the first reason why it is actually a better service than just a private grind," he says.
"The second thing is the student can take the lesson when they want to. It's not on a Friday evening at 8 o'clock when they're tired after a week's work, they can do it whenever it suits them.
"We wanted to be, I hate saying it, the Ryanair of grinds – that's sort of the model we want. We didn't want to fleece any of our students, but it's a really great service we're providing here. It was important in terms of pricing that we just got the balance right."
The online model provides a lot of flexibility, he adds, where students, if they want, "can binge watch, do a Netflix-style job".
Profits
Kelly says that Homeschool is profitable but does not disclose revenue figures. The startup, where he's the only full-time employee, has relied on word of mouth and offering discounts to students that refer their teachers.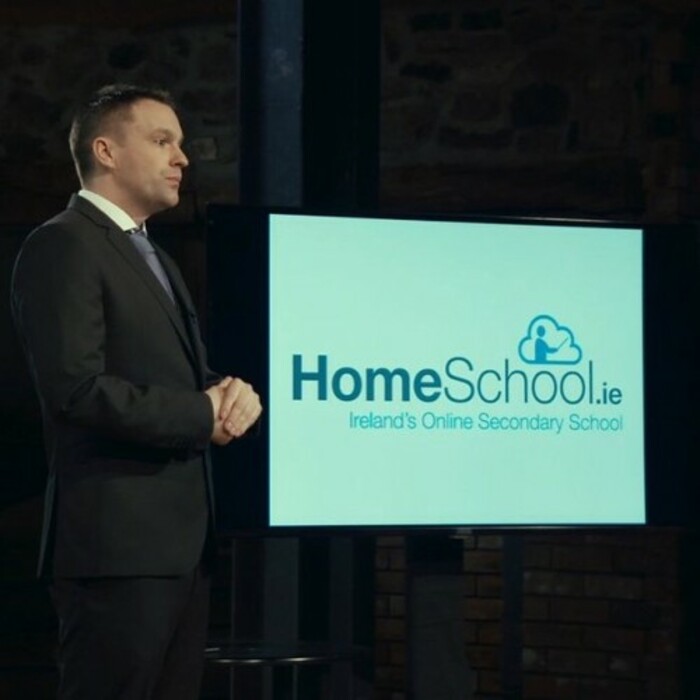 Source: Homeschool
Its biggest exposure was from RTÉ's Dragons' Den, where it turned down investment offers from Gavin Duffy and Barry O'Sullivan.
"We were happy enough with the exposure, it was good for us as well. It worked out from there," he says.
"We had the option of taking on funding but we're in profit. We've been in profit for the last two years. We have strong revenues," he adds.
The next stage is building the brand and increasing the user base.
"Quite often people might see the service and say, 'Ah, it's only €99,' and not value it as a result – and send (their children) some other more expensive place," he says.
"There's an educational snobbery there; it's essentially about getting the word out. We've spent next to nothing on advertising, and it's purely through word of mouth from a students that we are growing. That's the way we hope to grow it into the future."
Sign up to our newsletter to receive a regular digest of Fora's top articles delivered to your inbox.