Athlone and Cork can only dream of Dublin's jam-packed high streets
Research from CBRE shows that retail occupancy in the capital is nearly back to Celtic Tiger levels.
ALTHOUGH DUBLIN'S HIGH-STREET vacancy rates have nearly fully recovered from the recession, many retail hubs nationwide still lag seriously behind.
A big gap has emerged between the pictures for retailers on high streets in the capital and those in Limerick, Cork, Sligo and Athlone, where up to one-fifth of prime retail spots are left vacant, according to new research from commercial property specialists CBRE.
As occupancy rates in Dublin edged towards capacity in the six months to the end of March, Athlone saw the number of vacancies on their respective high streets increase to 18%, while nearly 10% of Cork's high-street shopfronts were left empty.
This increase in vacancy rates on Athlone and Cork high streets came despite increasingly strong sale figures for retailers.
Sligo's high streets had the second-highest vacancy rates nationwide at 15%, but unlike in Cork and Athlone vacancies in the western town dropped over the six-month period.
Speaking to Fora, CBRE head of research Marie Hunt said that out-of-town shopping centres have "drawn some life out of the town centre", but it is possible for high-street retailers to rise to the challenge.
"Some towns have fought back against that and are reaping the rewards. If you look at the towns with lower levels of vacancy on the high street, you will see they have made efforts to address these empty lots over the past few years," she said.
"That might be by introducing reduced car parking, incentivising people to lease units and even tidying up the area to make it look a bit more appealing. Towns that are lagging behind the the success stories haven't put things like these in place."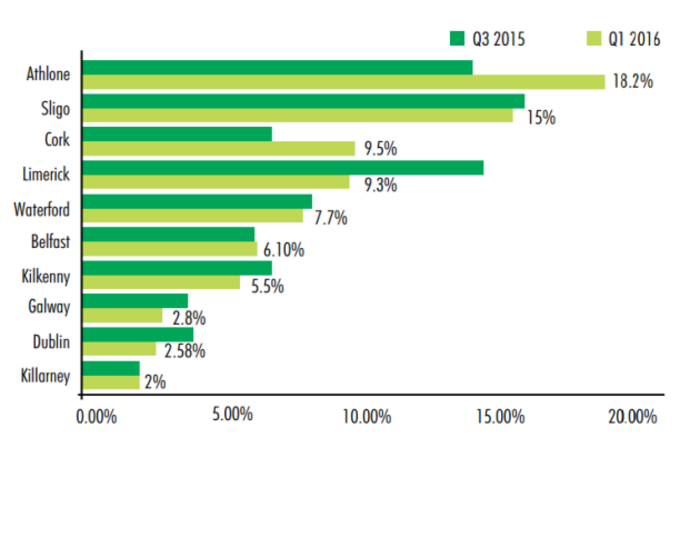 Click here for a larger version
Although occupancy rates on Cork's high streets fell during the first three months of 2016, Hunt noted there are small signs of improvement as vacancy rates in the city's retail hubs are down on levels from this time last year.
"The committees down in Cork have fought back. Cork City Council put out a tender out two or three years ago to avoid vacancy and a 10-point plan was put together to address the empty shop fronts. Compared to 18 months ago it has improved."
Not all bad
In contrast to the growing number of vacant shops in Cork and Athlone, the vacancy rates on high streets in Dublin and Limerick dropped significantly.
Six months ago, Limerick had the second-highest vacancy rates nationwide, while now just under one in 10 of its high-street shops are vacant.
Vacancy rates in Dublin also dropped dramatically with nearly every prime retail space in the capital occupied.
Click here for a larger version
CBRE noted in its research that the low vacancy rates on certain high streets and in shopping centres nationwide has led to a steady rise in rental costs for retailers.
On Dublin's Grafton Street, prime zone A rental costs (the price of the first 7 sq m per year) stood at €5,700 and have slowly crept back towards the prices seen during the Celtic Tiger years.
For the first time since 2013, prime zone A rents on Henry Street in Dublin increased and now stand at €4,000, which is an annual increase of just over 14%.