Meet the artists-turned-event planners partying with Facebook and Diageo
H&G Creations' Deirdre Young and Sinead Bailey Kelly turned a passion for visual arts into a career.
THEY SAY YOU should never mix business with pleasure – but Sinead Bailey Kelly and Deirdre Young have made a career of it.
Through H&G Creations, a creative agency the pair co-founded six years ago, they've organised parties for Facebook, pub crawls for Diageo's Hop House 13 and built a pride parade float for Indeed.
Based in Dublin's Rathmines, the small team, consisting of the founders, a graphic designer and a social media manager, has worked with some big names on corporate events and brand launch parties – as well as the odd wedding.
"We met on Gumtree. It's like our romance story," Deirdre Young says of the company's foundation, speaking to Fora with her co-founder over coffee in TwoFifty Square cafe in Rathmines.
Both from artistic and hospitality backgrounds, Young and Bailey Kelly started working together at the Little Green Street gallery, where they were later offered a studio to start H&G – originally called Hunt & Gather – by Independent Museum of Contemporary Arts founder Kay Bear Coss in exchange for promoting events at the space.
"It was like a lovely compromise. That's where H&G was born," Young says. 
A graduate of the National College of Art and Design, Young worked in hospitality to get through college and to fund her travels in New Zealand and Australia.
"I enjoyed the fast pace of it, but the monotony can be a bit draining. Hence the reason why I adore the events side of (H&G) because you're not doing it every day and it's something different," she says.
Bailey Kelly is of a similar stock. Having moved from Canada to study in Ireland in 2005, she accumulated degrees in visual arts, graphic design and photography and paid for her education through bar and retail work.
"It was great craic and the hours worked around my college hours as well," she says. But her true calling was art.
"I suppose at the time I always wanted to have a show in an art gallery, but it was really hard to get into art spaces and there was always a huge long list. I ended up throwing art (parties) in public spaces like the Twisted Pepper (now Wigwam) and the Button Factory."
By taking exhibitions from traditional galleries and into venues like clubs and pubs, Bailey Kelly found a way of making art more accessible to the masses and also learned how to pull off an event.
"Those went down really well. I was just thinking, some people don't want to go to galleries because that's not their space. Art shouldn't just belong to those spaces. You should able to bring art to people wherever they are," she says.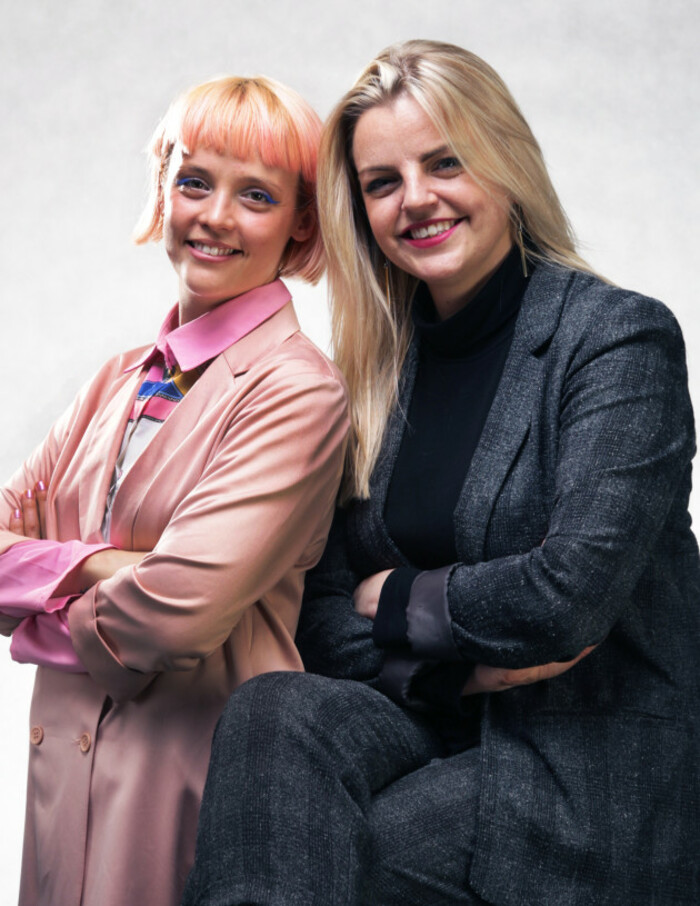 Source: H&G Creations
Experiential marketing
One of H&G's earliest clients was Hendrick's Gin, a client that Bailey Kelly and Young have retained for six years by organising food and drink events to boost consumer awareness.
It's the kind of marketing that falls under 'experiential': a growing trend where punters are invited to 'immerse' themselves in a brand, often through Instagram-friendly events.
"That's where we started and that's where our core (business) is," Young says. "We were all about creating environments and creating an experience for people. It really goes back from starting art parties … that is exactly where brands are now."
"(Consumers) go away and have a kind of personal affection towards said brand, rather than (a client) using the money on a billboard ad, because people don't really have the same connection to it."
The creative process behind organising a corporate event or launch party isn't particularly mysterious. It starts with asking a client the reason for promoting themselves through an event.
"Why are they putting on this event? Is it to retain or attract talent or is it for a brand to expose themselves to the public? What's their end game?" Young says.
H&G then creates a 'mood board' of ideas based on the conversation and presents the client with a means of achieving their objectives.
"You really need to whittle down your creativity," Bailey Kelly says. "You might throw a load of mad ideas at them and they might say, we want just 10% of that. You kind of have to cater for exactly what the marketing objectives are for that particular client."
Young adds, "There's always a back and forth. There's always tailoring along the way. There's always budgets that need to be brought back. Sometimes there's an injection of more."
As well as employing two staff, H&G's founders have accumulated a list of around 120 subcontractors who specialise in everything from carpentry to light projections to paper-based sculptures.
Measuring success
Putting on a show isn't cheap. Though they don't disclose exact numbers, Bailey Kelly and Young say the bill often runs into the tens of thousands of euro – so how do clients know if their money was well-spent?
Bailey Kelly explains that when H&G built a Beatles-themed float for jobs website Indeed at the 2019 Dublin Pride parade, the client – which is adding 600 people to its Irish pay roll - was looking for ways to market itself as an inclusive workplace.
"They got everyone to fill in a questionnaire. You kind of get a well-rounded perspective of how successful the event was based on the feedback from the staff," she says.
For firms looking to promote their brand with consumers, it's all about how a launch is portrayed on social media.
"It's the amount of pictures shared virally that they considered a success, rather than a picture in a magazine," Young says.
To keep their ideas fresh, the pair make sure to allow themselves time to travel, visit galleries and attend festivals. They also organise what they call public parties – ticketed events incorporating performance art to mark the new year celebrations, Halloween and Christmas.
"At those events, our client is ourselves so we get to be as creative as we want to be," Young says.
Venues shortage
Bootstrapped since day one, H&G Creations wasn't around to experience the drop-off in advertising and marketing spend that came with the last financial crash. Bailey Kelly and Young are conscious of the recent warnings that the economy is headed for another recession.
To help protect the business, they have started diversifying their offering. The duo are increasingly promoting their services as a means of improving staff retention at companies grappling with the ongoing talent shortage and want to focus on fewer but bigger, events – they currently organise about 40 a year. They're also trialling a brand design service.
"Every year, we have a brainstorm session," Bailey Kelly says. "We look at our services and pinpoint what is doing the best and focus more efforts on that. But then we always pick one new service that we'll experiment with and trial for the year and then view it at the end of the year.
"Branding is something that we're looking at at the moment. We've had people contact us about branding for themselves. We're kind of future-proofing."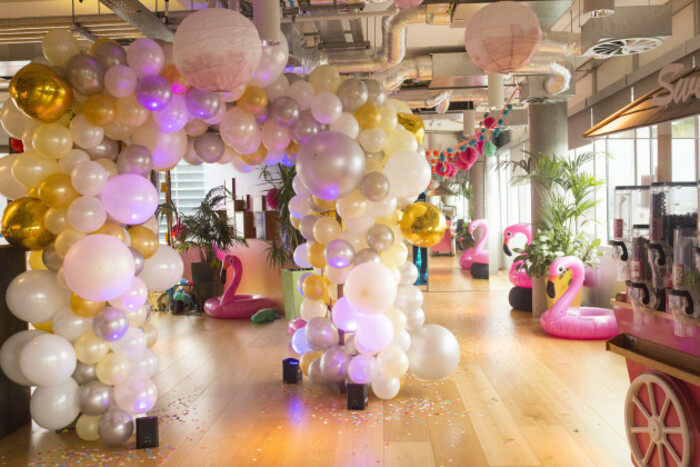 Source: H&G Creations
One of the biggest challenges H&G faces is a shortage of cultural venues, particularly in Dublin, as recently highlighted by the relocation of the Bernard Shaw pub and venue.
"Every corporate client comes to us saying, 'I want something different that hasn't been done before.' I don't know if that exists," Young says.
There are workarounds. For example, some Airbnb listings are advertised as suitable for events, such manors and estates in Meath and Wicklow. H&G's contract workers have also rolled out fake grass and walls to transform well-known bars into faux living rooms. But they're worried Dublin is losing its cultural clout.
"You can find spaces anywhere, but there is definitely a crisis for cultural spaces happening at the moment," Bailey Kelly says.
"We're heavily involved in the music community in Dublin. A lot of our friends are musicians and DJs … I think that there's no protection for arts and culture in Ireland.
"During the recession the government was using arts and culture sector as a crutch (to attract tourism). Now that there's a boom happening again, it's like all of that has been forgotten about."
For now, H&G will have to keep coming up with creative ways of rejuvenating the old stock.
Get our Daily Briefing with the morning's most important headlines for innovative Irish businesses.