How injury heartbreak for this former Kilkenny hurler spawned a startup
As part of our weekly Startup Spotlight series, we profile ND Sports Performance.
A LOT OF startups are born out of personal frustration. For Noel Doherty, the beginning of his company can be traced back to the 2012 All-Ireland Intermediate Hurling Championship.
It was Doherty's last chance to play for the title and possibly clinch a third career medal, but a hamstring tear put an end to those dreams.
"I was willing to go out and buy whatever I needed to get myself back to full fitness. I knew in 2012 that this would be my last chance," Doherty says.
"I was put on a conditioning programme that required a second person to assist me to exercise, but the problem I found, and a large percentage of other people find, was having someone to help wasn't always possible."
Using his experience from a background in construction and design, Doherty went about creating a device that would help him strengthen his hamstring muscles during rehabilitation and prevent further injuries down the line.
According to Doherty, the first prototype wasn't much to write home about. It was "literally a box", but it worked.
"It was just to assist me and wasn't meant to be shown to anyone. I was able to do the programme, I was getting stronger and wasn't breaking down.
"I showed one of the senior physios for the Kilkenny team and he told me he had never seen something so simple and effective."
Despite impressing Kilkenny's back-room team with what the device could do, Doherty says the notion that he could develop the concept into a money-making venture took a while to develop.
To protect the idea while he did further research, Doherty took out a patent – and through Enterprise Ireland's New Frontiers programme in IT Carlow he explored how the box could be turned into a business.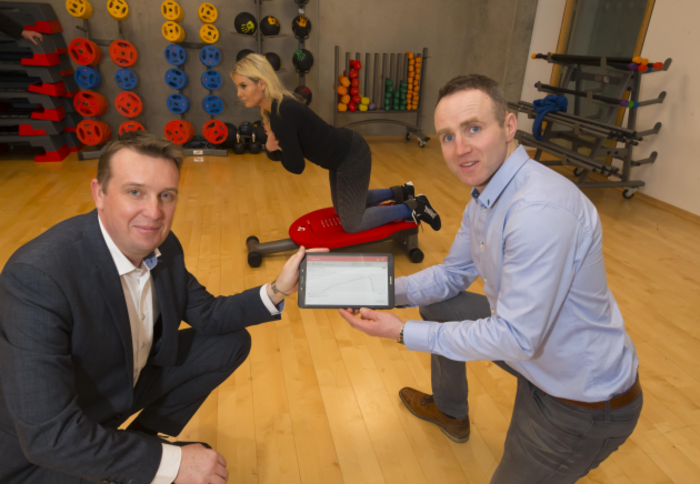 Source: Patrick Browne
Prototype
As part of that programme, Doherty created a new iteration of the original prototype and began trialled the device with Kilkenny's senior hurlers.
By his own account, the 'Hamstring Solo Pro' device was a simple design – but a throwaway comment from Kilkenny hurling legend Henry Shefflin gave him the idea to take it a step further.
"He doesn't know this, but Henry asked a question one day – he was saying his left hamstring felt fine but his right wasn't fine – and it triggered something in my head.
"We couldn't give an exact answer to Henry or any athlete, they couldn't get objective feedback on their hamstring function."
Doherty did further product testing with James Allen, the Irish rugby team's physiotherapist, to add a predictive element to his device.
"The IRFU wanted to take the subjective feedback out of it and get fact-based feedback," he says.
"I sat down at the table in IT Carlow and started designing a new product that would include sensors that would feed information into an app with all the bells and whistles. Little did I know how much work it would take to get that done."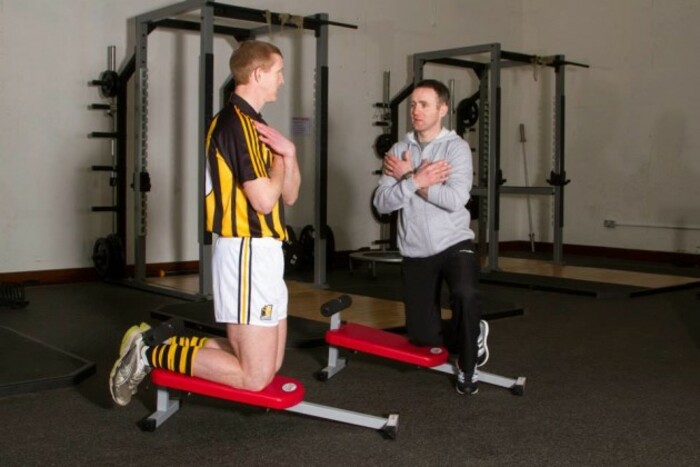 Source: Hamstring Solo
What he eventually created was the next iteration of the product, the 'Hamstring Solo Elite', which uses built-in sensors to measure hamstring strength and track fitness progress over time.
Doherty says data from the device can be monitored through either an iOS or Android app with players' details stored in the cloud.
"Performance coaches can evaluate if the training programme is working and they can set goals for players. We can assess proven injury risks as well."
Clients
The Hamstring Solo devices sell at very different price points, with the pro version sold for just under €800 per unit.
The elite version of the device costs €5,000 with an annual licensing fee of €2,500 to use the software and cloud-based services.
Since the firm started trials with Kilkenny hurlers, several other high-profile sports teams have joined its client list, including English rugby clubs Saracens and Leicester Tigers, and English Premier League side West Bromwich Albion.
Doherty says the firm also makes some revenue from doing hamstring screen tests for squads to evaluate players' susceptibility to injury.
But he adds his firm's biggest contract to date has been a five-year deal with the English Institute of Sport – the body that oversees Britain's Olympic and Paralympic teams.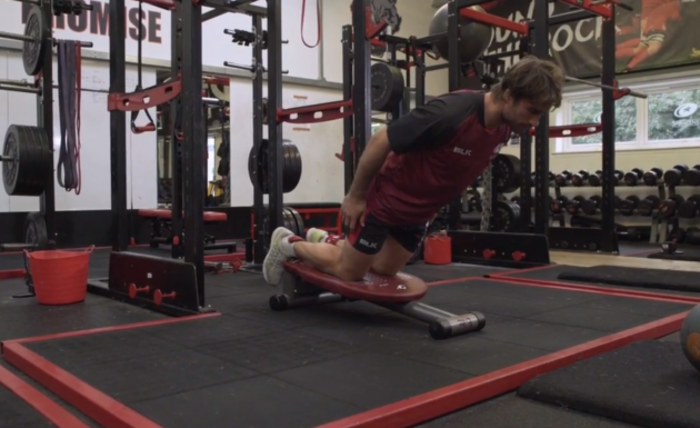 Plans
His business, ND Sports Performance, is currently preparing for the rollout of its products next month into more European markets.
To fund this expansion, the Kilkenny firm recently raised €300,000 from Halo Business Angel Network investors and Enterprise Ireland.
The funding round, which was partly backed by the South East Business Angel Network syndicate, will be used to add a number of new employees to the business, which currently has five people on its books.
Doherty says he is mainly looking to hire researchers and also add some customer support, sales and marketing staff.
"One of the hardest thing we had to do, and it's not just us, all SMEs find this hard, was get funding. It's never enough.
"The potential is there to raise more funds. If we want to target future expansion, particularly into the US, we will be looking for more investment.
"We're looking to go to the US before the end of the summer, so potentially before the end of the year we'll try raise more funding."
He adds that further investment would also help the company expand into new product areas.
"It's important not to be a one-product company, you need to keep moving. Sport is getting very scientific, people are looking for more objective data from other muscles and that's what we're going to provide, more muscle monitoring."
This article is part of a weekly series featuring Ireland's most promising startups. If you would like to see your company featured email news@fora.ie.
Sign up to our newsletter to receive a regular digest of Fora's top articles delivered to your inbox.