Sports fashion brand Gym+Coffee is opening in Cork - but has put its UK plans on ice
The Irish athleisure startup has been feeling the burn from Brexit.
IRISH ATHLEISURE BRAND Gym+Coffee is opening a pop-up outlet next month in Cork city's Mahon Point Shopping Centre.
Speaking to Fora, marketing chief Diarmuid McSweeney – one of the brand's founders and its marketing chief – said that the rebel city was always on the business's radar because two of the three founders hail from the county. 
McSweeney – who set up Gym+Coffee with friends Niall Horgan and Karl Swaine in 2017 – also said Cork has become a centre for the brand's "community", based on analytics generated from the company's social media and email database.
"There seems to be a demand for it down there, and I think Mahon Point is a really good opportunity and an excellent location," he said.
"Any time we put on events in Cork there are always big numbers registered for them … It just made sense that that was the next step for us."
Right now, the brand sells its wares – including hoodies, leggings and other activewear – online and through its flagship Dundrum store. It previously operated a pop-up in Arnotts on Dublin's busy Henry Street and currently ships to customers in the US.
The company today employs 16 full- and part-time staff, which will increase to 23 with the new pop-up store when it opens in April.
The Cork outlet will be roughly the same size as the existing store, but the shopping centre's own event area will provide a promotional opportunity for the brand to host yoga classes, high-intensity workout sessions and other presentations.
"We're planning during the summer to use the store in Mahon Point as a starting point for other events. That could be a 5k run around the area or something bigger," McSweeney said.
"You're basically introducing people to more elements of the brand, giving them an experience to enjoy, not just going to the website and buying our latest launch."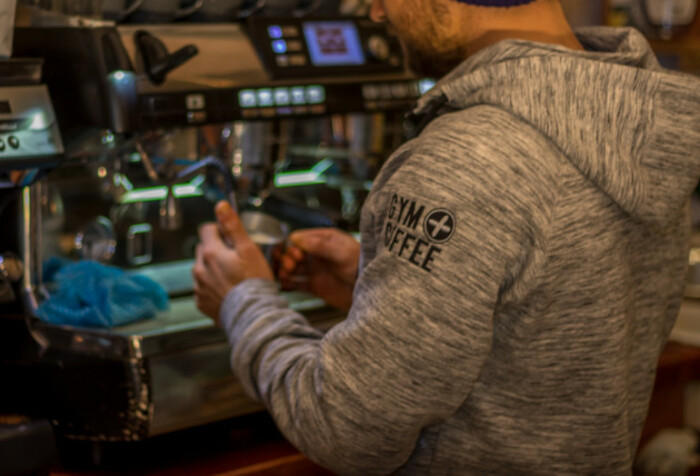 Source: Robert Webster
London on ice
In January, Gym+Coffee had been looking at expanding into the UK, scouting locations in London, Bristol and Birmingham, but that has been put on the back-burner for now. 
"I suppose Brexit has really affected things. Everyone's kind of hit pause on those kinds of plans and you just don't know what's going to happen there in the next couple of months," said McSweeney. 
"London seemed to be the best one and we found what we were looking for in a couple of different locations, but we just couldn't make the decision unfortunately," he said.  
"You'd hate to sign a long-term lease and then realise that the economy is tanking. We would love to do something there in (quarter three or four), but at the moment it's very hard to make those types of decisions and make long-term plans."
The Mahon Point outlet is the focus for now, but McSweeney said Gym+Coffee still intends to increase its international presence through online sales. 
The "elephant in the room" is opening an Australian store, said McSweeney, who used to live Down Under, but until the startup can test out an international expansion model in the UK, that dream is on hold too. 
"We've always been keen to go there, and we'd love to be able to do that in the next 12 or 24 months. Again, it's one of those things where you'd like to try out international elements with the UK first and then see if you can go further afield," he said. 
The Australian lifestyle is "bang on message" for Gym+Coffee's brand, according McSweeney, and the company regularly fields queries from Aussie customers asking when the outfit will open an outlet there. 
"We do ship there, but it's expensive because it's from Ireland. We feel like it's the thing we're desperate to do. They're big decisions to make."
 Get our NEW Daily Briefing with the morning's most important headlines for innovative Irish businesses.