'Success can be a handshake with someone, it doesn't have to be profits'
Tools of the Trade: Stephen O'Reilly of GROWN clothing, on balancing business and life as a full-time firefighter
EVERY WEEK, FORA gets inside the heads of some of Ireland's top entrepreneurs to gain insights into what got them to the top of their trade. This week we speak to Stephen O'Reilly, co-founder of GROWN clothing. 
Stephen O'Reilly likes to go sea swimming and compete in endurance races, but balancing that with being both a full-time firefighter and working in the business he co-founded is no mean feat. 
As creative director and co-founder of GROWN, a sustainable clothing company, he relies on the rigid timetable of the Dublin Fire Brigade and daily meditation to keep him on track.
GROWN makes ethical clothing and was started up in 2016 by O'Reilly, Neil McCabe and Damian Bligh, all of whom are firefights. 
The company plants a tree for every piece of clothing bought to help re-plant native Irish woodlands.
In our weekly Tools of the Trade series, we spoke to O'Reilly about jumping in, being competitive and steep learning curves.
What's your main source of motivation?
The environment and my family. Unfortunately, everything man does and creates causes harm so there's nothing really sustainable in the world. It's been my goal at GROWN to raise awareness on how to protect the environment. We try and encourage people to buy less and buy better.
Together, myself and my co-founders Damian and Neil, have six sons, so they're a really good driving force for what we're doing today. If we leave this world in a better place than what we started with and leave a legacy for them, that's the main motivator.
Who have you learned the most from?
My parents. My father started from humble enough beginnings, grew up in the Iveagh Trust flats in town and left school at 15 because he needed to provide for the family.
He's now one of the senior management of a company with 1,000 employees. He worked his way up, went back to school, did his Master's and he's now pretty much one of the most senior members of the team.
To see that hunger and ambition and drive to succeed rubbed off on me. It showed where hard work and determination can get you.
My mum was a driving force as well. Her passion came from a very sporting family.
My wife as well, we've been together since we were 16. She's senior management in her company too, so I've been surrounded by very powerful, strong women. I've learned a lot from that.
From a business point of view, my co-founders Damien and Neil – we all come from different backgrounds – also, Yvon Chouinard, the co-founder of Patagonia clothing. His ideas, focus and passion are incredible.
What was a big turning point in your life?
The birth of my son. It rocks you and puts things in perspective. I thought success was being busy and saying yes to everything and working every hour that was given.
When my son came along I had no choice but to stop and re-evaluate what's important in my life and career. It hasn't hindered me, if anything it's given me more of a driving force.
How do you manage your time?
As well as being a co-founder of GROWN, I'm also a full-time firefighter and paramedic with the Dublin Fire Brigade. For me, they're polar opposites. With the Fire Brigade, we have a yearly shift calendar so I know where I'm working for the rest of the year. It runs like clockwork and I enjoy that focus and structure.
GROWN is the opposite, it's spontaneous and unpredictable to a certain extent. When I'm not in the Fire Brigade I give myself 10 minutes in the morning to meditate, to journal, to put down my goals and what I need to do in the day.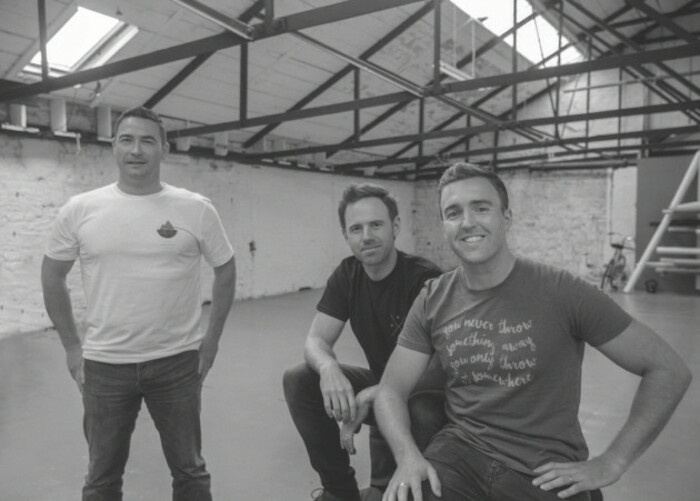 Source: Stephen O'Reilly
What's the most important part of your daily routine?
My son wakes up at six o'clock every morning and I think that's an important time to spend with him. No phones, no distractions, just one-on-one time with him as we get ready to start our day. It's extremely important that he knows that he's number one.
What tool could you not do without?
Unfortunately my mobile phone. I hate it but I love it. As the creative director in the company, I'm always trying to gather research and build networks with people.
How do you deal with stress?
I soon realised that I'm not going to be the best at everything. I think the biggest learning curve I've had is that hard work will always beat talent when talent doesn't work.
How I deal with stress is planning. If I do plan and put hard work in and achieve certain goals, that will mitigate the stress levels.
My targets and goals have also changed regarding how I see stress and success. Success can be a handshake with someone, it doesn't have to be profits, it can be a simple thing.
What ambitions do you still have?
For myself and GROWN, it's to be a proud brand from Ireland and to be the face of change. It's important that we help to restore the native woodlands of Ireland and tackle a bit of climate change.
What helps you switch off?
Sea swimming. I do it all year round, it's my number one way of getting out of my head. When I feel overwhelmed I go to the coast, I do a bit of sea swimming in the Forty Foot or the Vico and just jump in and recharge. I can't recommend it enough.
How do you respond to failure?
Being a competitive person I never took it very well. I swam competitively for ten years, completed Ironman races and marathons and I'd still worry if I wasn't faster or better than the person in front of me or I didn't win.
The last two years, with my son and with more reflection on what's important in life I've been dealing with it a lot better.
In business and life, if you're not failing you're not taking risks and you're not trying hard enough. I nearly welcome failure now. It shows you're pushing limits and learning from it. Without failure, you'll never succeed.
What differentiates your company from the competition?
We're willing to fail. We have a clear concept of how we wish to be seen and perceived. GROWN is not just a name, it's an instinct for growth – it's in our nature.
We believe our profits will come from our passion, our customers are like-minded people. We've turned down work with big companies and organisations because they didn't stick to the guidelines we set for ourselves.
What quality has helped you stand out? 
Openness, passion, hard work and honesty. I'd talk to the wall if it'd talk back to me. I find it very easy to engage with and connect with people. If I believe in a project I'll give it everything. It's got me where I am today.