'We treat the Cork family sawmill like a big company. Rivals cut logs, we make money'
As part of our How My Business Works series, we profile Cork timber processor GP Wood.
WHEN MANY PEOPLE think of a log-cutter, the image they likely have is of some enormous, grizzled man with a big bushy beard hacking down giant redwoods with an axe.
It is less likely that they think of a child barely old enough to attend school wielding the blade, but technology means that this scenario is less ridiculous than it once would have been.
"It isn't like the Waltons' sawmill, there aren't fellas holding saws," says Niall Grainger, the managing director of one of Ireland's biggest timber processors, GP Wood.
"Everything is automated; it's more Star Trek stuff now with people using computers to push wood though machines. My seven-year old has already cut his first log."
Grainger, 41, is following in his father William's footsteps, both in his line of work and in the way in which he has chosen to involve his family with his business.
His Cork-based company was formed after a merger between two family firms, Grainger Sawmills and the Palfab group in 2013. Both set up in the seventies; Grainger Sawmills' roots go back to Niall's grandfather, the eldest son of a local farmer.
"My grandfather conceived the idea, he went to housing estates and made boxes, but my father was the principal driver of the business," Grainger says.
"He took my grandfather's idea and ran with it. He grew it from two people in a shed to, at the height of the boom, a company that would have had a turnover in excess of €60 million. It was my father's doing."
There is a clear admiration in Grainger's voice when he speaks of his father, and he emphasises that he always wanted to emulate him.
"There was never any doubt that I wanted to follow in my father's footsteps. From secondary school I would be working in the sawmill, I went back every summer as far back as I can remember," he says.
"After college lots of my pals traveled to various exotic places, but I just wanted to go to the sawmill and make a few bob.
"I'm proud of what my father and my family and I did when I walk into the Grainger sawmill, because I would have considered myself an important part of the decision-making process. I've always lived in Cork and my blood runs fairly red, but other people would say that if you cut me sawdust would come out."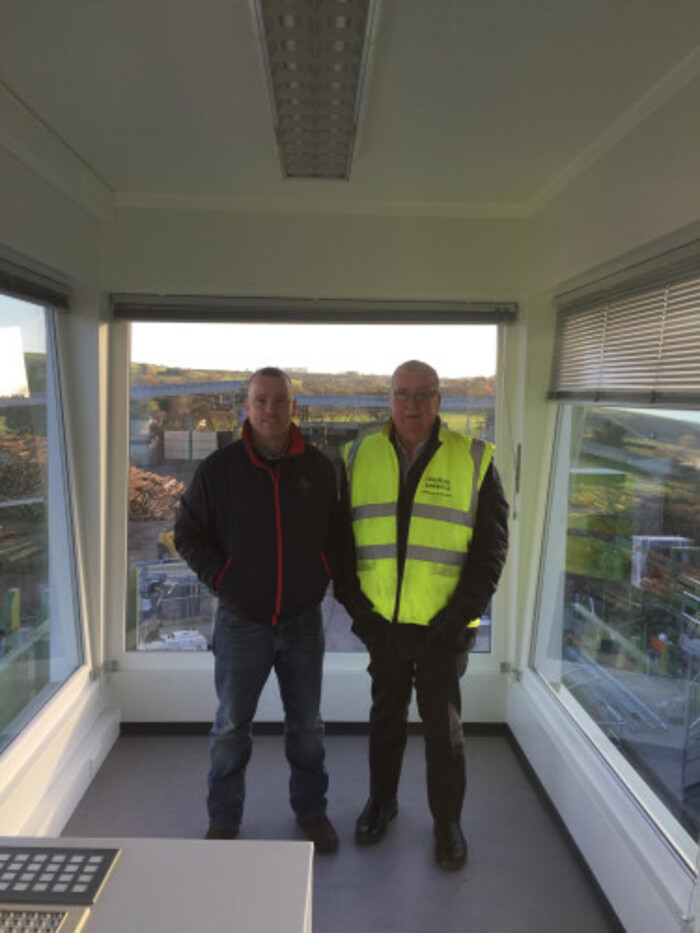 Source: GP Wood
Now in charge of running one of Ireland's largest manufacturers following the merger, Grainger is hoping that GP Wood can keep building on the foundations laid down by his family.
What do you do and how long have you done it for?
GP Wood is a wood-processing company. This means that rather than making wooden products like furniture, it processes logs into blocks and beams of wood that can then be used by manufacturers.
Formed in 2013, GP Wood is young, but the two businesses that made it up, Enniskeane-based Grainger's and Lissarda-based Palfab, were both founded in 1977.
"We would always have treated the business as a family business with a big-company attitude," Grainger says. "We did joint ventures; 26% of the business was owned by a multinational company at one point and 10% was owned by a venture capitalist, although it was 100% Grainger-owned before the merger.
"It was the same with the O'Callaghans. Too many of our competitors are into cutting logs, the O'Callaghans and the Graingers are into making money.
"I joined Grainger in 1996 and was convinced I would get a cushy role with leather seats, but that wasn't the case with my father. I had to work my way up from the bottom, I stacked timber, I drove machines, but I gravitated back to what I had studied in college – engineering."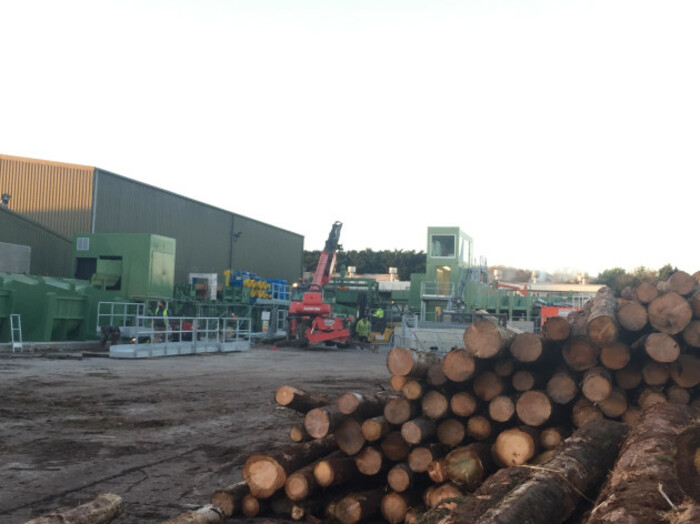 Source: GP Wood
Both companies expanded rapidly during the boom, but both also suffered after the crash as builders and consumers cut back on spending. Grainger was appointed as managing director of the family business and recalls: "It was a baptism of fire managing the firm through the recession.
"We were at €60 million turnover pre-recession; we dropped back to a little under €25 million. You had to cut the fat, but we came out of the other side and both families came out of the recession stronger.
"In 2012 or 2013 there was a conversation between myself and Palfab to say why don't we throw our lot in. The foundations had been laid in 2012 and the merger reinforced the foundations."
GP Wood now employs about 140 people directly and made a profit of €1.3 million in 2015, down marginally on the €1.4 million reported the year before.
What are your costs and how do you make money?
In Grainger's own words, the mills pay the bills.
"We buy logs, standing or pre-cut, bring them in and process them according to different categories and different types of logs, like how big they are. We process them and produce wood products for construction," he says.
The company's wood is mostly used in structural products, such as timber to be used on building sites, in fencing or for pallets. Most of the process is done by machines compared to the manual labour of decades gone by.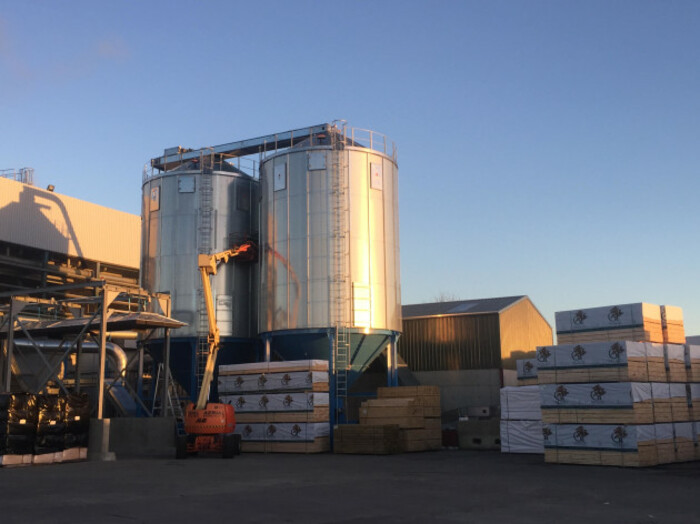 Source: GP Wood
"Things have moved on dramatically, now when there is an equipment breakdown the person doesn't come with a wrench and a spanner, they come with a laptop. Nobody touches the timber by hand until they put the label on the back of it at the end."
GP Wood gets most of its wood, its biggest asset and cost, from forests managed by state forestry agency Coillte, contracting other businesses to chop down and transport the trees.
"About 70% to 80% of what we produce is from Coillte," Grainger says. "Sometimes we buy blocks of forestry and sometimes we thin a forest, take one tree in every three. For every tree that we cut down three more are planted so that it is sustained. We have accurate forecasting in place to 2035.
"The raw material is our biggest cost, followed by transport. We deal in a very low margin area so we deal in high units."
What is your market?
The bulk of GP Wood's customers are large building companies, like Dublin-listed Grafton group, based in either Ireland or the UK.
"About 50% of what we do is domestic and 50% is in the UK," Grainger says. "I'm based in west Cork, so really the best place for me to sell is Cork city, the next best is the closest city after that.
"As soon as you start going further afield your transport costs go up and your margin is reduced."

Source: GP Wood
For this reason, while GP Wood has sold to some other countries farther afield – Grainger mentions Libya and Japan – it's rare that the firm strays beyond the UK.
However, Grainger argues: "Why would you want to go past the UK?
"The UK is a net importer of wood, there's plenty of space for everyone. But in saying that, we don't just look at the UK with blinkers."
What is the competition?
Processed wood is a commodity, meaning that its price is fairly fixed. It costs so much to take it out of the ground and put it through a sawmill, which means that there's not much GP Wood can do to undercut any local rivals.
"UK and Irish producers are our competition. There is an element of loyalty, but price talks at the end of the day," Grainger says. "We can't control market prices, but we can control the mill, so it is up to us to be the efficient and retain a competitive advantage."
Because it sells a lot to the UK, GP Wood is also vulnerable to currency fluctuations. When the euro strengthens against the pound, relative to other currencies, it can make the company's wood comparitively more expensive for UK companies to buy.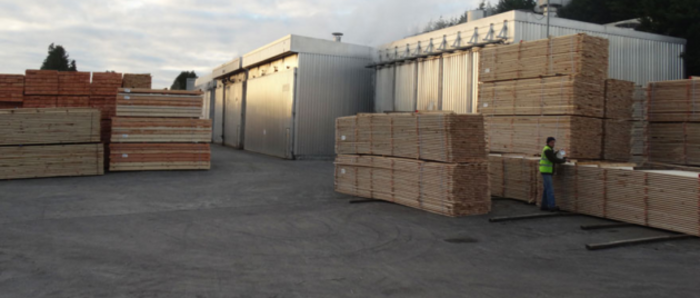 Source: GP Wood
"If the euro doesn't track the Swedish krona, then all of a sudden the Swedes become more competitive," Grainger says.
"At the end of the day we're a service provider, we have to give the customer what they want, when they want, at a very competitive price."
What is your vision?
Grainger says that the merger put down the foundation for GP Wood, and the company is now in the building phase.
The firm recently announced that it is investing €14 million to upgrade one of its two sawmills, located in Enniskeane, in a move that it said would create almost 30 direct and indirect jobs.
Grainger is hoping that this can help the company beat the record sales of Grainger Sawmills during the boom and even surpass it.
"We were at €60 million turnover just before the recession and we will be just over €50 million this year, next year we should be closer to the €60 million mark," he says. "In five years we could see that doubled, but there are a lot of 'what ifs'."
Grainger has a similar attitude to his father when it comes to involving family in the company. The Cork native has three young children all under the age of eight and, while he says he would like to see them included, he warns that there will be no free ride.
"Of course I would love my son to come in and sit on my seat in 25 years time, but only if it is best for the business," he says.
"I'm a shareholder in the company too and I want what's best for shareholders. Too many businesses get hung up on positions and family titles, but that won't happen to this business."
This article is part of our weekly series examining the nuts and bolts of businesses. If you would like to see your company featured please email news@fora.ie.