Tech behemoth Google has bought 'Boland's Quay' in Dublin's docklands
When completed, the development will have space for up to 2,500 workers.
TECH GIANT GOOGLE has bought the Boland's Mill development in Dublin's docklands.
The development had been on sale for around €170 million, but it is not known how much Google paid for it. The sale was today announced by Mark Reynolds of Savills, the Nama-appointed receiver of the site.
The so-called 'Bolands Quay' site received planning permission in July 2015 and, since then, Nama has provided funding for demolition and enabling works.
Google, whose European headquarters is nearby, will now acquire the whole campus.
Bolands Quay will comprise 28,000 sq m of office space, 46 apartments, cafes and 'cultural space'. The development will include three new landmark buildings. It is due to be completed next summer.
The development will also include a new pedestrian bridge and two new civic plazas with water frontage to Grand Canal Dock. Bolands Quay will be linked to Google's office on Barrow Street via walking routes through the site.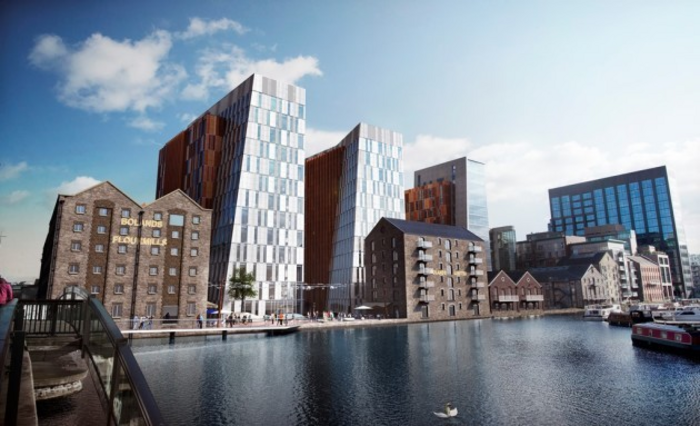 Source: Savills
Google will use the office space itself and will recruit a letting agent to rent the commercial and residential properties.
When complete, Boland's Quay will have the capacity to accommodate up to 2,500 workers.
Commenting on the sale, Google's European director of real estate and construction, Joe Borrett, said Boland's Quay is "a very important addition to our office portfolio in Dublin".
[embed id="embed_2"]
Receiver Mark Reynolds of Savills said: "Securing the sale of the entire campus to one owner occupier, has significantly de-risked the project and has justified the decision to build out the entire scheme … The vision set out for Bolands Quay is now becoming a reality."
Written by Paul Hosford and posted on TheJournal.ie
Sign up to our newsletter to receive a regular digest of Fora's top articles delivered to your inbox.