Dairy brand Glenilen Farm thinks there's still 'a lot of ground to conquer' in Brexit Britain
The market currently accounts for quarter of the Cork firm's annual sales.
WITH AGRIFOOD TIPPED to be hit hard by Brexit, you'd be forgiven for thinking the couple behind yoghurt brand Glenilen Farm are spooked by the thought of what happens after Britain leaves the EU on 31 October.
Instead, Alan and Valerie Kingston plan to push further into Britain, which currently accounts for a quarter of Glenilen's estimated €5.7 million sales and where the company supplies Waitrose supermarkets and 500 Sainsbury's locations.
Earlier this week, the company sealed a listing with a British retailer to supply a range of desserts from October – "around about the same date we'll all be hanging off a cliff", according to Alan Kingston, who explains that much of Glenilen's decision to bank on Britain is born out of necessity.
Glenilen's ranges of yoghurt and dairy desserts have a relatively short shelf life of 21 days, which makes it difficult to export to continental Europe.
"For us to grow, the UK is the natural choice and natural partner. I suppose proof of that is the fact that, with hardly any big marketing budgets or anything, we can actually carve our way into the retail scene over there and be successful," Alan says.
Even if Britain crashes out without a deal, he says yoghurt won't be subject to tariffs, though Glenilen's costs would likely increase by 8% to 10% due to logistical and time-lag issues.
But the Kingstons are willing to take the risk.
"We are in 500 Sainsbury's. They have 1,600 stores. We are just a tiny drop in the ocean. We can definitely play a bigger role even at the premium level we're at in terms of pricing. There's still a lot of ground to conquer there," Alan says.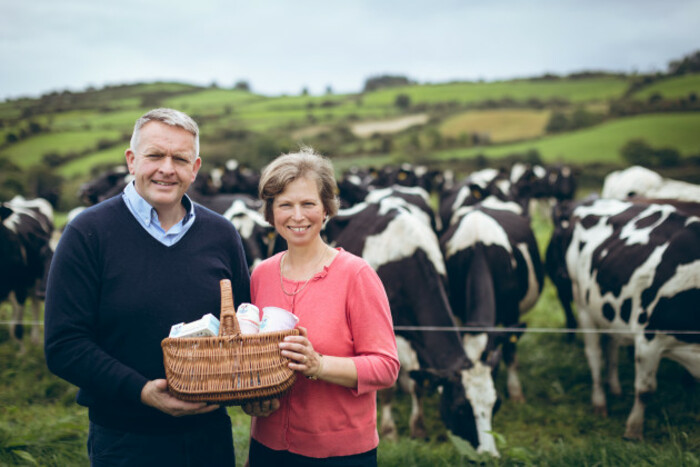 Source: Glenilen Farm
Trends
Founded in Cork in 1997,  Glenilen Farm is best known for making ranges of yoghurts and butter as well as other dairy products like cheesecakes and clotted cream.
Using milk produced within a mile of its Drimoleague dairy, the business grew from selling at farmers' markets, to supplying local supermarkets, to a national retail listing, followed by a UK expansion.
Today, the brand is stocked by Tesco, Dunnes Stores and SuperValu in Ireland as well as Waitrose and Sainsbury's in Britain.
The company has reported a spike in growth over the last five years, with sales increasing from €3.2 million in 2013 to an estimated €5.7 million this year. According to its most recent accounts, Glenilen Farm Limited was sitting on an accumulated profit of over €943,000 at the end of 2017.
Valerie says there "wasn't a deliberate plan" for Glenilen, though the company has benefited from a rise in consumer demand for healthier products and providence.
"We drifted into the market, based on a hobby and passion for home-produced food," she says.
"The demand is there for sustainable, traceable food. People want to know where their food has come from, that it's produced ethically and with no additives."
The accidental trendsetters have also piggybacked off a growing hunger for high-in-protein products and brands that are perceived as 'authentic'.
"Even a lot of the mainstream retailers are trying to link private-label products with the producers' stories. There's no doubt that authenticity and providence and all those headlines are definitely driving growth," Alan notes.
Glenilen expects to hitch a ride on another fast-growing consumer trend: the clampdown on plastic packaging.
"We produce yoghurts in glass pots with a layer of fruit at the bottom. It's a real opportunity for us to carve out a little niche there and supply product that (retailers) want to provide to consumers," Alan says.
"It's definitely ticking their boxes at the moment, especially with Waitrose and Sainsbury's."
But one category Glenilen isn't looking to target is the headline-grabbing vegan market, which has popularised non-dairy products.
"We don't feel threatened by it," Valerie says. "We farm with a good conscious and thankfully a lot of the consumers in Ireland are connected to the land enough to appreciate the farming methods and the food production in Ireland."
Alan adds, "There's space for everybody (on supermarket shelves). We wouldn't want to get into a war about it. We all need to be eating more plants and greens and beans. It's better than some crowd promoting jelly babies or something."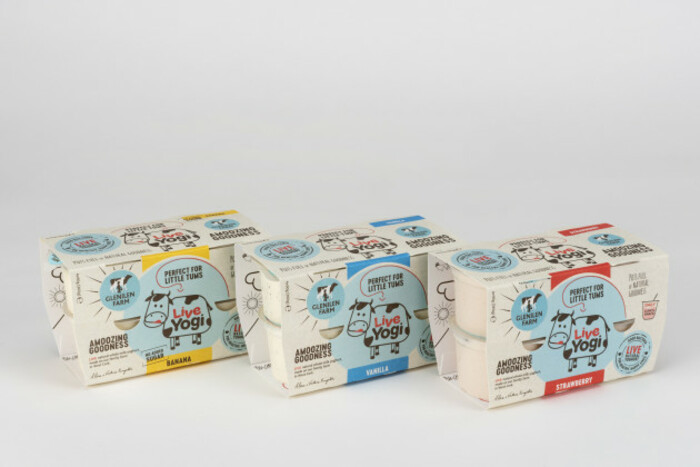 Source: Jorg Koster/Glenilen Farm
When asked about their longer term plans, the Kingstons say that as well as tackling Britain, they're keen to take a bigger slice of the Irish yoghurt market, which is dominated by imported brands.
Glenilen currently accounts for 4% of all sales here, though there's low awareness of the brand beyond Dublin and Munster.
"Our (consumer) awareness is only around 38% to 40% prompted (through marketing). That's very low. We need to be much, much higher than that," Alan says.
The company, which recently added a range of children's yoghurts called Live Yogi to its portfolio, also plans to roll out a selection of high retail-value Greek yoghurts.
Perhaps the biggest challenge for Glenilen is finding a way to produce larger volumes without compromising the product.
"There's a lot of pressure to conform, to use different ingredients that would make your product longer shelf life," Alan says.
"It's a real challenge to stay true to your original beliefs. That's always a real pressure point."