Meet the Dubliner behind the scenes at $4bn US biotech giant Ginkgo Bioworks
Barry Canton co-founded the company 10 years ago with students and a professor at MIT.
BARRY CANTON HAS been a busy man of late.
Ginkgo Bioworks, the Boston-based biotech outfit that the Dubliner co-founded in 2009, recently sealed a $290 million series E round that valued the company at more than $4 billion.
Ginkgo creates a platform for designing and engineering custom microbes that can be used to develop new products. The company has raised over $700 million in total from backers including Bill Gates' Cascade Investment, making it one of the world's largest privately-held biotech firms.
On top of that, it raised its first venture capital fund along with a number of partners to the tune of $350 million that will invest in companies spun out from Ginkgo.
And just a few months ago, it completed its latest acquisition of another biotech startup.
Taking a breather, Canton, who is CTO, is able to reflect on the journey of the past decade – one that began with moving to the US to study at Massachusetts Institute of Technology (MIT)
Having grown up in Sutton in north Dublin, he studied mechanical engineering in UCD before making the "unusual transition" to biological engineering, pursuing his PhD at MIT.
"I was doing some bio-mechanics work on injuries to the skull and the head (in UCD), and I got very interested in this idea of trying to apply engineering principles to the complexity of biology."
He made the move to MIT in 2003 at the age of 23 and it was here that he delved into synthetic biology, a cross-section of biology and engineering that involves re-designing and re-engineering DNA into new purposes.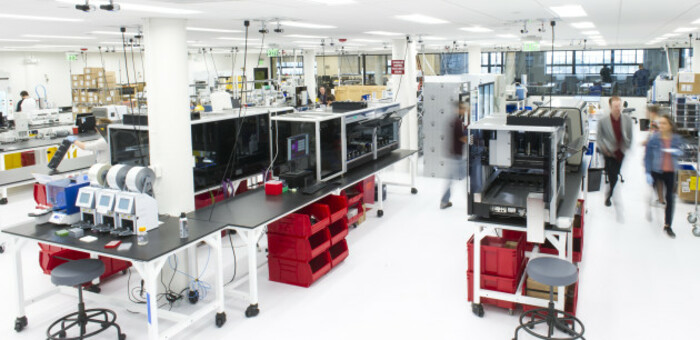 Source: Ginkgo Bioworks
Alongside three of his fellow classmates and one of his professors, the team of five decided to take their academic work further and founded Ginkgo Bioworks in 2009.
"The belief was that we could build a platform that made us faster and better at reprogramming biology in order to enable new products," Canton says.
The DNA code
For the last 10 years, Ginkgo has been building, deploying and refining its platform for DNA, working with several major partners.
Joined by co-founders Jason Kelly, Reshma Shetty, Austin Che and Tom Knight, Canton says the core mission has remained "remarkably consistent": to create faster and more efficient ways to create products using DNA, whether that's food or pharmaceuticals, to name a few examples.
"The central thing to realise is that all of biology runs on digital code, that's DNA and the four letters ACGT (adenine, cytosine, guanine, thymine)" he explains, with faint hints of an Irish accent emerging now and then through his twang.
"All living systems, bacteria, plants, us, we all run on digital code that's written in the form of DNA, so long strings of the letters ACGT."
New and novel technologies have emerged over the last 25 years or so to innovate in the field of DNA sequencing and synthesis with Ginkgo founded as part of this mission in 2009.
"A lot of the things that Ginkgo has developed since then basically allow us to reprogram what cells do by changing that DNA code. We program those cells by changing the DNA that they have inside them."
Ginkgo's portfolio of partners and customers spans a wide remit, from pharmaceuticals to cosmetics and food to industrial chemicals. Some of its flagship partners include pharma giants Bayer and Roche.
With more than $700 million in VC money to its name – with other backers including T. Rowe Price and Baillie Gifford – the company has even bigger goals moving forward.
That includes making the platform more widely available to startups. This is a relatively new development for Ginkgo, Canton says, after years of focusing on developing products with major multinationals.
"Our platform has now reached a level of maturity that we can start to open it up to a wider set of partners and customers. Startups are a big part of that at the moment."
The Ferment Fund, a $350 million venture capital fund, feeds into these efforts. Earlier this month, Ginkgo announced it secured commitments to the fund from a number of its own investors, such as Bill Gates' Cascade Investment, Viking Global Investors and General Atlantic.
It will invest in companies that have spun out from Ginkgo and are building on top of the Ginkgo platform.
"Startups, instead of having to build their own internal capabilities, which takes time and a lot of capital, can access the Ginkgo platform so they can focus on the development of new products," Canton says.
The company has already had some successes with the spin-out model. Motif Foodworks, formally founded earlier this year, is developing new ways to engineer healthier food ingredients and has since raised $27.5 million from investors.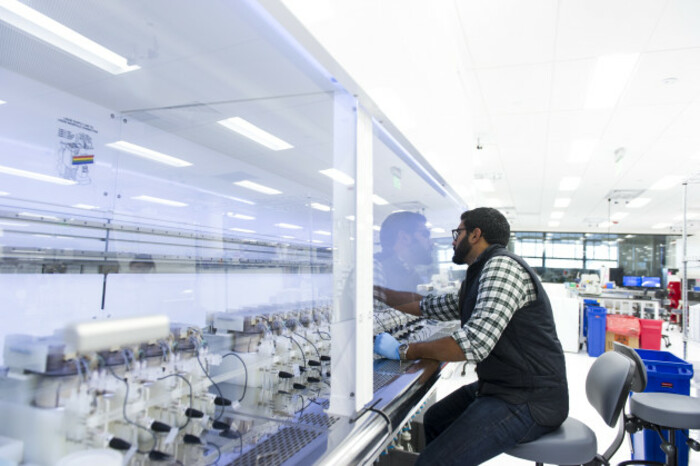 Source: Ginkgo Bioworks
Ginkgo has also grown through acquisitions, closing a deal in May this year to scoop up a company called Warp Drive, which specialises in the field of genome mining. It acquired another company called Gen9 in 2017.
"Our approach to acquisitions is that we want to make sure that we have the best platform for programming cells," Canton tells Fora. "When we see an opportunity to bring in house an important technology, then we'll continue to look for those opportunities."
Talent
Ginkgo is headquartered in Boston, which Canton has called his home for the last 16 years.
The company now employs just under 300 people and is constantly scouting at home and abroad for talent to join the company.
Canton, with his own experience of the US immigration system, says there can be many challenges in this regard.
His experience was relatively smooth – coming from Ireland to study at MIT – but the same certainly can't be said for everyone else.
"It was a very easy process for me at the time so I worry that today it's definitely a little bit more challenging to be able to bring even very highly-qualified people into the US," Canton says.
Some countries are easier to hire from than others but Ginkgo has experienced its own fair share of challenges in this area, he says.
"I had very good fortune in this respect when I was early in my career. I'd love to see it be much easier for the right talent to go to the right places and not be as encumbered when it comes to immigration."
Canton adds that he'd like to see the timelines shortened as much as possible "regardless of where in the world you're coming from".
"I think in general, access to work visas and permanent residency is slower and less predictable than I wish it was."
Get our Daily Briefing with the morning's most important headlines for innovative Irish businesses.