'I once picked potatoes for a summer - that taught me a lot in terms of what hard labour felt like'
Sprout Social's Gerard Murnaghan talks about motivating staff and his dog Ruby.
GERARD MURNAGHAN KNOWS all about hard work – a brief stint as a potato picker taught him the satisfaction of earning his own wage.
Today, the Corkman serves as general manager for the EMEA region at social media marketing company Sprout Social, which is set to hire 60 more employees at its Dublin unit by the end of next year.
Founded in 2010, Sprout Social provides a social media management system where brands and agencies can oversee their Facebook, Twitter, LinkedIn and Instagram posts.
The company – which employs around 500 people globally, including 40 in Dublin – last year announced that it had closed a $40.5 million series D round with funding from several investors including investment bank Goldman Sachs.
In our weekly question-and-answer series, we spoke to Murnaghan about his passion for art and the one task he never delegates.
Here's what he had to say:
If you weren't doing your current job, what do you think you would be doing instead?
When I was 12 I always thought I would be an art teacher. I have a passion for art and design.
If I wasn't doing what I'm currently doing, I'd probably be teaching art or teaching in a private studio somewhere along the beautiful west Cork coastline.
What's the worst job/task you've ever had to do?
I once picked potatoes for a summer in my home of County Cork and that taught me a lot in terms of what hard labour felt like. It taught me the appreciation for earning my own wage.
What advice would you give to your teenage self?
Worry less, dream more and do your best to enjoy the moment – 90% of the things you worry about will never actually happen.
Time moves so fast that you will regret thinking too far ahead into the future because you will miss the amazing things that are happening in the now.
If there was one person in the world you could hire for your board, who would it be and why?
I'm a big fan of Warren Buffett. I think he'd be a fantastic person to have onboard. Not only did he create an amazing business and core employee base, but he remained completely humble despite his massive success and is genuinely committed to philanthropy.
What have you found is the best way to motivate staff?
If you genuinely take an interest in your team's lives outside of work, alongside their career goals and their personal ambitions, it really helps build a strong relationship with every member.
Simon Sinek wrote this book called Start With the Why. Everyone has their own personal 'why'. Why they come to work, why they do what they do. When you care about people, understand their 'whys'.
In turn, they begin to care about their own 'whys' and their own motivations. It means that your business becomes more impactful, not just for them but for the entire team.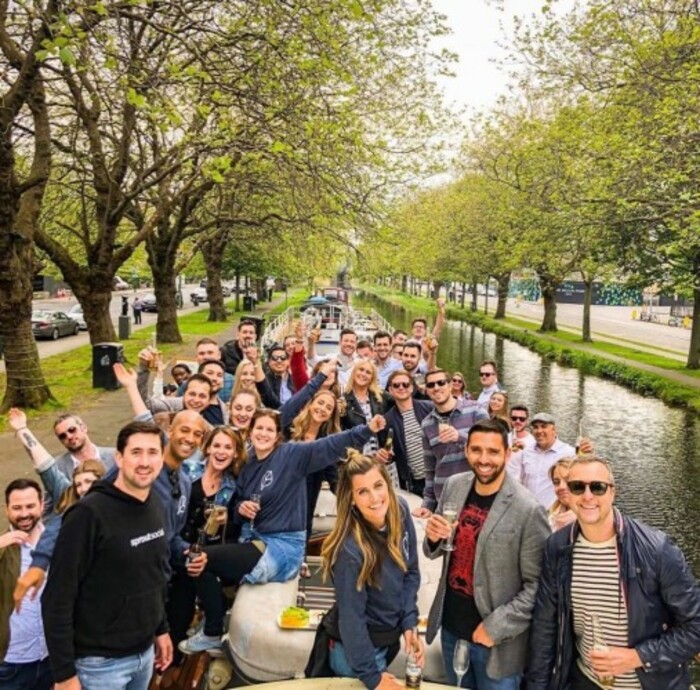 Source: Sprout Social
What's the oddest item in your office  workplace?
My dog, Ruby, who is a little white Maltese. She comes to the office every second day and she helps add a bit of fun to the environment – and a little bit of noise and affection among the staff.
What do you see as being the biggest challenge for your business?
For us in Dublin, one of the biggest challenges is building brand awareness within a market where people aren't so familiar with us. We're making great headway – it takes time and effort.
We're trying to educate customers on how we're different. It's rewarding and challenging.
Is there one job/task you would never delegate to anyone?
The big thing I'd never delegate is performance appraisals. While every employee will write their own self-assessments, as a leader you really cannot delegate your own people's assessments to someone else.
The weirdest place you have used as a work desk?
I once worked out of Yebisu Garden Palace, a cultural centre in Tokyo, for a few hours. That was a pretty cool place to be.
What hobbies do you pursue when you're out of the office?
Being a dad and being an active and engaged parent. I enjoy painting, reading and I spend time with Ruby, taking her for walks with the family.
Get our NEW Daily Briefing with the morning's most important headlines for innovative Irish businesses.