A Dublin startup has raised millions to corner the data protection training market
Brendan Kavanagh's HiUP has bagged a €3.5 million round of investment.
IRISH RECRUITMENT AND training firm HiUP has raised a multimillion-euro round of investment to promote and market its new data privacy training service.
Founded in 2016, HiUP is an extension of Brendan Kavanagh's Olive Media Group – a firm that was set up over a decade ago to supply safety and compliance services to the oil and gas sector.
Kavanagh describes HiUp as a Tinder-style app that gives users access to thousands of training courses and then sends job recommendations to people based on the skills and experience they've acquired.
He said the firm has raised €3.5 million to market its new course aimed at training up staff ahead of the introduction of the General Data Protection Regulation (GDPR) in May.
The data protection rule changes afoot will make important amendments to existing laws about how personal data can be captured, stored and processed.
According to Kavanagh, HiUP's new training service will educate people about how to cope with the new data regulations – the course will cost €30 per person.
"Everyone is so surprised by GDPR. I think it's like Y2K, the only difference is this will be a cultural shift like health and safety … it's about creating a culture in the organisation," he said.
However, HiUp's service will come with less of a financial burden than in-person training when it comes to getting workers up to scratch on the new data laws," Kavanagh said.
"There's no waiting around for a session to get enough numbers. As staff come and go, we've created a self-enrollment process they can go through to become compliant.
"The going consultancy classroom rate at the moment is €1,500 per person. That classroom training price also doesn't include downtime and the cost of that to a business."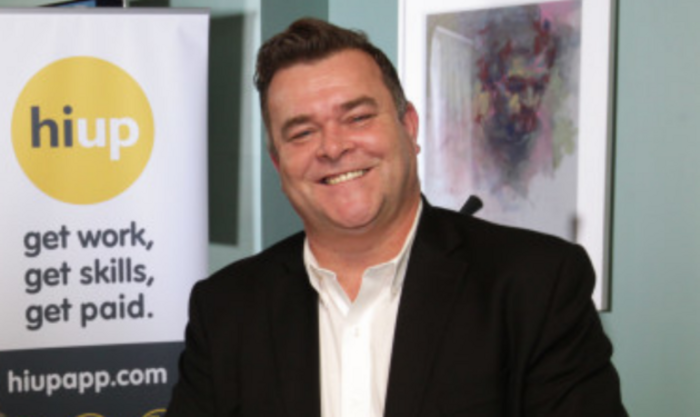 Source: HiUP
The funding, which was raised from numerous Irish- and UK-based high-net worth investors, will be used to promote this new course and also to market the HiUP app in general, he said.
Kavanagh added that the company has another €2 million of a potential €5 million investment round committed to by a US consortium that includes former Pittsburgh Steelers NFL player Will Allen and Pennsylvania's Energy Innovation Center.
Partnership
Since it was launched in 2016, HiUP has grown to a staff base of 400 people internationally – 70 of those are based out of its Irish office in Red Cow.
The firm also has offices in the UK, Pittsburgh, the Nepalese capital of Kathmandu and Kerala in India. The latest investment round into the firm will create another 70 jobs in various locations, according to Kavanagh.
He added that this funding has brought total investment in the company to €6.5 million and that HiUP should have turnover in excess of €10 million during 2018.
Kavanagh has also announced a partnership between his Olive Media group and HFW, a large global law firm with clients in the Americas, Europe, the Middle East, Asia and Australia, ahead of GDPR.
He added that the company is also working closely with a number of government bodies in Ireland and the US.
Sign up to our newsletter to receive a regular digest of Fora's top articles delivered to your inbox.