'I'm able to let out a big secret': Dublin is getting a new arcade game restaurant
The company behind The RAGE retro gaming shop on Fade Street is opening a new premises in Smithfield.
THE COMPANY BEHIND Dublin's popular RAGE retro gaming store is planning to set up a new 'arcade bar' in the capital.
The RAGE, which is based in Dublin city centre, announced in a Facebook post today that it plans to open a new premises in Smithfield.
"After three long years of trying to make it happen, we're happy to announce that we are opening Token, our restaurant bar/arcade/pinball parlour and event space in Smithfield!" it said.
The new venue is expected to open in May.
Planning documents lodged with Dublin city council show that Green Mist Ltd, the company behind The RAGE, applied for planning permission for as a "licensed restaurant with ancillary retail use" at Eagle House on Queen Street, Dublin 7 towards the end of 2015.
The building had previously been used for "retail and car parking". Permission for the development was granted at the start of 2016.
Speaking to Fora, Nick Dimaoi, the owner of Green Mist Ltd and The RAGE said that the new restaurant plans to have over 30 retro arcade games spread over its two floors. It will include the original machines for classic games like Street Fighter 2 and Pac-Man.
"This has been three years in the making and I didn't want to say anything before I knew  that doors would open. It feels like I've been able to let out a big secret," he said.
"It will be more of a restaurant than a bar. Food will be at the forefront of what we're doing," he said. "We have more machines than we can fit in. The games will be scattered around. There will be 32 over two floors.
He added: "We've refurbished all the old (arcade game) machines like Donkey Kong with the original board.
"There are a lot of bars with a cabinet in the corner that you can play 40 games on but there isn't one with the proper original arcade experience. It's like vinyl, you are playing it in its original form."
Demand for gaming
Dimaoi said that the high level of demand for RAGE gaming events held all over the city gave birth to the idea for the gaming restaurant.
"We were doing tournaments and we would get 300 people and it wasn't just a certain demographic, it would be men and women of all ages," he said. "People said: 'If there was a place that offered this all the time, we'd be there.'
[embed id="embed_2"]
"I was doing the Christmas market in Smithfield in 2014 and I saw these premises available with two floors and a lift."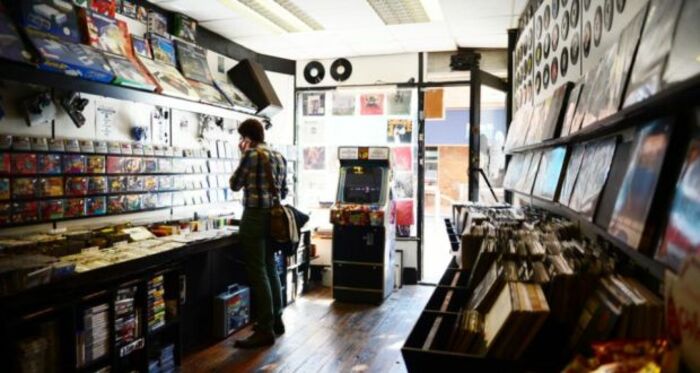 Originally, Dimaoi thought he might only be able to use the building for storing merchandise for The RAGE as it was zoned for parking, which architects said would be difficult to change.
"My case was that it was never used as a car park. It took about nine months but we got it changed and went from there," he said.
Dimaoi said he took on a loan to finance work on the new building, and said that one outside investor has also contributed.
Token has now launched a Kickstarter page to help with refurbishment work that Dimaoi said went unseen while the building was being refitted. The campaign aims to raise €35,000 to make the lift accessible for wheelchair users.
"The ground floor is fully accessible and we have a disability cert for the whole building, but we had planned to use the lift as a passenger lift," he said.
"We needed extra funding and I thought that I would do a Kickstarter. It is a way of building our community and covering the cost of the lift and I am confident that we will reach our goal."