In a time of crisis, FoodCloud's Iseult Ward is still getting food to those most in need
The social enterprise has been forced to adapt in response to the Covid-19 pandemic.
"FOR US, OUR focus has been on ensuring that we can continue to provide the service that we already do provide."
Like many in these unprecedented times, Iseult Ward, the co-founder and chief executive of FoodCloud, is calling from home rather than her office.
The Covid-19 outbreak has gradually been spreading globally for months but in recent weeks has reached a crescendo in Europe. Last week, Ireland's latest round of emergency response measures forced all but essential business to shut up shop.
This has had an effect on FoodCloud, which helps supermarkets redistribute surplus food so that it doesn't go to waste.
"On an average week, we provide the equivalent of about 160,000 meals to over 500 charities across Ireland," Ward says.
The social enterprise not only connects supermarkets and their excess food with charities and food banks, but it also builds software for managing the relationships between these organisations.
For FoodCloud, the Covid-19 outbreak has created a unique set of challenges. "Obviously with the additional restrictions on movement that have been introduced over the last two weeks to stop the spreading of Covid-19, we have experienced a reduction in our own resources in terms of corporate volunteers."
Most of the organisation's 55 employees are now working from home, which has forced the team to adapt quickly to the new working conditions while still supporting its partner charities.
"We've had to put additional people on our support team who are now operating remotely to deal with an increase in requests that are coming in from charities, as well," Ward adds.
"So really, our focus has been on ensuring that we're at least providing the same level of service and are willing to respond and scale where needed."
Panic buying
FoodCloud partners with supermarket chains including Tesco, Aldi and Lidl for the supply of surplus food that either goes directly to charities or one of FoodCloud's three warehouses for redistribution.
At various points over the last two weeks, supermarkets have had to deal with panic buying, which presents another challenge for FoodCloud.
Source: Rolling News
"It's a combination of there being a reduced amount of food on shelves because customers are buying a lot more in one go as we've seen. Then also the staff in the store is under additional pressure," Ward says.
Retailers have come under strains to deal with people in the stores while maintaining social distancing guidelines and some supermarket chains have recruited additional staff to deal with the increased demands on stores.
"Those two factors have led to a reduction in the amount of food that's been made available from those supermarkets but we are still seeing a lot of food being redistributed within communities from those stores," Ward says.
"Where there is a bit of a reduction, there is still a great effort happening on both sides of the stores and the charities to ensure that where there is surplus food available to help people, communities are still getting (it) to them."
For charities there is a pinch too. They may rely on volunteers that are older or at risk who are now unable to take part.
Now, very suddenly, charities have more people to serve and fewer resources to do it.
"They're experiencing reduction in resources and increased demand and also a need to adapt the way they work where necessary to ensure that their own core teams are safe in terms of social distancing," Ward says.
"Everybody in the charity sector is trying to do as best they can in this situation but it's quite a challenging situation for any organisation with the pace of change that we're all faced with."
FoodCloud operates three warehouses in Dublin, Cork and Galway for storing and redistributing food across communities.
It has 12 employees working in these warehouses and is recruiting four more in order to introduce shifts so fewer staff are on the grounds at any time – to adhere to social distancing guidelines and "to mitigate any risk of closure of our warehouses at this time".
It's just one example of the many cases of rapid response that companies have needed to make to the crisis.
Social enterprise
FoodCloud is not your typical business. It is a non-profit social enterprise, which envisions a world where no food goes to waste.
Ward says that in order to achieve such a lofty goal, rather than pursuing the startup route driven by investors and revenue, remaining a non-profit is a "key decision".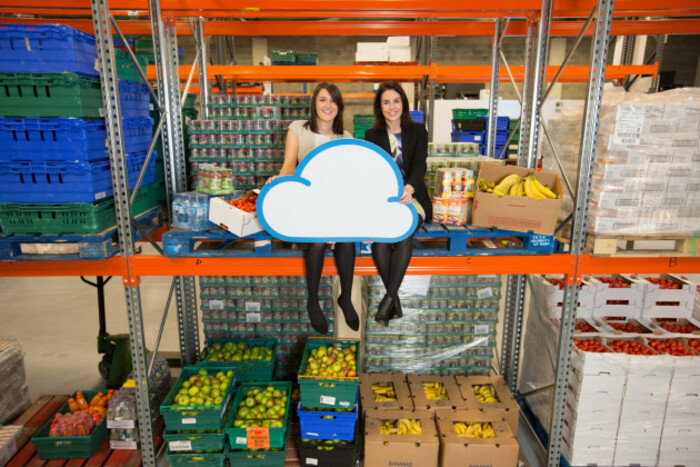 Source: Naoise Culhane
FoodCloud's income stream come from the partners like supermarkets that it works with.
"When we work with retailers, and we provide them with the technology to redistribute food from their stores to local charities, we support them in training their staff, and we provide support," she says.
"They then pay for that service to help us cover the cost so we ensure that where possible, we develop sustainable income streams to support the running of our operations."
Further funds are generated from fundraising from AIB and Social Innovation Fund Ireland, which is run by the Department of Rural and Community Development.
The social enterprise model hasn't stopped FoodCloud from expanding its remit beyond Ireland. Since 2016, the organisation has been working with UK food charity FareShare.
"We share our technology platform with other organisations that are equivalent to ourselves and other countries," Ward says.
"We've got a technology that facilitates donations directly from charities to stores … these organisations traditionally haven't used technology to enhance their operations and their services."
The technology, she says, can improve the efficiencies of these groups' day-to-day redistribution operations.
FoodCloud has started pilots with organisations in Poland, the Czech Republic and Australia, which all remain ongoing.
"Our focus internationally is trying to share our expertise and our technology with organisations that are similar to ourselves with similar values and missions that are working hard in other countries to redistribute surplus food but that might not have used technology or have access to technology or the expertise to implement that."
Internationally and also back home in Ireland, Ward says FoodCloud remains committed to its zero food waste mission in the face of this current crisis.
"There is still food out there getting to charities so that they can support people who need help at the moment."
Get our Daily Briefing with the morning's most important headlines for innovative Irish businesses.