Creating more Fexcos: Why the Kerry fintech business has opened a €21m R&D facility
The company is investing to foster further innovation in Killorglin.
THE KERRY TOWN of Killorglin has already produced one multimillion-euro international tech business, now homegrown success story Fexco is looking to repeat the trick by fostering further innovation.  
The fintech company yesterday opened a new €21 million research, development and innovation facility in the town. Fexco founded in 1981 in Killorglin, where it still has its international headquarters. The company has 2,500 staff in over 29 countries. 
Alongside Fexco's own research development and innovation centre, the building will also house RDI Hub – a not-for-profit public-private partnership focused on the commercialisation of innovation and research and backed by Fexco, IT Tralee and Kerry County Council.
"We're very focused on regional development of talent and companies. What Fexco has decided to do is to continue to invest in the Killorglin region," Karl Aherne, strategic business development director at Fexco, told Fora.
RDI Hub plans to create more than 305 direct jobs by 2024 and initially to support the establishment of over 35 high-tech funded start-ups. 
"The goal is that we will be able to support the development of new companies and funded startups to help them grow and scale without having to necessarily leave the region, or enabling scaling startups who aren't from the Kerry region to move to the Kerry region," he said. 
"So it's really to create more Fexcos," Aherne added. 
The company is also working on several new products and services to diversify its revenue streams, though that's still in early stages.  
At the launch, CEO Denis McCarthy said that the new building "signals our commitment to providing world-class innovative fintech solutions to a global audience as well as supporting our local community, through job creation and local investment".
Some 125 existing Fexco staff are to be based in the new building, which is dedicated to Stanford University computer scientist John McCarthy, who was one of the founders of the discipline of artificial intelligence, and whose father was born near Killorglin
The 57,000 sq f building has replaced a manufacturing plant which was on the site and closed in 2012.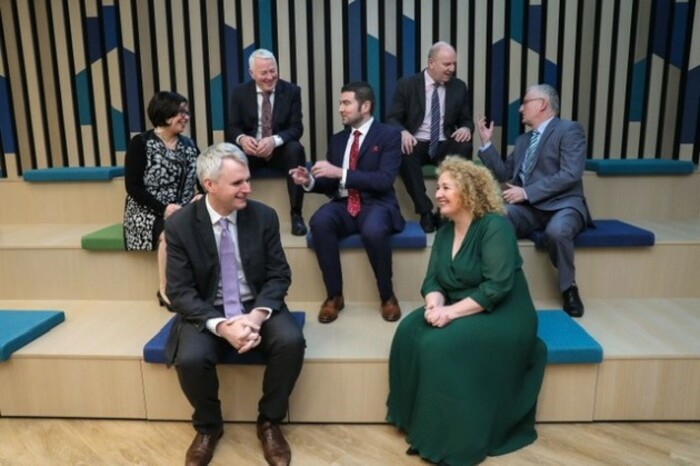 Source: Valerie O'Sullivan
Boot camps, accelerators, innovation
The company is looking for funded startups with a team, a clear purpose and which are using technology to build their business. They don't necessarily have to be in fintech, Aherne said, but realistically they'll probably be in the transactions space. 
"Transactions doesn't necessarily mean money. It could be the movement of data from one company to another, from one product to another. It could be the transaction of an experience," he added. 
Apart from physical space and cutting edge technology and connectivity, the new facility will also be offering boot camps, accelerators and innovation programmes for incoming startups. 
He added that the company will also be looking to create "serendipity opportunities between Fexco and the startups".
Two companies are already moving into the RDI Hub side of the building. One is a company taking space for its innovation team and the other is Taxamo, a startup using software-as-a-service to provide EU VAT compliance solutions to online retailers.  
'Where life is easier'
Though it has a focus on providing local entrepreneurs with skills and opportunities, Fexco is also scouting for talent country-wide and from overseas, "who want to build a business in Ireland and are looking for alternatives to the main cities and the cost of the main cities", Aherne said. 
"We're not trying to compete against the Facebooks, Googles, LinkedIns and Amazons of this world. But there are a lot of people who have come from those environments, from cities, and are looking for a change," he added. 
"They're looking for a different type of work-life balance, looking to bring their families, or start their families in a different environment than is available in the main cities, where you don't have urban congestion, problems trying to find schools. Where life is easier."
The company is enabling people who are looking for a new environment, but want to work in "highly interesting areas from a technology perspective", Aherne said. 
"There's a whole spectrum of people who are interested in not living in the city, yet they want the connectivity, the quality of life and the interesting work experience," he added.
Fexco has several projects in the pipeline, related to payments and financial inclusion, and not all necessarily connected to the new facility. 
The company recently launched a payments platform developed for the cruise industry, called OpenConnect, which has been rolled out worldwide with major cruise lines. 
"We're also building a global aircraft trading system with one of our partners, the aviation working group," Aherne said. That project will be launched in April. 
Correction: An earlier version of this article stated that the name of the global aircraft trading system is Springpoint. Springpoint is the name of the company's financial inclusion platform, not the aviation product.
Get our Daily Briefing with the morning's most important headlines for innovative Irish businesses.