Giving patients a leg up: Galway's Feeltect is using medtech to treat venous leg ulcers
In our weekly Startup Scout series, Fora picks out the most promising companies emerging from Ireland.
Founders: Andrew Cameron, Garry Duffy and Darren Burke
Elevator pitch: A device for treating venous leg ulcers
Funding: Investments from Enterprise Ireland, EIT Health and NDRC
Status: Raising a seed round this year
AUSTRALIAN ANDREW CAMERON came to Dublin in 2012 for his post-doc in the Royal College of Surgeons in Ireland. Working under Prof Fergal O'Brien, Cameron's project was focused on corneal regeneration, addressing defects in the eyes.
"While I enjoyed that project, the road for commercialisation of tissue engineering technologies is very long and hard," Cameron said. "I thought it would be nice to try and get into medical devices."
He moved out west and joined the BioInnovate programme at NUI Galway. The programme provides support for early-stage medtech business ideas.
"I spent 10 months looking at different unmet needs as part of that programme. Our clinical immersion was in University Hospital Galway as well as in the Mayo Clinic in the USA," Cameron explained.
During this time he came upon certain challenges with the way venous leg ulcers are treated in wound care centres.
Venous leg ulcers are chronic sores on the skin that can cause discomfort and pain and are usually treated with compression bandages and stockings.
Leg ulcers
"The treatment that they're receiving was putting a huge pneumatic sleeve on their leg and that was hooked up to a compressor on the wall. That actuated their leg and essentially restored the blood flow to heal the ulcer," he said.
This is an effective method but a cumbersome one. While speaking with the head of the NUIG school of nursing, Dr Georgina Gethin, Cameron learned that the process didn't need to be completely reinvented but just made less complicated for the patient.
This led to Tight Alright, a small medical device developed by Cameron and his co-founders Garry Duffy and Darren Burke.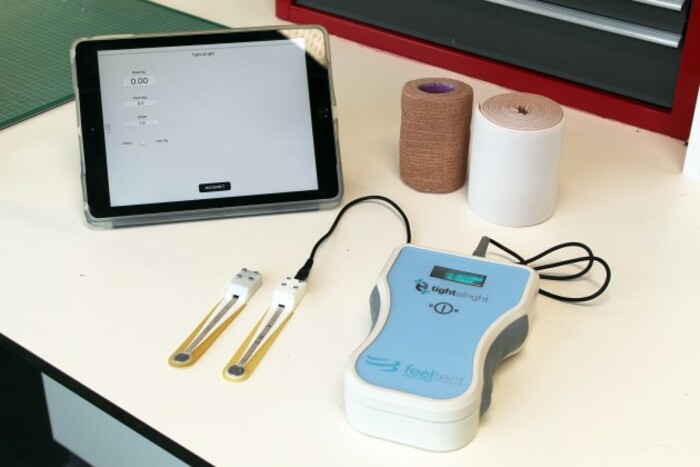 Source: Feeltect
It sits inside the bandage that has been placed over an affected leg and senses the pressure. This can transmit signals to a digital interface in the hospital or on a smartphone.
"That way it allows for not only the application of the correct amount of pressure in the clinical setting but also you can use it as a wearable device so the patient can take it home and it can monitor the pressure over time."
This can be helpful to nurses but also to patients outside a hospital that are wearing compression bandages that don't necessarily have to be re-adjusted by a healthcare professional every time.
"What it would mean for using those products with our device is that if there was a reduction in pressure and the patient was able to identify that using the technology then they could re-apply the safe amount of pressure confidently to maintain that efficacious level of treatment."
Accessibility
Feeltect has carried out some tests at University Hospital Galway in the wound care clinic where nurses used the device with bandages.
According to Cameron, nurses there saw a six-fold improvement in the ability to achieve a targeted pressure range.
"That gave us a lot of confidence that we were able to help experienced nurses but quite often these wounds are being treated at a community setting and the depth of experience may not be as specialised in wound care in some of those settings," Cameron said.
"We think that this is going to have an even larger impact in the treatment of venous leg ulcers within the community."
The startup is next lining up a study with St. James' Hospital in Dublin. It has raised funding from Enterprise Ireland, the NDRC accelerator and EU-funded programme EIT Health.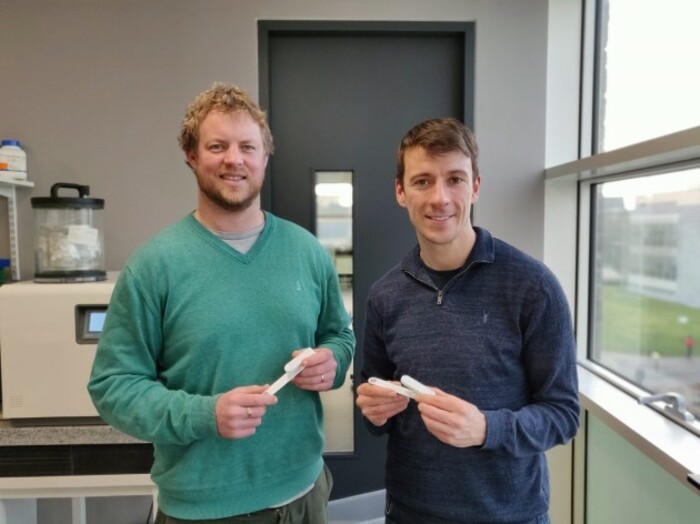 Source: Feeltect
It is now seeking a seed round of €800,000, which it hopes to close by mid-year, to finance its route to regulatory approval and commercialisation.
Cameron and his co-founder intend to take on staff, both on the sides of engineering and healthcare expertise, once the funding has been secured.
He said that Feeltect is in discussions with clinical collaborators in Ireland, the UK and US as well as advocacy organisations that help bring new technologies into the healthcare system.
"We also are engaging with potential strategic partners, so bandage manufacturers or wound care companies that have digital platforms to monitor their patients and all of these different organisations and entities we will use to try and leverage market entry."
Get our Daily Briefing with the morning's most important headlines for innovative Irish businesses.