Wicklow clay pigeon shooters say a major housing project could 'kill' their club
Locals have been firing shots in Fassaroe for 40 years.
CLAY PIGEON SHOOTERS have tried to block a major housing development in Bray because they're worried the project could prove "terminal" for their decades-old club.
Wicklow County Council recently granted planning permission for Cosgrave Property Group to build the first phase of an overdue development in the Fassaroe and Monastery area of north County Wicklow.
The 48-hectare project between Bray and Enniskerry towns forms part of a three-part development. It includes the construction of more than 650 apartments and houses, three-storey office blocks, a park and six commercial or retail units.
The residential units are broken down into 390 apartments and 268 houses.
The development forms part of the local council's 'masterplan' for the Fassaroe area, first unveiled in October 2010 but delayed by the financial crisis.
The overall proposed project would see up to 1,800 housing units built in north County Wicklow. The site would extend from Fassaroe to the Old Conna area near Dún Laoghaire.
The Cosgrave group – which is headed up by brothers Michael, Joseph and Peter Cosgrave – received planning permission for the first part of the new build in May, but Bray Clay Pigeon Club has appealed Wicklow County Council's decision to An Bord Pleanála.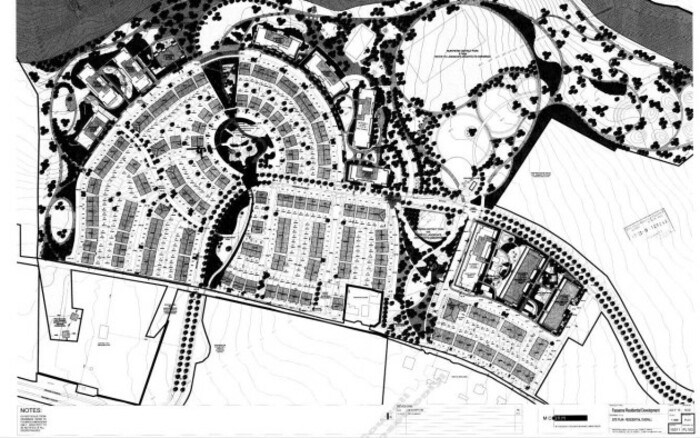 Source: Wicklow County Council
Click here to view a larger version.
A number of local residents have also submitted appeals to the planning board.
The clay pigeon shooting club has for rented land in Fassaroe for 40 years, parts of which adjoin or overlap the proposed residential area.
It caters for 50 full-time members, six of whom have in the last five years represented Ireland at international events.
'Detrimental'
In its appeal, Bray Clay Pigeon Club said it has hosted two international clay pigeon championships at the grounds, one in 1989 and another in 1993. It also said sports people from around the country travel there to take part in national events throughout the year.
[embed id="embed_2"]
It claimed the Cosgrave group's project would be "detrimental" to the club and interfere with their activities.
"In a farming and rural setting, with very low density housing, we have thrived and have contributed greatly to the sport locally and nationally," it said in the letter to the planning board. "We see this new development as detrimental to and incompatible with our long-established sport of clay pigeon shooting."
"A new and large residential development will be very problematic, if not terminal, for the club and the sport of clay target shooting in north Wicklow."
The club voiced concerns that the new buildings would be in close range to the noisy practice ground, which would be "nuisance for the proposed future close-by residents, who would no doubt complain and object to it".
Citing Wicklow councillors' county development plan, the club said the local builds should be "for the benefit of all".
"If this application is approved, there will be no benefit for the Bray Pigeon Club," it said. "In fact, it would appear to do just the opposite and would be the beginning of the end for our sporting activities."
The An Bord Pleanála case is due to be decided by the end of October.
Sign up to our newsletter to receive a regular digest of Fora's top articles delivered to your inbox.